We've tried everything, but Kelvin Sampson won't go quietly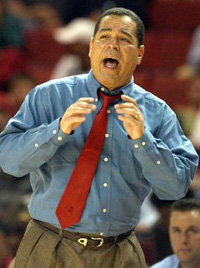 I know you're sick and tired of hearing about the lad pictured to the right, but the truth is, every time we think he's out of our lives … BOOM … he reappears, much to our dismay.
If Eamonn's post yesterday wasn't enough to wet your Kelvin Sampson palate, I've got your fix. Speaking prior to tonight's Bucks-Pacers game, where he likely heard obscenities thrown his way without discretion, Sampson tried to rationalize his appeal to the NCAA:
"I think they were wrong. They were wrong in every way. If I didn't think they were wrong, I wouldn't have appealed."

Sampson acknowledged he and his staff had erred, though not deliberately.

"When someone makes a mistake, the first thing you have to ascertain is intent. There was no scheme or nobody sitting around trying to get away with something. A lot of people paid the price for those mistakes."
This, my friends, is the same song and dance we've been hearing from day one. But apparently Sampson, who also said tonight that he's enjoying the NBA and has no intent to come back to college, can't just let it die and ride quietly into the night. He's still fighting. He doesn't really believe the NCAA is going to revisit this and determine they had it all wrong, does he?
Filed to: Kelvin Sampson