Kelvin Sampson can't leave well enough alone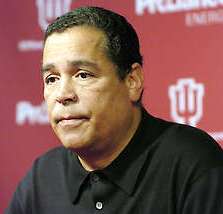 Who remembers Kelvin Sampson? I don't! I went through a very serious psychological process, like Eternal Sunshine of the Spotless Mind, to have all memories of this "Sampson" guy erased from my brain. Actually, if that were true, I wouldn't be writing this right now. I guess that construct works better for movies than for blog posts. Oh well.
In any case, The Star reported this morning that Sampson is appealing his NCAA penalty. Seriously. From Mark Alesia (thanks to Michael for the tip):
A source close to Sampson said the appeal is based on two points: The first is that the infractions committee misinterpreted testimony by former IU assistant Rob Senderoff, which led to a conclusion that Sampson knowingly placed impermissible recruiting phone calls, and thus was guilty of unethical conduct.

The second is that the NCAA enforcement staff, essentially the prosecutor in the case, was biased and showed a prejudgment of guilt by requesting a hearing before all of the interviews were complete.
I'm no legal expert. Nor am I well-versed in the judiciary procedures of the NCAA. So I don't really have much in the way of comment to offer, except this: Go away, Kelvin. Go away. You got caught, dude. Your own school caught you. Maybe the NCAA will admit they "misinterpreted" Rob Senderoff's testimony — and as someone who used to tell his ex-girlfriend she was "misinterpreting" me, let me tell you that's nothing but a rude backhanded insult — but I doubt it. Your best option? Coach in the NBA, and go … away.
Now, about that memory procedure. There's got to be something on the Internet somewhere here …
Filed to: Kelvin Sampson