Kelvin Sampson, a year later, at ESPN the Mag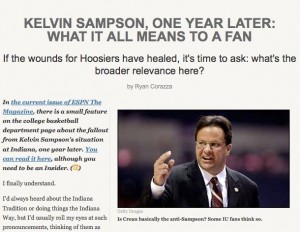 In the latest issue of ESPN the Mag — on newsstands now! — there's a small bit on page 71 about five players affected by Kelvin Sampson's Indiana hiring and subsequent resignation: Devin Ebanks, Terrell Holloway, Scottie Reynolds, Damion James and Tyshawn Taylor.
Today online, a few companion pieces ran along with it. Including two from me. The first is a column about what it meant for me to be a fan during Sampson's reign of calling, and what Tom Crean has taught me. A sample:
I'd always heard about the Indiana Tradition or doing things the Indiana Way, but I'd usually roll my eyes at such pronouncements, thinking of them as nothing more but tired, clichéd statements from Bob Knight disciples. I'm a bit of a cynical guy.

Times had changed, I thought. It's OK to bend the rules in recruiting, as long as you win, as long as you don't get caught. It's OK you don't fit the Indiana mold, doing things the right way with dignity and class, as long as you win. It's OK to bring in players of questionable character, as long as you win.

This is what the Kelvin Sampson era was at Indiana: win at all costs. And I was hooked, cast under his spell, because that's all I wanted for my team, too. I wanted to win.
Second is four others affected by Sampson, but like the original piece in the actual print version, is behind ESPN's Insider wall. Boo.
Lastly, Scott Powers wrote a tremendous story about all the guys who left last year, catching us up with their situations. He got a lot of quotes from Brandon McGee. That guy is behind the Insider wall too.
The moral of this post is that ESPN is putting a lot more of their stuff behind Insider's wall this year. You've been warned, sports consumer.
Oh, and if you want another take on the whole Deadspin topic, Midwest Sports Fan has an indepth look at it today.
Filed to: Kelvin Sampson, Media