The ghost of Kelvin Sampson continues to haunt IU basketball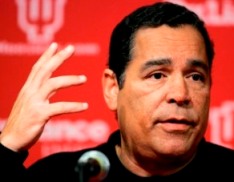 The NCAA released its Academic Progress Rate (APR) scores this afternoon and the result was a public notice for IU baskeball in response to a score that, well, isn't pretty. To put it into perspective how low the figure is, the other 23 athletic programs at IU all had scores well above the NCAA benchmark of 925. The men's basketball program checked in at 866.
Here's the reaction from athletic director Fred Glass:
"We take this public notice very seriously. The poor academic performance for which we're being cited all occurred under two coaches who are no longer at IU.  We are confident that under Coach Tom Crean's leadership and commitment to academics, responsibility, and character, we will soon be able to put our previous academic issues fully in the past. Coach Crean's outstanding academic record at Marquette, including the graduating of all of his senior players, speaks for itself."
I think Mr. Glass is pointing at you, Kelvin. For the record, Crean's APR score from Marquette was also released this afternoon and it was 970. Because IU voluntarily forfeited two scholarships this past season in anticipation of a low APR, they'll be able to utilize all 13 scholarships moving forward.
Filed to: Fred Glass, Kelvin Sampson, Tom Crean