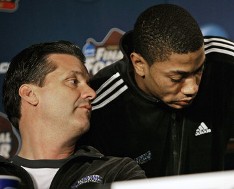 The story of the day Thursday in college basketball was the NCAA's announcement that the run to the national championship for the 2007-2008 Memphis Tigers is now wiped from the record books.
That Memphis club, which won 38 games before falling to Kansas 75-68 in the title game, was spearheaded by freshman point guard Derrick Rose. And after a lengthy investigation, the NCAA ruled that something just didn't smell right when Rose took the SAT on May 5, 2007.
After failing to achieve a qualifying score on the ACT each of the three times he took the test in Chicago, someone, presumably not Rose, achieved the SAT scores needed on that early day in May.
Only this time the test was taken in Detroit, which also happens to be the home of William Wesley. You might know Wesley better as World Wide Wes, a confidant of Calipari. You do the math.
Calipari will do his usual song and dance when pressed to disclose whether or not he knew of possible indiscretions with Rose's test score: Deny, deny and deny some more. It's all in the past, right? It's the same tune currently being belted in Lexington by fans who are desperate for a winner after Billy Gillispie flamed out last spring in the NIT.
The fact is that Calipari made history on Thursday when he became the first coach to have Final Four appearances at two different schools vacated. That's certainly not a distinction one aspires to place on their resume. Nonetheless, congrats on the achievement, Cal.
Thursday's ruling only reinforced the sad reality that more often than not, the NCAA fails to get it right. To call the penalty of vacating the season a slap on the wrist would be giving it too much credit. Rose is now a millionaire in Chicago, Calipari bolted for a record-setting pay day at Kentucky and Memphis will move forward relatively unscathed if the school can keep its nose clean for three years. Not exactly what I would call dropping the hammer.
The penalties given to Memphis are far less substantial than the NCAA sanctions slapped on Kelvin Sampson for excessive phone calls, which led to the dismantling of the Indiana program. Call me crazy, but using a player who committed academic fraud to achieve eligibility is more reckless than a three-way call with a recruit and Rob Senderoff. But this ruling proves that the NCAA doesn't see it that way.
This story will be top of mind in the college basketball world for a few more days and then it will sink from the surface as an afterthought. Rose will be an NBA all-star soon enough and Memphis should continue to be a powerhouse in Conference USA under Josh Pastner. As for Kentucky, Calipari will probably hang some sort of banner in Rupp Arena. The only question is: How long before that banner comes down too?
Filed to: Derrick Rose, John Calipari, Kelvin Sampson, Kentucky Wildcats, Memphis Tigers