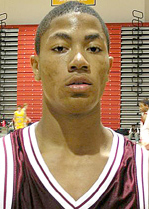 If you're a fan of basketball at any level, you owe it to yourself to check out a recent article by Alex French in GQ about William Wesley. Wesley, known as Worldwide Wes, is one of the most powerful men in the sport of basketball. He's also one of the most mysterious.
That's what makes this story so fascinating. Nobody really knows what Wesley does, but everybody in basketball knows him.
He's not an agent. He doesn't work for the NBA. He doesn't work for a shoe company. He doesn't work for a university. Who exactly does he work for?
I won't go into more specifics on the article, but just to give you an idea of Wesley's involvement, here is a brief list of the names mentioned in the article: LeBron James, Leandro Barbosa, Allen Iverson, Dajuan Wagner, Tyreke Evans and Derrick Rose.
And to give you a sense of the power and influence this man possesses, he's speculated as one of the major reasons LeBron James left his former agent Aaron Goodwin for Leon Rose. Leon Rose, by the way, is a good friend of Worldwide Wes.
As far as the IU connection to this article, check out the following passage:
This afternoon's main attraction is one Derrick Rose, a six-foot-three-inch blisteringly fast point guard from Chicago's Simeon Career Academy. Journalists and insiders who have followed Rose's career also noted Wes's presence on the sideline of Derrick's AAU games last summer. Rose's college choices came down to Memphis, Illinois, and Indiana. One journalist told me, "When I saw the list, I knew Derrick was going to Memphis." The prediction was correct.
So what role did Wesley have in Derrick Rose choosing Memphis over Indiana?
We'll probably never know, but Wes is pals with Wagner, who played at Memphis, as well as John Calipari. Go ahead and use your imagination.
Filed to: Derrick Rose, William Wesley