Indiana posts perfect score in updated APR report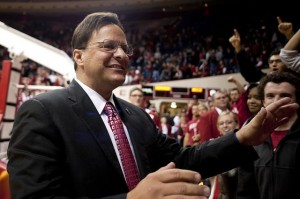 The NCAA released updated Academic Progress Rate (APR) figures through the 2009-2010 academic year earlier today and Indiana's four-year average in men's basketball is now 929, which is four points above the minimum 925 required to avoid penalties.
The Hoosiers posted a perfect 1000 for the 2009-2010 academic year, which bolstered the four year average to 929.
"I want to congratulate Coach Tom Crean for providing the leadership necessary to raising the program's standards with regard to the APR," said IU Vice President and Director of Athletics Fred Glass.  "This is a tremendous step for the program and an accomplishment that all of Hoosier Nation should be proud of."
In Tom Crean's first season in Bloomington, Indiana received a 975, up from the 811 figure posted during Kelvin Sampson's final season in 2007-2008.
Indiana voluntary gave up two scholarships in the summer of 2008 in anticipation of low APR numbers during the final season of Sampson's tenure.
Here's a look at IU's APR numbers over the last seven years:
03-04 939 (Davis)
04-05  905 (Davis)
05-06  827 (Davis/Sampson)
06-07  932 (Sampson)
07-08  811 (Sampson/Crean)
08-09  975 (Crean)
09-10  1000 (Crean)
The complete APR database for all Division I schools can be accessed here.
Filed to: Kelvin Sampson, Tom Crean