IU giving up scholarships in anticipation of APR penalties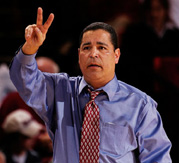 In another attempt to be proactive in its dealings with the NCAA, IU will give up two scholarships for the upcoming season due to less than satisfactory APR scores. The Associated Press has the details:
Assistant Athletic Director Frank Cuervo said that the move is partially related to the number of players who have left since the end of the 2007-08 season. Eric Gordon went to the NBA. Brandon McGee, DeAndre Thomas, Armon Bassett and Jamarcus Ellis were dismissed from the team, and Eli Holman and Jordan Crawford left the program.

But Cuervo said it wasn't that simple.

"It's not necessarily about one issue," Cuervo said. "It's obviously related to the APR score. In terms of reasons, it's not necessarily due to just players leaving."
Frank is actually right. It's not just about players leaving; it's about several players leaving in a less than favorable academic standing. Tom Crean described the situation as a "tremendous amount of dysfunction" upon his arrival in Bloomington and that seems to jibe with how things were run during the Kelvin Sampson era. This isn't a huge deal for the upcoming season as Crean and staff have just eight scholarship players on the roster. If this continues beyond this season, well, that's a different story.
Filed to: Academic Progress Rate, APR