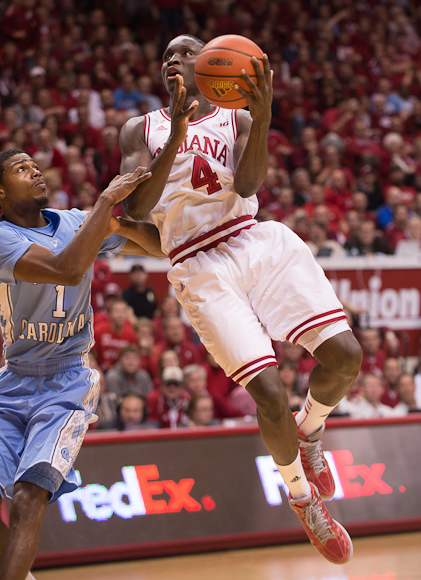 The last time Indiana had two first round NBA Draft picks was in 2008, which followed one of the most tumultuous seasons in school history. In June of 2008, both Eric Gordon (Los Angeles Clippers) and D.J. White (Detroit Pistons, traded to Oklahoma City Thunder) both had their names called by David Stern.
Could the Hoosiers be on their way to multiple first round picks again this summer? Inside the Hall takes a look at the current stock of IU's potential draft candidates:
Cody Zeller
ESPN: (5) Draft Express: (3) NBADraft.net: (1)
· Analysis: Despite taking criticism from some in the national media for not being dominant enough through IU's first 14 games, Zeller's position is still in the top five of just about every mock draft out there. He's easily the most effective running big man in college basketball and is incredibly polished for a seven-footer who just turned 20. His numbers may not make the dramatic jump that some were expecting because of IU's incredible balance on offense, but you get the feeling that Zeller's best basketball is still ahead of him this season.
· Expert opinion: "He runs the floor, he can play center and power forward. He's not gonna have a major impact as far as scoring, but he's going to have a major impact as far as being a team player because he's got it all. He can block shots, he runs the floor, he's got pretty decent moves, he can shoot a little bit. I think he's going to be a really, really good player immediately for an NBA team." – NBA scout to Inside the Hall's Justin Albers
Victor Oladipo
ESPN: (31) Draft Express: (28) NBADraft.net: (34)
· Analysis: Oladipo has been called IU's best player so far this season and that's a fair analysis given how he's impacted the game on both ends of the floor. Offensively, he's continued to relentlessly attack the rim and convert, but he's also mixed in a more reliable perimeter shot that makes him more attractive to the next level. Defensively, Oladipo is building a list of top scorers on the opposition that he's been able to take out of games. Given how much he's improved in his 30 months in Bloomington, there's no reason to believe Oladipo shouldn't continue to get better for the foreseeable future.
· Expert opinion: "Love him. One of my favorite players in the country. He's gonna be a first round pick in this year's draft. If he can convince scouts that his 45% shooting from beyond the arc isn't a fluke — lottery isn't out of the question." – ESPN.com's Chad Ford