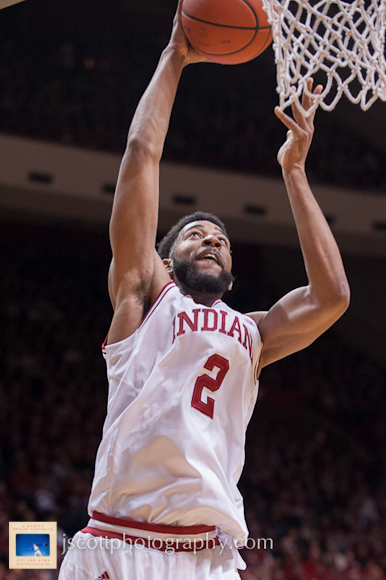 STATE COLLEGE, Pa. — Christian Watford set the tone with a 13-point first half Monday and the Hoosier defense took care of the rest as No. 5 Indiana set down an overmatched Penn State team, 74-51.
Thanks mostly to Watford, the Hoosiers (14-1, 2-0 Big Ten) were hot early against the Nittany Lions (8-6, 0-2).
Indiana led 44-27 at halftime and despite a sloppy second half that included 13 turnovers, the Hoosiers prevailed easily in front of 9,386 at the Bryce Jordan Center.
Eight of the Hoosiers' first ten points in the game came from Watford.
"We wanted to get him going. We went to him right off the bat," Tom Crean said. "That was a big part of our gameplan. And he responded."
Penn State only led once, 3-2 at the 18:20 mark of the first half, but Indiana would quickly get the best of the Lions, reeling off a 13-0 run from there.
"I just wanted to be aggressive, wanted to get in the paint and get some easy buckets to start off," Watford said. "My teammates did a great job of finding me and we executed some plays and took it from there."
Though the second half produced a more balanced score (30-24) and Watford only scored three more points, Indiana had an answer every time Penn State scored. The longest run of unanswered points the Lions could muster was six, and the rest of their runs were no greater than 3-0.
"I'm really proud of our team's effort defensively, on the road, to come in and hold a team to under 32 percent shooting," Crean said.
When it was all said and done, the Hoosiers outshot the Nittany Lions 52.4 percent to 31.7 percent, with four starters finishing in double figures.
Hulls bounces back
It's not like senior guard Jordan Hulls to endure an 0-for-10 shooting night, which he did on Dec. 31 in the Hoosiers' 69-65 win at Iowa.
As such, the senior bounced back in a big way against Penn State, knocking down four of six field goals, including two of three 3-pointers, and finished with 14 points.
"I was in [the gym] quite a bit, yeah," Hulls said with a laugh, "but nothing really changed. Those games happen and we were able to get a win – that's all I really care about."