Watford mum on future after NCAA Tournament loss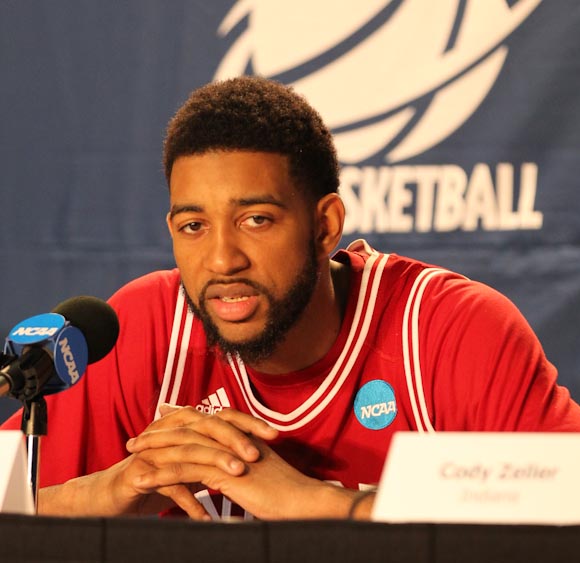 Christian Watford barely had time to take a seat and start untying his shoes before the question came in the Georgia Dome locker room.
"There's some talk you may be going to the next level, are you going to be back?" the Indiana junior was asked less than two minutes after returning from the press conference podium.
An affirmative that Watford, who scored a team-high 27 points, would return to Bloomington for his senior season would have quelled speculation.
But that's not the answer he provided.
"At this point, I'm not really fit to talk about that," Watford said after the Hoosiers' 102-90 NCAA Tournament South Regional semifinal loss to Kentucky. "I'm going to leave that where it's at right now."
Perhaps the wounds of the loss were too fresh for Watford to address the question. The timing of the inquiry was far from ideal.
Assessing the options
Thanks to a rule change made by the NCAA last May, the chance for players to "test the waters" by entering their name in the NBA Draft without an agent is a thing of the past.
In an effort to "help keep student-athletes focused on academics in the spring term and to give coaches a better idea of their roster for the coming year before the recruiting period is closed" the deadline to withdraw from the NBA Draft is the day before the start of the spring National Letter of Intent signing period.
This year, that date falls on April 10. This leaves a short time period for any potential prospect to gather information on their draft stock.
The NBA does have an undergraduate draft advisory committee who can provide an evaluation and feedback. The deadline to request feedback from the advisory committee is April 3. A response from the committee would be provided by April. 6.
One caveat here is that the NBA's deadline to enter the draft is April 29, which means that a player can wait until that deadline to declare for the draft. DraftExpress explains:
A college player could still wait until April 29 to enter the NBA draft, as these are two separate deadlines, and there seemingly is no benefit at all to entering his name before, particularly since he will lose his NCAA eligibility if he does not remove it before April 10.
Where Watford stands
Watford, who will turn 21 next month, isn't listed on any of the three major NBA mock drafts for 2012.
Chad Ford of ESPN.com ranks him as the No. 128 overall prospect and the No. 32 small forward prospect. DraftExpress slots him in as the No. 47 pick in the 2013 draft.
Aran Smith of NBADraft.net told Inside the Hall that Watford isn't being mentioned by many scouts and figures to go undrafted if he decided to declare.
"His strengths are his size (length) and clutch shooting (college version of Robert Horry)," Smith said. "Weaknesses are slow feet, difficulty fitting into a pro position, defensive lateral quickness and ability to create off the dribble."
Smith added that Watford could use another season at Indiana to improve his chances of being drafted.
How this decision affects Indiana
Whether or not Watford returns, the Hoosiers figure to be one of the favorites to win the Big Ten next season and a cinch for the preseason top 25.
Jeff Goodman, who covers college basketball for CBSSports.com, believes the Hoosiers are a top 10 team heading into next season if everyone returns.
"[It's] way too early to tell without knowing who else is coming back for the other teams," Goodman told Inside the Hall. "My best guess at this early stage would be somewhere around 10."
That projection could change if Watford opts to leave, according to Goodman.
"Watford leaving would certainly hurt Indiana — and probably knock the Hoosiers into the 15-18 range."
Video: Watford on his future
Filed to: Christian Watford