When adversity called, Watford answered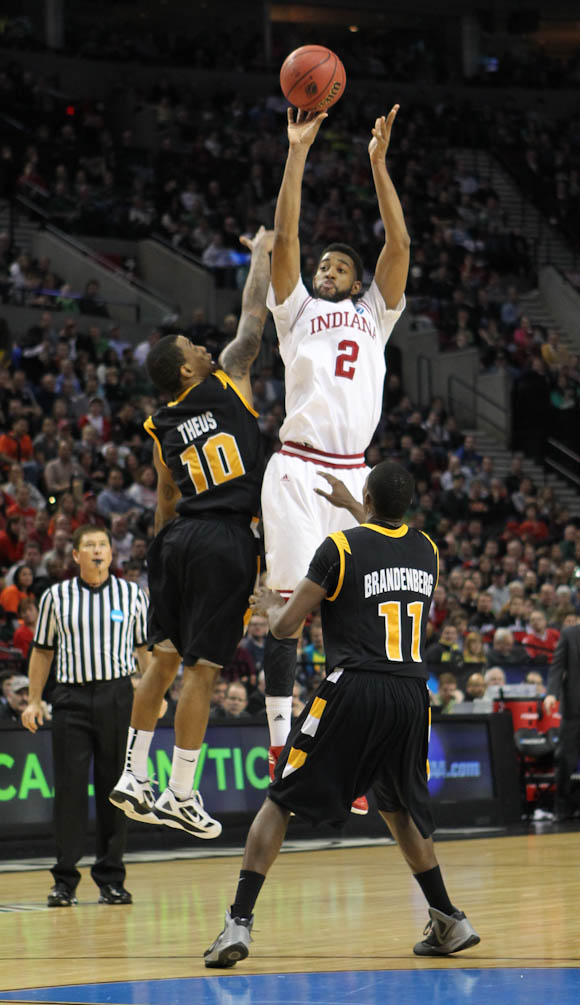 PORTLAND, Ore. — The game was over. The Hoosiers were done.
Late in the first half, VCU's defense was starting to wreak havoc. The Rams broke a 33-33 tie with nine straight points, including four straight on layups coming from turnovers. The Hoosiers couldn't even get shots off.
This team hadn't been here before. It hadn't ever faced a team like VCU, it hadn't ever recovered from a deficit in a do-or-die game.
Just as the Hoosiers were about to be run out of the Rose Garden by the 12-seeded Rams, Christian Watford decided he had worked too hard to let this magical season end without a fight.
On the Hoosiers' next offensive possession, Watford held the ball behind the 3-point line. He pivoted, waiting for his defender to come out or sag off. When he backed up just a step, Watford let it go and drilled a big 3.
That's when Watford did something he rarely does — he got mad, he got emotional, and he got demonstrative. It was exactly what the Hoosiers needed, and what they need more than anything if they have a chance to beat Kentucky on Friday.
As he prepared for the next defensive possession, Watford slapped his hands together, turned to Will Sheehey on his left, and said 'Let's play, baby.'
Sheehey nodded, and then the Hoosiers did just that — they played, baby.
Watford nailed another 3, and then two free throws. All of a sudden, Indiana was only down a point at halftime.
They were dead, and Watford gave them life.
"I knew we were at a very vulnerable point where we needed to get some good shots up," Watford said. "It's just the moment. It's March Madness at this point. It's win or go home, so you have to lay it all out on the line."
The Hoosiers were done. The game was over.
As the second half went on, the deficit grew. They were down seven, then nine, then four, then six. They were turning the ball over in bunches — they wasted 35 percent of their possessions — and they allowed VCU to shoot uncontested shots. The season was slipping away.
When they thought about the climb back, though, they simply had to go back to Watford's streak late in the first half. That streak gave the Hoosiers the confidence they needed, the confidence they could still win the game even though it seemed utterly impossible they would do so.
They thought back to what Watford had done only an hour earlier, they thought back to the late deficit they had overcome at N.C. State earlier this season.
This team may not have the most postseason experience, but neither did VCU before it made its Final Four run last year, neither did Butler before its first run to the national championship.
Experience is important but, sometimes, it's overrated.
"It's them. It's what they believe they're going to do," said Indiana coach Tom Crean. "And the way they talked to one another in the huddles. And the resolve they had. And they're so locked in. Their locked-in mindset gave us great confidence, but most importantly it gave each of them the confidence."
They had confidence in themselves, but they also had confidence in each other.
They trusted a freshman, Cody Zeller, to make plays on offense late in the game. And he did.
They trusted Victor Oladipo, who had committed five turnovers, to hurry the ball up the court instead of taking a timeout.
And they trusted each other enough to switch everything on VCU's final possession, even with the game and the season squarely on the line.
The game wasn't over. The Hoosiers aren't done — they're headed to Atlanta.
"I sit and look at these guys, and I'm looking across at them in that huddle and it's a great feeling," Crean said. "It's hard to describe. But it's a great feeling to be around young men like this that they do really want to see each other be successful. They know they're a team. They've earned their way in."
Filed to: 2012 NCAA Tournament, Christian Watford, Tom Crean