Zeller: "I'm just not ready to grow up yet"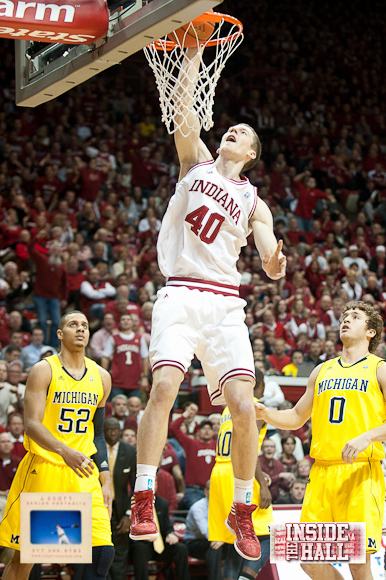 Cody Zeller just isn't ready to leave Bloomington.
Addressing the media for the first time since he announced he would return to Indiana for his sophomore year, Zeller said this year wasn't the right time for him to make the jump to the NBA.
"It's a tough process. I mean, it's a lot of money," Zeller said. "I'm just not ready to grow up yet. Paying rent, getting a house, becoming an adult — I'm not ready for all that. I'm enjoying my college career, on and off the court. I'm definitely happy to be here."
Christian Watford, who also explored his NBA options before deciding to return for his senior season, said he's excited about playing with the Hoosiers' highly-rated recruiting class coming in next season.
Watford has been "resting" during the early weeks of the offseason because of a heel injury he played with throughout the season. He had a walking boot on his left foot at the team's awards celebration Thursday night.
"I just wanted to come back and be a part of this team," Watford said. "I feel like we can do some great things this next year and help build from right where we left off."
Jones not ready for career to end
Senior guard Verdell Jones, who missed the NCAA tournament after tearing his ACL during the Big Ten tournament, said Thursday his surgery went "very well" and he is currently working on rehab.
"It was painful the first week after, I couldn't walk at all," Jones said. "Slowly but surely it's gotten better. I'm currently off the crutches, I can walk a little bit. It's still a little painful when I walk."
Jones also said he plans to hire an agent "in the next week or so," and attempt to play professional basketball overseas in Europe.
Postseason awards
Indiana coach Tom Crean and his staff handed out awards for the season at a special fan event at Assembly Hall. The award winners are listed below.
Scoring, rebounder — Zeller
Free throw, assist — Jordan Hulls
3-point percentage — Matt Roth
Deflections leader — Victor Oladipo
Mr. Hustle — Will Sheehey
Best Defensive Player — Oladipo
Leadership — Hulls
T-N-T (toughness and tenacity) — Zeller
Landon Turner Inspiration — Jones
Hoosier Award — Zeller
Freshman Student Athlete of the Year — Remy Abell
Most Improved Player — Oladipo Sheehey, Watford
Outstanding Player — Zeller
Filed to: Christian Watford, Cody Zeller, Verdell Jones