Crean talks 2012 class, return of Watford/Zeller on ESPNU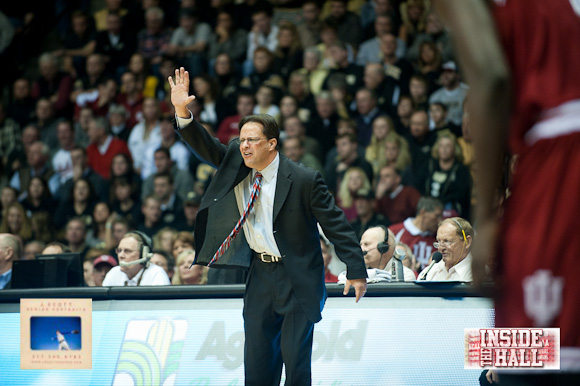 Tom Crean was a guest on the ESPNU signing day special earlier this evening and here's a transcript of the three questions he answered for host Dari Nowkhah:
On what the 2012 recruiting class says about Indiana basketball:
"It says we have a lot of young men that believed in this program, believed in one another in the sense that they wanted to play together and they believed in what we were doing … some of the players that were already in the program and guys like Cody Zeller, that were joining the program at the time, it said a lot about them wanting to make Indiana basketball a really big deal again. And I think they're going to be a big part of it."
On the perception of Indiana basketball in the eyes of recruits:
"I think it's really strong. I think early on you had to remind a lot of people about the tradition and how big time it is. I think that's why getting young men on campus when they were really young like ninth graders and tenth graders was really important because our fan base was so strong and at the same time, their parents, their coaches knew what Indiana was capable of.
"When you start talking about the program, but more importantly, when you start showing them what happens with this education if you do it right and what former players have done even after pro basketball, it really starts to get the family's attention. And then the players spent a lot of time playing together in different tournaments and playing against each other in their high school seasons and it built some kinship. I think that's what really helped turn the tide for us."
On the announcement that Cody Zeller and Christian Watford would return next season:
"It's big, but at the same time, if they would have said that they're ready to go and especially in Christian's case, if it would have been a really clear cut situation for him, I would be disappointed in the sense of not being able to coach them and you always want to continue to help make them better, but you really are here to make sure they get an opportunity to be the very best at what they want to be.
"And along the way, that they do all of the other things right. We're going to have more guys graduating from this program in three years to three and a half years than we will in four years. So our guys are doing an excellent job academically. When you've got players working that way and trying to be as complete as they can be, you can't fault them. But at the same time, when they decide to come back and you know you've got a chance to keep building on what has been started, on what happened this year, that feels good, too. There's no doubt."
Filed to: Christian Watford, Cody Zeller, Tom Crean