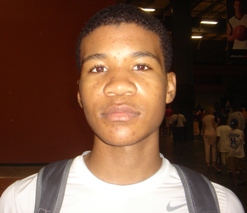 The Kentucky Hoopfest kicked off Thursday in Louisville and Inside the Hall attended the evening session at Hoops and Basketball Academy.
+ Among the coaches in attendance: Tom Crean and Tim Buckley; Michigan State's Tom Izzo; Butler's Brad Stevens; Xavier's Chris Mack and assistants from Ohio State, Tennessee, Iowa, Wisconsin and Purdue.
+ At Hoops, the Spiece Indy Stars crushed Indiana Swish Orange. This Spiece group was coming off a tournament win at the Hoosier Shootout and Broad Ripple's Ron Patterson, Lawrence Central's Jeremy Hollowell (pictured), Southport's Kellon Thomas and Avon's Austin Burgett were all impressive. You'd be hard pressed to find a stronger group of 15-year olds.
Hollowell confirmed that Indiana is ready to make an offer, but it won't be official until his mother gets a chance to be there for the occasion. Iowa and Cincinnati have offered. Hollowell is 6-5 (and still growing) and said he enjoyed his time last month at the Indiana Elite Camp.