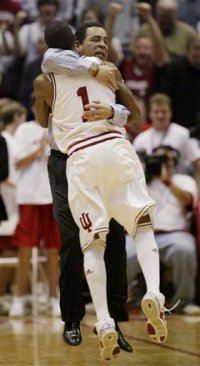 We've all been guilty of it. We are finished with Kelvin Sampson, done, finito, that's it. As you read this, Sampson could win the Big Ten, blow out Purdue by 40, capture a national title, and cure lupus (does lupus have a cure already?) and everyone would still monolithically demand Sampson's head on a silver platter. And rightfully so.
But for all the unanimous consent to fire on this site, and among ESPN's chosen local interviewees, last night's game showcased an atmosphere, and a fanbase, still totally confused and weirded out by what's happening right in front of them. I watched on TV last night, and it was clear from the Dolby 5.1 that the pregame crowd hadn't made up its mind to boo Kelvin Sampson, nor had they decided to show solidarity with the embattled coach. Sampson was just sort of there most of the game — drawing angry comments from myself, PostmanR, and my girlfriend, all the while coaching IU to its best win of the season in front of an emotional and raucous home crowd.
Just how the hell are we supposed to feel about that?
I still don't know. And it was clear from the Kel-vin Samp-son cheer last night — clear from friends on campus who say opinion on KS is split — that I'm not alone. No one who loves IU basketball is totally sure how to feel about all this.
For me, it's a mixture of sadness, anger, doubt, excitement, revenge, righteousness, forgiveness. It's hard to say goodbye to someone who knows he needs to leave. It's hard to force him out when you watch him hug his kids. It breaks the heart to see him cling for dear life in the face of certain failure. And then you remember what he did in the first place — the stupidity and arrogance — and it brings you back to the angry, vengeful thoughts you first had.
And that's what it is right now. That mixture. That confusion. We're on the tail end of something, and if the above paragraph was any indication, things aren't going to be easy to synthesize anytime soon.