Fischer, Williams and Jurkin return; Robinson remains out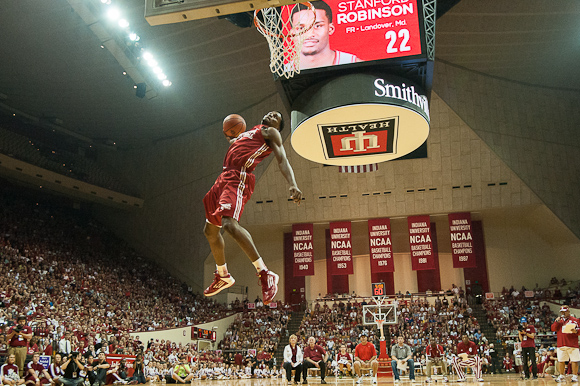 Speaking to the media in advance of Saturday night's exhibition against Southern Indiana, Indiana coach Tom Crean revealed his team is slowly getting back to full-health.
Freshman center Luke Fischer, who suffered a torn left labrum in late September, has been practicing for the past three days after missing practice over the past month. In addition, freshman forward Troy Williams has been back for a week after injuring his right hand before Hoosier Hysteria, though he is still practicing with padding on that hand.
Only freshman guard Stanford Robinson remains out with the bruised knee he sustained during Hoosier Hysteria. And Crean does not expect him to play in tomorrow night's exhibition, unless something "magically changes" overnight.
"Troy Williams lost valuable time and then he came back and he did a great job and he did it with one hand," Crean said. "And Luke has missed valuable, valuable time."
"We've just had different issues with the injuries."
Sophomore center Peter Jurkin, who has been in Sudan to see his severely ill father, is back as well and was at practice today, according to a program spokesman.
Even freshman forward Devin Davis has dealt with injuries this preseason, as Crean said he has been "in and out" of practice, though Crean said he has been extremely efficient overall this preseason.
"I don't think we'll really see where we're at until we get more from more guys that have been injured," Crean said.
"We're anxious to see where it stands. And we're anxious to have something to evaluate as we get ready for the next one."
Filed to: Luke Fischer, Stanford Robinson, Tom Crean, Troy Williams