Five takeaways from Indiana's win over Southern Indiana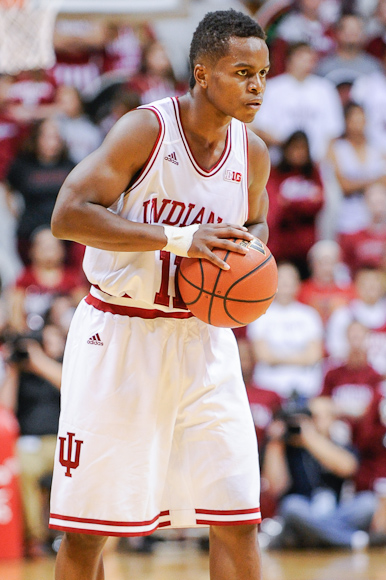 In our first extended look at the 2013-2014 Indiana Hoosiers, the outcome was a 83-68 win over Division II Southern Indiana at Assembly Hall on Saturday night.
Here's a look at five takeaways from Indiana's exhibition win:
· Yogi Ferrell's jump shot looks improved: It's only one game against a Division II opponent, but Yogi Ferrell looks ready to show off an improved perimeter game. As a freshman, Ferrell was inconsistent from behind the 3-point arc, but in his 2013-2014 debut, his elevation off the floor and confidence were both on display. Ferrell finished with a team-high 20 points and hit six 3-pointers, most of which came in the flow of the offense. Tom Crean was pleased with Ferrell's shot selection and scoring production. "I think the whole key is take what the game is giving you, and Yogi is good enough where that's got to be the key," Crean said. "The shooting was excellent, the way that he got them."
· Troy Williams is oozing with potential: Go back and watch some of the plays Williams made on Saturday night and you'll understand why he was once considered a top ten prospect nationally in the 2013 class. He's explosive off the dribble and fearless going to the rim. Williams even knocked down a 3-pointer in his Indiana debut, which is a part of his game that he'll need to continue developing to keep defenses honest. When the lights went down for the night, Williams had amassed 10 points, 10 rebounds and three blocks. "I felt like he played with high energy," Yogi Ferrell said of the freshman wing. "The thing that I really like that he does is attack the offensive rim. We got 21 offensive rebounds tonight, a lot on his end."
· Vonleh will play multiple positions: If you thought Indiana would slot Noah Vonleh into one position, think again. The Hoosier staff is going to move Vonleh around, which should only help to expand the versatility that is already present in his game. When Indiana goes small, Vonleh will log minutes at the five, but he can also slide to the four or the three and play alongside Luke Fischer or Hanner Mosquera-Perea. Vonleh was relentless on the glass Saturday night as he finished with nine points, 12 rebounds, two steals and a block.
· Indiana has the length to be very good defensively: There will be plenty of bumps in the road, but Indiana has the tools to create turnovers and get out in transition off of its defense. Vonleh and Mosquera-Perea have ridiculous length, Williams is going to be an impact player defensively once he learns when to gamble and when not to gamble and Ferrell and Sheehey have the experience to lead the charge from the perimeter. Crean admitted in his postgame comments that he hasn't put much in yet defensively, but seemed to be pleased with his young team only being whistled for 12 fouls despite the new hand checking rules which could change the game. "Now could we have been more aggressive?" Crean said. "I don't think for as long a team we have, they have any idea how long they are. I think that's going to come with experience, come with time."
· Hollowell, Mosquera-Perea both look improved: We've heard the rumblings of Jeremy Hollowell getting time as a backup point guard and saw the scenario play out in a few stretches on Saturday night. Hollowell came off the bench and scored 13 points and also had three rebounds, two assists, two turnovers and a steal. With questions on where the scoring will ultimately come from with this group, is Hollowell best served coming off the bench as the sixth man who can provide that punch? Time will tell. As for Hanner Mosquera-Perea, the sophomore from Colombia chipped in nine points (5-of-5 from the foul line) and five rebounds. Mosquera-Perea still needs to become more aggressive and assertive, but he looked far more comfortable last night than at any point last season. "I have been working on my shot a lot," Mosquera-Perea said. "I have been working on my post moves, my shot and I think it has made a difference. I feel like all those things in my game got way better."
Filed to: Hanner Mosquera-Perea, Jeremy Hollowell, Noah Vonleh, Troy Williams, Yogi Ferrell