Notebook: Troy Williams gets double-double in debut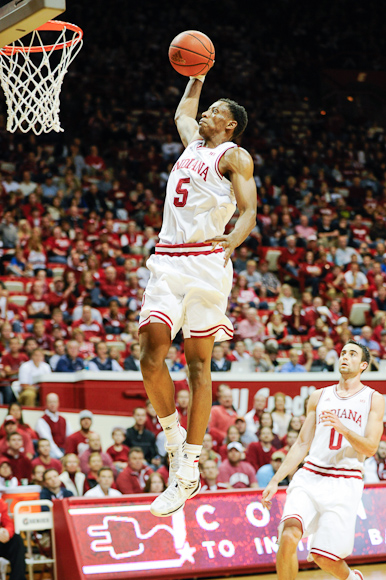 Throughout many of the Hoosiers' 23 practices this preseason, freshman forward Troy Williams played with one hand.
It was only until this past Monday that Williams started to even practice with his right hand after he injured it the week of Hoosier Hysteria. During practices, he'd play with only his left hand.
But as the week went on, Williams proved himself worthy of being a starter in Indiana's exhibition Saturday night against Southern Indiana. In the Hoosiers' 83-68 victory, Williams recorded a double-double, scoring 10 points and adding 10 rebounds in his first college game of his career.
"Before I came here, I had a left hand but it wasn't as strong as my right hand. People see it as a setback, but really I see it as a help to me," Williams said after the Hoosiers' win. "Having both hands equal at the same ability really has helped a lot so now I can finish both sides of the rim with either hand."
But scoring and grabbing rebounds wasn't the only thing Williams did Saturday night. Wearing padding on his right hand, the 6-foot-7 freshman also blocked three shots, dribbled between his legs and even attempted a few one-handed dunks.
All in all, it was a good first night for Williams, who only three and a half weeks ago wanted to participate in Hoosier Hysteria so badly he was willing to do it with only one hand but instead settled with judging the dunk contest.
"When you've gotta guy like that, I mean, you've got to let him run. You've got to let him play and what you want to do is you want to coach him along the way," Indiana coach Tom Crean said. "He wants to be coached, and that's a big deal.
"He's got such a firecracker in his body. He's on the explosion all the time."
Hoosiers adjust to first game with new NCAA rules
Crean called it the story of the game.
In their first test against the NCAA's new rules on hand-checking that has caused Crean to change the way he coached his defense, Indiana committed only 12 personal fouls. By contrast, the Screaming Eagles were called for 23.
"We've spent a ton of time playing defense without our hands," Crean said. "I think that showed up tonight. I think that really showed up."
In preseason practice, Crean said he had referees enforcing the new rules about 75 to 80 percent of the time. He had even heard of a "secret scrimmage" in which both teams were into the bonus only three minutes into a half.
So, Crean focused his team on defensive movement and communication in place of hand-checks. The result in Game 1? 16 forced turnovers and 10 steals.
"It's really been about, with this team, just understanding how connected you have to be team defense-wise, what your footwork's got to be like," Crean said.
"Now, could we have been more aggressive? I don't think, for as long of a team as we have, they have any idea how long they are, and I think that's going to come with experience, come with time."
Other notes:
· Sophomore guard Yogi Ferrell, who said he's improved his 3-point shot over the offseason, made six 3-pointers for a total of 20 points Saturday evening.
· Freshman forward Noah Vonleh was one point shy of a double-double, scoring 9 points and adding 12 rebounds. He also scored on a 3-point jumper, but was 0-for-5 from the free throw line.
· In fact, shooting was a major issue for the Hoosiers, in general. Indiana finished 28-of-67 from the field and only 18-of-31 from the free throw line.
· A couple of injury updates: Freshman forward Devin Davis did not play, with Crean citing that they wanted to give his body some rest after what was a "really tough week" for him. That said, Crean said he doesn't think Davis will be out for long.
· Freshman guard Stanford Robinson participated in warmups, though he has not yet been cleared to play. Crean hopes he will get clearance next week.
· 2014 forward Max Hoetzel, 2015 guard Aaron Jordan and 2016 guard Eron Gordon were all in attendance for Saturday night's game. 2014 guard James Blackmon Jr., who was on campus yesterday for an unofficial visit, did not attend the game.
Filed to: Noah Vonleh, Tom Crean, Troy Williams, Yogi Ferrell