The Minute After: Southern Indiana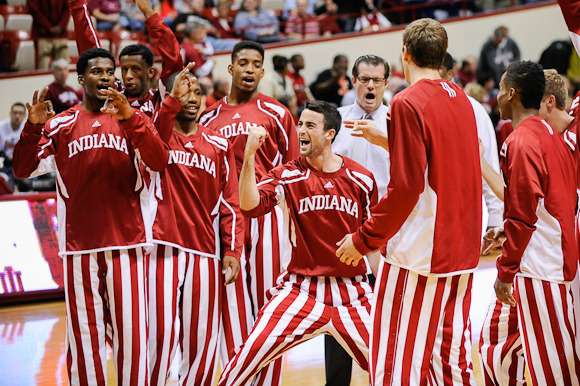 Thoughts on an 83-68 win over the Screaming Eagles:
I. With so much scoring gone, and so many unknowns with this young group of kids, Yogi Ferrell's been pegged as a guy that's going to need to step up and score more as he begins his sophomore season. He did that tonight — in impressive fashion. Ferrell splashed 6-of-10 from distance and finished the night with a game-high 20 points. He isn't going to continue to shoot 60 percent from 3-point range this season. But if Ferrell becomes a legitimate threat from beyond the arc, it's a more efficient way to score and should help open things up for IU's offense if its point man will need to be taken seriously out on the perimeter by the opposing defense.
Speaking of needed increased scoring from returnees, Jeremy Hollowell got it done tonight, too. He ran the point in a sixth man role and seemingly got to the bucket whenever he darn well pleased. He was smooth; he was confident. Hollowell finished the night as IU's second-leading scorer (13 points) and added two assists. Good early signs from two important sophomores who are sure to see expanded offensive roles this season.
II. About those freshmen. As his reputation dictates, Troy Williams is a special talent, a kid on the verge of a highlight block or dunk on either end of the court at all times. It's great stuff. Williams threw one down just as time expired in the first half and he was all over the rim, as he missed a few tip-backs and alley-oops and snagged an impressive 10 rebounds in his Hoosier debut. But Williams, as he reputation also dictates, was erratic at times and took some ill-advised shots. At one point he drove to the hole, had nowhere to go and tossed the ball back into the paint for a turnover. During an early timeout in the second half, Tom Crean spent time instructing Williams one-on-one before he addressed the whole team. Crean also reportedly told Williams "under control now, let's go" as he returned to action in the second half.
Noah Vonleh showed his versatile game tonight, putting up shots over both shoulders down low, splashing a 3-pointer at the top of the key, blocking a shot and snagging 12 boards. But Vonleh — who shot under 50 percent from the line in high school — missed all five of his shots from the charity stripe this evening. And like Williams, there's certainly still a lot of rawness to his game, despite the talent.
III. Hanner Mosquera-Perea looked like a young man who understands the sport of basketball much better than he did a season ago. Mosquera-Perea contributed on both defense (a block, a late steal that got the crowd excited) and offense (did you see that silky baseline J?). And on a night when Indiana struggled from the line (just 18-of-31), the sophomore hit on all five of his attempts on his way to nine points. It's but one game — and only an exhibition, mind you — but his start to the season was about as good as one could have hoped for.
IV. Indiana appears to be a team that still wants to get up the court fast once it get possession of the ball (77 possessions) and one that still crashes the offensive boards (45.6 OR%). But the Hoosiers had problems converting their 21 offensive rebounds into much and were actually outscored in the second-chance department 12 to 11 by the Screaming Eagles. Indiana also turned the ball over at a high rate in both the halfcourt and on the break (21.8 TO%), which might be a reoccurring side effect of a young team trying to find their way in Tom Crean's system.
Filed to: Southern Indiana Screaming Eagles