A look at Max Hoetzel's potential impact at Indiana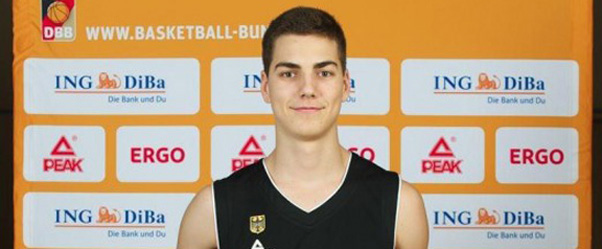 When Los Angeles Times high schools beat reporter Eric Sondheimer first saw Max Hoetzel play as a junior at Calabasas (Calif.) High School, something about his game immediately stuck out. It was something that made Sondheimer believe Hoetzel could be a high-major player, eventually.
"He was 6-7 and could shoot from long range; he had such a great 3-point shot," Sondheimer told Inside the Hall on Monday. "And you could see the potential he had. I saw him again in the offseason here in the summer, and he was continuing to improve. It was just quite interesting to watch to see who would become interested in him."
A lightly-recruited prospect that had offers from Utah, Pepperdine, Davidson and Boise State, among others, Hoetzel transferred to Wilbraham and Monson (Mass.) Academy this past August, perhaps to evolve his game and perhaps to get more exposure. The result, Hoetzel calls, was "one of the best decisions I've ever made."
Within two months of choosing WMA, Hoetzel had received interest from Florida, St. John's and Iowa State, among others. Indiana, who had watched Hoetzel during a recruiting trip to Massachusetts targeting Goodluck Okonoboh, had even entered the mix.
This past Sunday, Hoetzel committed to Indiana while on an official visit after he received a scholarship offer on Oct. 22, becoming the Hoosiers' second commitment of their 2014 class. He chose the Hoosiers over other offers from Connecticut, St. John's and even Florida (though they had offered him for 2015). 
When Sondheimer heard of the news, part of him was not surprised.
"I just think he must have continued to improve, which I expected him to do. I thought he was a really good prospect," Sondheimer said. "And yeah, I thought he probably should have deserved more scholarships from bigger schools than he was getting offered here.
"Just because he moved back East and some other schools started to notice, I think it's just a coincidence. He was gonna get recruited. He had scholarship offers, and yeah, maybe Indiana ran into him because they were recruiting somebody else, but good players will be noticed by everybody. Nobody is hidden."
But there was also a part of Sondheimer didn't expect Indiana —  a school that had top 10 recruiting classes in each of the past two years — to extend an offer to Hoetzel.
"Is he good enough to play at Indiana right now? I don't think so," Sondheimer said. "I think he still needs to keep improving, so I hope he made a good choice and has evaluated that properly. He still has a ways to go: He needs to keep improving his defense and he needs to become a more all-around player.
"But his scoring potential and his shooting potential are certainly a reason to take a little bit of a risk on him. There's not that many 6-7 kids who can shoot the ball, potentially, as well as he can."
Sondheimer was quick to add that Hoetzel's decision to move to prep school could help fill that void in Hoetzel's game and maybe has already helped to do so. Under coach Chris Sparks' direction this season, Hoetzel is trying to become a more complete player at his size — one that is good on defense, can rebound and still shoot from long range — before he arrives in Bloomington.
Whether that happens remains to be seen, but even given only Hoetzel's shot-making ability, Sondheimer is confident the Hoosiers added a good one.
"You just don't see 6-7 kids shoot the ball as well as he does from as far of range as he can," Sondheimer said. "And as long as he continues to get stronger and he figures out how to score inside as well as outside, that's where you have a really good player.
"If (Indiana) needs a shooter, he can help fill that role great. But for him to be successful at that level, he needs to be an all-around player. And that's what this year will be about, and he has very much in him to become an all-around player. He has such a good attitude. He's a good kid, a good student. He'll fit in well if he makes that improvement."
Filed to: Max Hoetzel