Notebook: Hoosiers "anxious" to get on the court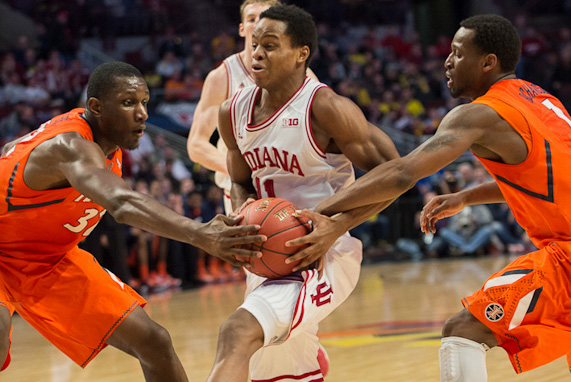 Only a year removed from being the preseason No. 1, a new team and a new season has arrived. Later today, fans clad in cream and crimson will pack a sold out Assembly Hall for Indiana's first game of 2013-2014 against Southern Indiana.
Yes, it's October, and yes, it's only an exhibition, but the Hoosiers are ready to get on the court against someone other than themselves in practice.
"I'm tired of beating up on these dudes, I'm telling you," said Yogi Ferrell on Friday afternoon. "It'll be a good test. I'm glad we've got our first game tomorrow. I'm ready to get back at it."
Even more anxious to get game experience with this year's squad is Indiana coach Tom Crean. In a season in which the Hoosiers only return one starter and 23 percent of its 3-point production from one year ago, there remains a lot to learn about this year's team.
Having opened his press conference on Friday with the words "We're anxious to play, I don't think there's any question about that," Crean said it perfectly: Now is the perfect time for his squad play someone other than themselves.
"It's hard to believe you're going to play a game on October 26th, but we are," Crean said. "And we've been in practice almost a month. And we're anxious to see where we stand. I like this team."
Even freshman forward Noah Vonleh, one of the players that has stood out this preseason and is expected to start from day one, said he is excited heading into game time.
As far as if there are any nerves heading into his first game as an Indiana Hoosier?
"Nothing right now," Vonleh said, "but I'm sure there will be."
Hoosiers adjust to NCAA rule changes
After the NCAA passed new rules that limit hand-checking in games, Indiana coach Tom Crean observed carefully as other teams played in secret scrimmages over the past two weeks.
In one instance, both teams were in the bonus with 17 minutes left in the half.
With the rule changes, Crean knows his team has to be careful and has spent much of the preseason adjusting his players' defense to limit as many hand-checking fouls as possible. But with its first game on the horizon, he admits there is a bit of uncertainty heading into tip-off.
"You keep reading all these different stories and talking to colleagues that have scrimmaged at this point," Crean said, "and you start to know everybody's in for a wild ride for a while here until we figure out how the games are going to be officiated.
"We want to make sure we understand that this game is changing, and it's going to be universal. Early on, everyone is going to have to make the adjustment to it, us included."
To combat that, Crean said he has put referees in 75 to 80 percent of his practices to help his team further understand the new rules, that a player can't put both hands on an opponent or continually get one hand on him, as well.
He has put an increased emphasis on defensive communication and movement. It's been a learning process, but Ferrell knows exactly what the new rules mean.
"They're pretty much going to call, I feel like, anything now," Ferrell said. "You can't be as aggressive as last year. You just have to try and work with it."
As Crean determines starting lineup, positions go to wayside
As the preseason has progressed, Crean has become less and less committed to players playing at only one position.
Take Vonleh, for example. The 6-foot-10, 240-pound freshman has played at the small forward, power forward and center positions thus far.
Or, in even a more dramatic case, 6-foot-8 sophomore Jeremy Hollowell has even played at point guard in practices.
"He's good," Ferrell said. "He's a big guard, really."
With plenty of preseason injuries challenging the depth of Indiana's roster, Crean has tested players at multiple positions. And heading into tonight's scrimmage, he said he has yet to even determine a starting lineup.
"People start looking for labels and 'he's this, he's that,' but not really," Crean said. "We had an NBA guy in yesterday that mentioned one of the guys where he thought he was positionally and I'm like 'Wow, I never even thought of that.' It blew my mind.
"And that's where it's at. Everybody sees the game through their own lens, and the one lens that is starting to be more commonplace is that positions matter less."
Other notes:
· Crean updated the status of Luke Fischer, Peter Jurkin and Troy Williams yesterday. Stanford Robinson will likely miss tonight's exhibition with a bruised knee sustained in Hoosier Hysteria.
· Southern Indiana's leading scorer from last season, Orlando Rutledge, is ineligible and will miss today's game. The Screaming Eagles are 71-21 in the past three seasons and have 11 upperclassmen on their roster.
· Crean said he is holding his team to the standard of last year's production. He admits that "there's a huge difference between last year and this year, right now," but that is what his team is reaching for.
Filed to: Noah Vonleh, Tom Crean, Yogi Ferrell