6-Banner Sunday: Hall of Fame coach Bob Knight passes away at age 83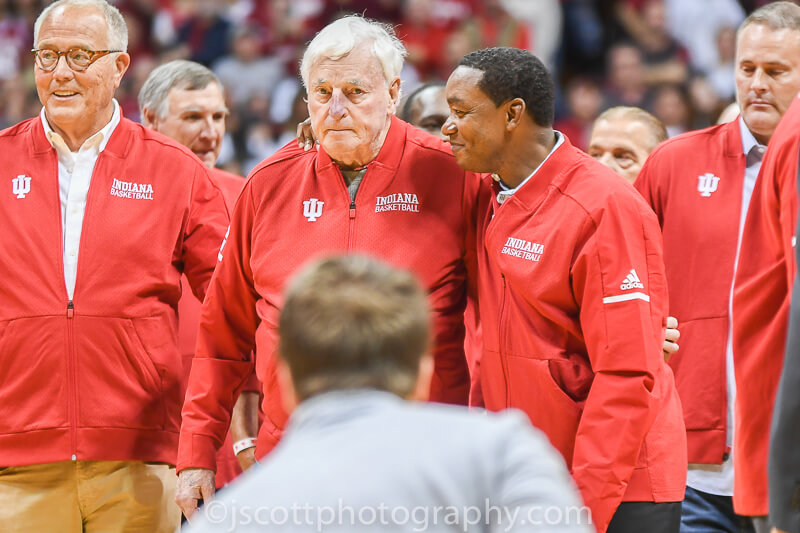 6-Banner Sunday is Inside the Hall's weekly newsletter in partnership with The Assembly Call. Almost 10,000 Indiana fans receive the newsletter each week. In addition to appearing each week on the site, you can receive 6-Banner Sunday by email. A form to subscribe via email is available at the bottom of this week's 6-Banner Sunday.
Welcome to another edition of 6-Banner Sunday, a joint production between The Assembly Call and Inside the Hall, and presented by our friends at Trueblood Real Estate, where we highlight the five most essential IU basketball stories of the past week, plus take a look at how the other IU sports programs are doing.
While the exhibition season got underway for Indiana basketball, the far more significant story this week was the passing of legendary Hoosier coach Bob Knight. Also, some recruiting updates and we will as usual conclude with a look at other IU sports led by huge wins for men's soccer and football.
In a few brief headlines, Inside the Hall launched an online apparel shop and had Podcast on the Brink with Stephen Bardo. Also, IU coach Mike Woodson had his weekly radio show debut.
• Bob Knight passes away at age 83
• Recruiting updates
• IU defeats UIndy in first exhibition game
• Hoosiers dominate Marian in second exhibition game
• Women's basketball cruises past Northwood in exhibition victory
• Hoosier Roundup
IU men's basketball will play five games this season on the Peacock and the women will play seven, making the streaming service essential for IU basketball fans. Sign up for Peacock using Inside the Hall's link to help support the site and also enjoy Big Ten hoops all season long! (The link is an Inside the Hall affiliate link, so a commission will be paid to ITH if you click and subscribe to Peacock. We appreciate your support!)
Banner #1 – Bob Knight passes away at age 83
When Indiana fans think of Hoosier basketball, the first name that comes to mind is likely Bob Knight. While his tenure was not all roses, he led Indiana to three national titles, 11 conference championships and is regarded as one of the greatest basketball minds ever. Following his controversial firing in 2000 after 29 great years as the program's leader, he distanced himself from IU for a long time until reuniting with them several years ago following his move back to Bloomington.
On Wednesday, the legendary figure passed on following a battle with health issues. Several prominent figures on campus released statements celebrating his greatness. Many others connected to Knight put out thoughts about his career as well. Also, a moment of silence was observed for him at the women's basketball game Wednesday night following the announcement of his death. Also, men's basketball and soccer on Friday and football on Saturday did the same.
Finally, AC Radio discussed Knight's legacy on its Thursday program. Also, Galen Clavio and Scott Caulfield of Crimson Cast went live shortly following the announcement of his death to discuss his impactful life.
Banner #2 – Recruiting updates
While recruiting took a back seat this week, a couple of stories occurred here. The Hoosiers continue to be in pursuit of 2026 prospect Jayden Johnson and he attended Hoosier Hysteria recently. His visit from that weekend was discussed with Inside the Hall. Also, future IU player Liam McNeeley participated in the GEICO Top Flight Invite, where highlights of his play were released.
Banner #3 – IU defeats UIndy in first exhibition game
Turning to action on the court, Indiana opened their exhibition season last Sunday with a victory over DII Indianapolis. While it was a massive struggle in the first half, the Hoosiers eventually pulled away for an easy win in the final 20 minutes by a score of 74-52. The team had balanced scoring, led by 14 points each from newcomers Mackenzie Mgbako and Kel'el Ware.
Afterward, Inside the Hall had a photo gallery, Woodson spoke, Ryan Corazza penned a Minute After, William McDermott wrote a column about the team's reserves, Alex Bozich had five takeaways, and Corazza broke down the game film. Finally, Assembly Call did a live postgame show discussing the contest.
Banner #4 – Hoosiers dominate Marian in second exhibition game
The early game struggles did not carry over to the final exhibition game on Friday against NAIA Marian. Indiana jumped out early and was in charge the entire time of a 94-61 victory. Ware was again dominant, leading the way with 20 points as the team had a blistering night shooting the ball.
Afterward, Inside the Hall had a photo gallery, Woodson spoke, Corazza wrote a Minute After, and Bozich penned five takeaways. Finally, Assembly Call had a live postgame show right after the final buzzer sounded.
Banner #5 – Women's basketball cruises past Northwood in exhibition victory
Top-10-ranked women's basketball also got underway with their only exhibition game on Wednesday. They cruised to a 111-68 win over DII Northwood in front of a record preseason crowd of 7,840. Star center and All-American Mackenzie Holmes was named to both the WBCA Wade Preseason Watch List as well as the Naismith Watch List. Holmes proved she was worthy of the honors, leading the team with 28 points on a perfect night shooting while playing just 14 minutes.
Afterward, ITH's Amanda Foster penned three takeaways from the victory. Also, Assembly Call's Doing The Work crew did a live postgame show shortly after the final horn sounded.
Banner #6 – Hoosier Roundup
• Despite the early season struggles, men's soccer came back as they often do with a nearly flawless October to capture yet another Big Ten title by defeating Rutgers. As a result, they earned the No. 1 seed in the conference tournament and edged out Wisconsin in the first round. They host Michigan in the semi-finals on Wednesday at 8 p.m. on BTN with tickets already on sale. Also, Hugo Bacharach was named the conference defender of the week and several Hoosiers captured postseason honors from the league.
• Football upset Wisconsin for their first win since September to keep their slim bowl hopes alive. The team also finalized its 2024 schedule and had a player nominated for the Burlsworth Trophy.
• Field Hockey closed out a tough season on a positive note by defeating Kent State. They also had several players receive postseason conference honors.
• Volleyball had a rough week, losing two heartbreakingly close matches to Northwestern and Ohio State on the road. They did manage to knock off struggling Rutgers in between the defeats. Also, the league honored one of the squad's stars with a weekly award.
• Women's soccer was knocked out of the Big Ten tournament in the first round by Penn State. As they sit on the NCAA Tourney bubble, they will learn tomorrow if they receive their first postseason bid in a decade.
• Men's golf placed 10th at their final event this fall before taking a hiatus for the winter and returning to competition in the spring.
• A former track and field athlete who competed at IU is now taking part in the Pan American Games.
• Cross country had two current runners receive sportsmanship awards.
• Swimming and diving had a couple of Hoosiers honored by the conference with weekly awards.
Thanks for your continued support for The Assembly Call and Inside the Hall. We'll be back next weekend with a new roundup.
Now go enjoy yourself a 6-banner Sunday.
Aaron (Ari) Shifron
Assembly Call Contributor
Filed to: