At the Buzzer: Indiana 94, Marian 61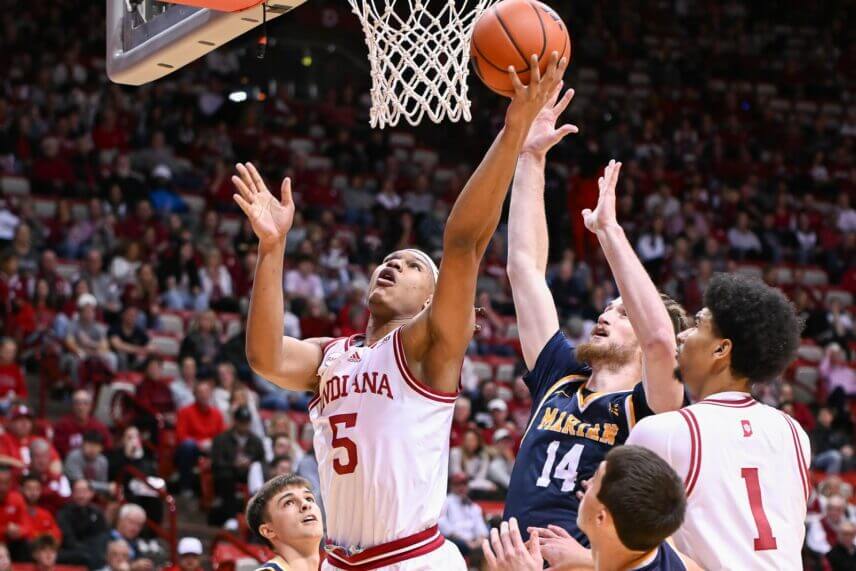 Quick thoughts on a 94-61 exhibition win against Marian:
How it happened
After a subpar first half against UIndy on Sunday, all eyes were on the start for Indiana on Friday against Marian in Assembly Hall. The Hoosiers were much sharper against the Knights, scoring 1.44 points per possession in the opening 20 minutes. Indiana was 15-for-26 from the field (57.7 percent), 4-for-7 on 3s (57.1) and 15-for-18 from the free throw line (83.3 percent). Indiana also committed just one turnover. But the lead was just 14 thanks to a barrage of 3-pointers from Marian. The Knights connected on nine triples in the first half (45 percent) as the Hoosiers surrendered 1.03 points per possession.
Indiana was much better defensively to start the second half, limiting Marian to four points in the first 5:15. A Mackenzie Mgbako 3-pointer put Indiana up 64-39, forcing Scott Heady to take a timeout with 14:51 to play. By the 11:47 mark, Indiana stretched the lead to 29 on a pair of free throws by Kel'el Ware. After allowing 35 points in the first half, the Hoosiers were much sharper defensively in the second half, limiting Marian to 26 points in a lopsided exhibition victory.
Standout performers
It was another strong night for Indiana's frontcourt.
Malik Reneau scored 12 of his 14 points in the first half. Kel'el Ware finished with a game-high 20 points and 11 rebounds. Ware was 8-for-13 from the field. And Mgbako had 15 points on 5-for-8 shooting in 20 minutes.
Statistics that stand out
Indiana was an efficient 9-for-17 from 3-point range (52.9 percent) and also shot 21-for-25 from the free throw line (84 percent). The Hoosiers dished out 25 assists and committed only two turnovers.
Final IU individual statistics

Final tempo-free statistics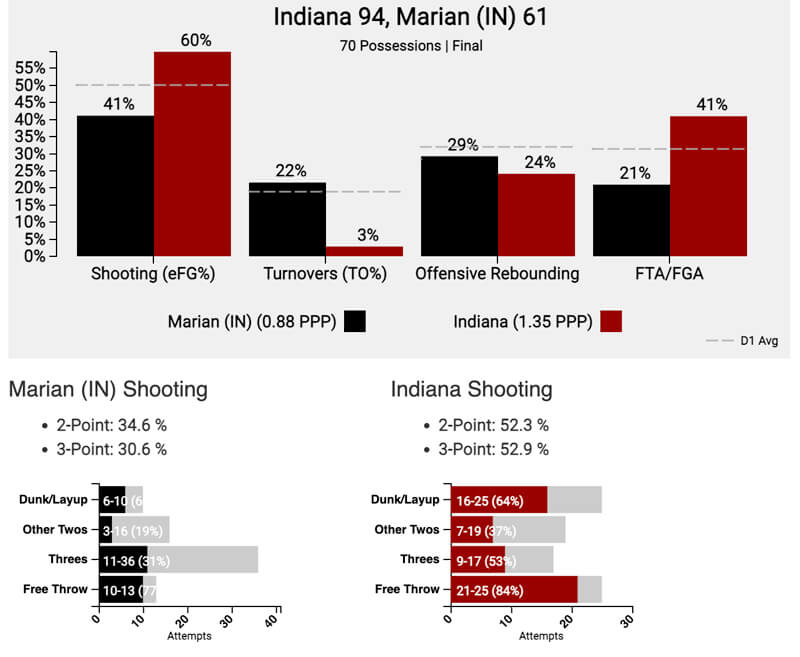 Assembly Call postgame show
Filed to: Marian University Knights