Three takeaways from Indiana women's basketball's exhibition win against Northwood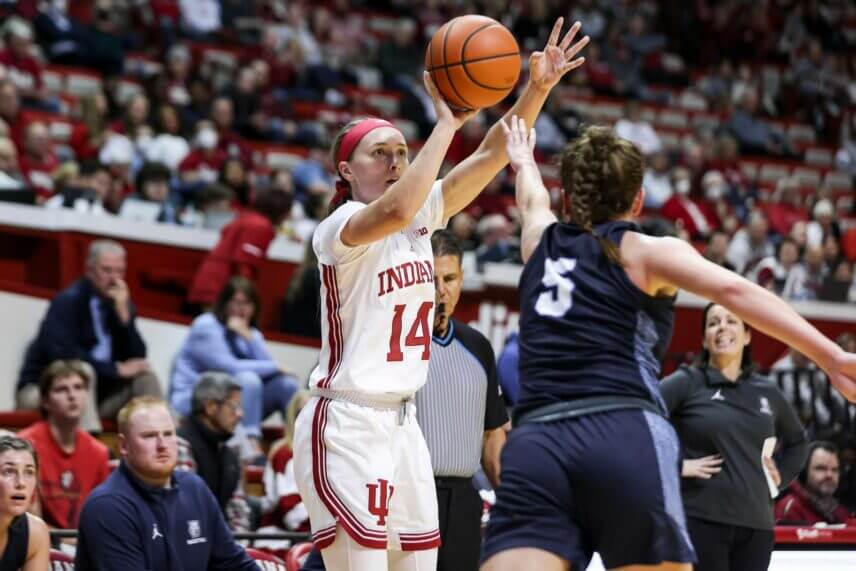 Indiana women's basketball's exhibition game against Northwood had everything one would expect from a program like Teri Moren's. Fast-paced play, dominant footwork in the post, solid 3-point shooting, stingy defense and a total team effort. Essentially, Wednesday night's game had it all.
The Hoosiers' 111-68 victory over the Timberwolves highlighted the positives of the 2023-24 squad, of which there are many. As with any exhibition, however, every performance must be taken with a grain of salt; competition will be much stiffer when the season begins, and Wednesday night's game showed areas where the Hoosiers need to improve.
Here are the main takeaways from Indiana's first time out on the floor of Simon Skjodt Assembly Hall:
Improvements from underclassmen could mean improved depth
All of the off-season narratives around Lilly Meister and Lexus Bargesser were focused on their hard work and dedication to improving their game in any way possible. Last season, both freshmen showed flashes of their potential, with Meister in the post and Bargesser as point guard. They both showed up in big moments but were still young and inexperienced and often seemed to lack the confidence necessary to succeed in women's college basketball consistently.
That's not the case anymore.
Meister filled the role of Mackenzie Holmes in the 17 minutes she played, scoring 10 points and grabbing 14 rebounds, a team-high. She was a dominant inside presence and looked comfortable in the role, aggressively and fearlessly fighting around the basket.
Bargesser, who played for 20 minutes, was reminiscent of Grace Berger in how she sometimes brought the ball down the court and dribbled around her opponents. Her final stat line came to 11 points, three rebounds and seven assists.
"The thing with freshmen, the best thing about them is they become sophomores," head coach Teri Moren said. "Lexi and Lilly both look completely different than they did a year ago in terms of comfort, confidence."
While both Bargesser and Meister will bring many positives to Indiana's statistical performances, they bring in something arguably even more important: security.
Meister proved she could fill Holmes' shoes even during her freshman year. An increase in confidence means she's more comfortable in that role. That means Moren can rest Holmes when she can, as she's explained she will do to keep the All-American healthy and still have a highly skilled and competitive post player willing to do whatever it takes to succeed.
Bargesser provides flexibility because of her versatility as a guard. She filled in as point guard at times last season, but Berger or Chloe Moore-McNeil mostly filled that role. Now, Bargesser could take on more responsibility and allow Moore-McNeil to play off the ball — which, Moren says, is more of her natural position.
Both sophomores have made considerable progress in their game and mentalities and should be essential parts of this year's squad.
If Sara Scalia's confidence stays high, she'll be unstoppable
Scalia's first shot of the night was a 3-pointer that hit nothing but the net on the way down. So was her second, and third, and fourth. Her fifth shot of the night was a jumper, which she also made.
While the second-year Hoosier didn't make every shot of the night — she finished with 17 points on 6-for-10 shooting, going 5-for-8 from deep — her attitude on the court was comparable to that from her three years at Minnesota.
Scalia had confidence in her shot again.
That was said to be the "make or break" for her this season, the thing that would elevate her to potentially unprecedented heights. She worked on gamelike shots throughout the offseason, making sure she felt comfortable in various situations, and it came through on Wednesday.
"Sara Scalia looks the best that she's ever looked in her career in terms of fitness level, her mind, her confidence, all of it," Moren said. "She is lethal. She can cause problems for the defense."
Of course, Scalia isn't the only Hoosier who is a threat from deep. Sydney Parrish and Yarden Garzon were also major threats — Garzon made 3-pointers at a 45.8 percent clip last year — and took some of that pressure off Scalia when her confidence wavered. But if Scalia's confidence doesn't waver, she'll be incredibly tough to contain and Indiana will be even more of a powerhouse from beyond the arc.
"The only thing stopping Sara would be Sara," Holmes said.
There is still work to be done with the freshmen
As Moren's freshmen become sophomores, they are replaced by other freshmen. So, while Meister and Bargesser have come into their own more this season, Lenée Beaumont and Julianna LaMendola are now the ones who require a little more attention, direction and encouragement.
An exhibition game is the perfect time to get your feet wet — or, perhaps more aptly, get thrown into the fire — and get a taste of what the future holds. It's also the time to figure out precisely what you do and don't know. Often the hardest thing to grasp is defensive strategies.
While Beaumont played with a level of confidence somewhat surprising for a freshman in her first college game, there were still moments where she and LaMendola weren't on the same page as everyone else.
"We have to help them get caught up and be so much better on the defensive side of the ball," Moren said.
LaMendola had "happy feet," Moren said, unable to set up in a great defensive stance, thereby allowing opponents to drive in more directly than they should have been able to. Indiana's defense faltered later in the exhibition when the underclassmen made up the five on the floor, which is something to note but nothing to be concerned about.
Overall, Indiana is an experienced, deep team full of athletes who want nothing more than to succeed at the highest level, and do it together. Veterans will lead the way, freshmen will adjust, Mackenzie Holmes will break records and the Hoosiers will be an entertaining and exciting team to watch, as they have been for years.
(Photo credit: IU Athletics)
Filed to: