Mike Woodson, Quinn Buckner, IU leadership issue statements on Bob Knight's passing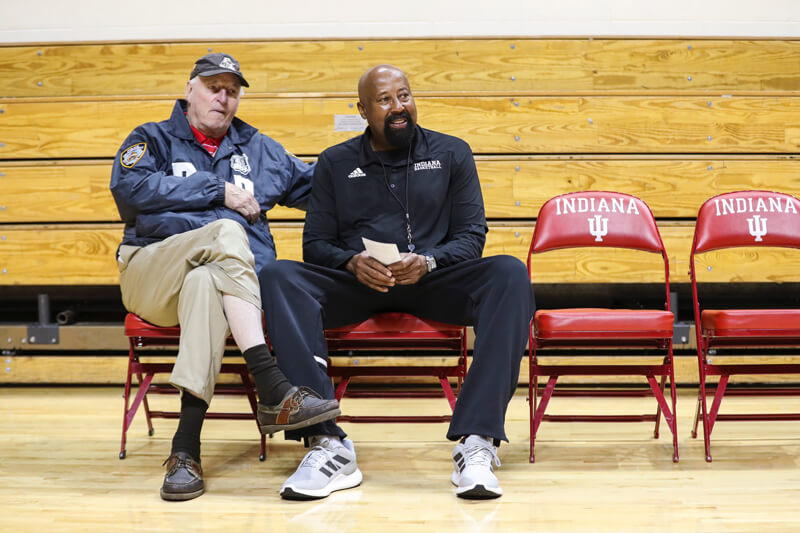 Mike Woodson, Quinn Buckner, IU president Pamela Whitten and Athletic Director Scott Dolson issued statements Wednesday evening on the passing of Bob Knight.
Pamela Whitten, Indiana University President
"As we collectively mourn the passing of Coach Knight, we also celebrate a man who will always be an integral part of Indiana University's rich and vibrant story.
With unmatched accomplishment, Coach Knight's brilliance ensures he will forever rest among the giants of college basketball."
Quinn Buckner, IU Board of Trustees Chair and former IU All-American and NCAA champion
"This is a terribly sad day for the IU Basketball family, Indiana University, the state of Indiana, and the world of sports as we say goodbye to Coach Knight. One of the things that he said to our 1976 team, which I was fortunate enough to be a part of, was that you may never see another team like this again. Well, I don't know that we will ever see another coach like him again. I think it's important for people to realize that. It was a special opportunity to have been coached by him, and an equally special opportunity to have him as a friend. Because as great a coach as he was, he was an infinitely better friend. He's a big part of who we are, and we were very fortunate to have had him in our lives."
Scott Dolson, IU Vice President and Director of Athletics
"This is a tremendous loss to not only our IU Basketball Family, but the sport. His impact on the game is obvious when looking at his three NCAA and 11 Big Ten Championships and the 902 games that he won throughout a legendary 42-year head coaching career. As great as that record of success is, his impact is even more profound when looking at the enormous successes that his former players, coaches, and managers have enjoyed – both in the sport and outside of it – following their time working alongside Coach Knight and learning from him. His influence will continue to be felt through them for generations to come. I want to extend my deepest condolences to Karen, Tim, Pat, and the entire Knight family. The world of basketball lost a great one today. There won't be another one like him."
Mike Woodson, Indiana Men's Basketball Coach and former IU All-American
"It is a profoundly sad day for all of us who loved Coach Knight. My thoughts and prayers go out to his wife Karen, his family, and to all those who loved him.
"I am so blessed that he saw something in me as a basketball player. He influenced my life in ways I could never repay. As he did with all of his players, he always challenged me to get the most out of myself as a player and more importantly, as a person.
"His record as a basketball coach speaks for itself. He will be remembered as one of the greatest ever and his impact on the game of basketball is etched in stone. His teams were always prepared and with him on the sideline, you always believed that he put you in the best position to win.
"I will always cherish the time we spent together after I played for him. His fierce loyalty to his former players never wavered. I am grateful that he was able to come to our practices after I came back. His presence meant so much to me, our staff, and our players."
Filed to: Mike Woodson, Quinn Buckner, Scott Dolson