Bob Knight passes away at age 83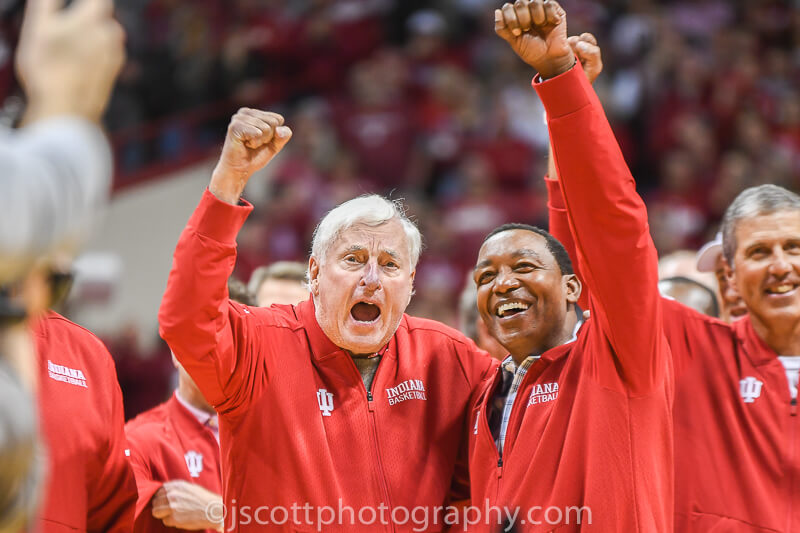 Former Indiana coach and Hall of Famer Bob Knight passed away Wednesday at the age of 83, his family announced.
Here is the full statement from the family:
It is with heavy hearts that we share that Coach Bob Knight passed away at his home in Bloomington surrounded by his family. We are grateful for all the thoughts and prayers, and appreciate the continued respect for our privacy as Coach requested a private family gathering, which is being honored. We will continue to celebrate his life and remember him, today and forever as a beloved Husband, Father, Coach, and Friend.
In lieu of flowers, please consider honoring Coach with a memorial contribution to the Alzheimer's Association or Marian University.
To donate, please visit:
In Memory of Coach Bob Knight – Alzheimer's Association  The Alzheimer's Association leads the charge in Alzheimer's care, support, research and advocacy.
In Memory of Coach Bob Knight – Marian University  Marian University provides an education distinguished in its ability to prepare transformative leaders for service to the world.
Donations to any charity in his name are also appreciated.
– The Knight Family
Thoughts and prayers to the Knight family as legendary Coach Bob Knight passed away today at the age of 83. https://t.co/EE6twbBsQe

— Bob Knight (@BobKnightLegacy) November 1, 2023
—
Bob Knight, who won three national championships and 11 Big Ten titles at Indiana, died Wednesday at the age of 83.
A native of Orrville, Ohio, Knight played at Ohio State University and was a part of the school's national championship team in 1960.
After graduation, he began his coaching career at Cuyahoga Falls High School before enlisting in the United States Army.
Knight served as an assistant coach at Army from 1963 through 1965. He served as Army's head coach from 1965 until 1971, when he was named the head coach at Indiana.
Over 29 seasons in Bloomington, Knight won 662 games and won 20 or more games 22 times. He was 42-21 in NCAA tournament games as Indiana's coach and won national championships in 1976, 1981 and 1987. He guided the Hoosiers to a total of five Final Four appearances.
Knight was dismissed from Indiana in 2000 and finished his coaching career at Texas Tech, where he won 138 games over seven seasons.
At the time of his retirement, Knight's 902 wins were a Division I record. He is one of only three coaches to win an NCAA title, NIT title and an Olympic gold medal.
He was inducted into the Naismith Basketball Hall of Fame in 1991 and was a three-time Associated Press coach of the year.
Knight is survived by his wife, Karen and two sons, Tim and Pat.
Filed to: Bob Knight