News and notes from Mike Woodson's radio show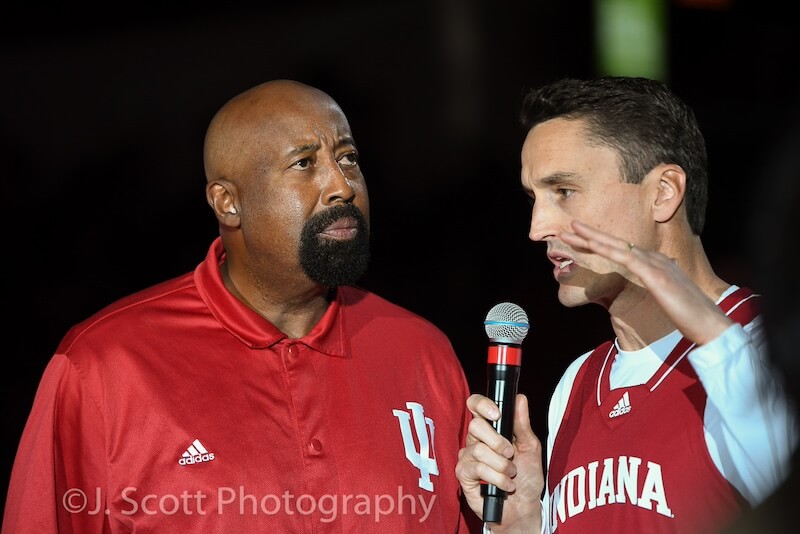 "Inside Indiana Basketball with Mike Woodson" returned Monday night for its first episode of the 2023-24 season. Woodson sat down with the voice of the Hoosiers, Don Fischer, at the Chop Shop Market and Table in Bloomington.
Here's a recap of what Woodson had to say on this week's episode of Inside Indiana Basketball:
• Woodson said Indiana "just didn't show up the first half" against UIndy in Sunday's exhibition. He credited UIndy for playing good defense but also said the Hoosiers may have had some nerves.
• Woodson said Indiana's practices have been very competitive with the second unit pushing the first unit, so he wasn't surprised that the second unit played so well on Sunday. He said Gabe Cupps was "so anxious, hell, he probably wanted to play the night before."
• Woodson said he's expecting a lot out of Xavier Johnson and Trey Galloway. "I'm not expecting it to happen overnight, but the fact that they've got some years under their belt, I expect a lot out of those two. When things go bad and we're not playing well, they've gotta step up and make sure the surrounding pieces along with themselves are playing at a high level and get us where we want this team to go."
• On Galloway taking on a leadership role: "Well, he's learning. A lot of that just comes with communicating. It's so hard to get these players… I hear all of these coaches around college basketball complaining about the same thing and that's players just won't talk to each other. You can't play basketball and not communicate. And that's on both ends of the floor."
• Woodson on the different aspects of coaching and the responsibilities of the job: "There are a lot of moving pieces. The parents, the AAU coaches, their family members. It's different. When we came out of high school and went to college, all my mother cared about was me getting an education. She could care less about basketball. And the fact that I made the commitment to play here and play for Bob Knight, I could never think about going home and crying to my mother about a tough day with coach Knight. She would have thrown me out of the house. So that's the difference.
"These young kids, more than ever, man, they need nourishing, they need mentoring. There's a lot that comes with just coaching. These kids, they have their ups and downs and they got some issues as well and a lot of times they don't want to talk about it. But you've gotta figure 'em out and try to reach them because they are young kids trying to navigate the college life of classes and playing at a high level in terms of basketball so it's a lot of work."
• Woodson said there were a lot of things that were promising in the UIndy game, but mentioned defensive rotations and closeouts on shooters as two keys areas for improvement moving forward.
• Woodson said Indiana is going to "make some 3s here and there" and will "get good looks."
• More on perimeter shooting and taking 3s: "I think we have guys who I feel good about knocking them down. But make no mistake about it, the game ain't just about living on 3-pointers. We got 28 points in transition which is huge in college basketball. Obviously we're playing a lot quicker the second half. But you're going to have to post the ball some. 2-pointers still count in the game of basketball. Let's not be foolish about this. I still have to utilize… I got a 7-2 guy. Hell, I want him out just shooting 3-point shots? No, that's not gonna happen with me. Yes, he can pick and pop versus what Trayce (Jackson-Davis) and his ability… he couldn't do that. And he didn't want to do it. I mean I thought he could do it, but he just didn't do it. But he was still great for us. Hey, if getting 50 points in the paint allows us to win a game, I'm going to take it regardless of what people say. I'm not going to let people dictate our team. I still have to coach this team and I think you have to mix it up with transition, 3s and a high percentage 2."
• Woodson said he was pleased for the most part with Indiana's defense. "The defense was pretty good, minus not closing out on some of the 3s they made in the first half."
• Woodson on Anthony Walker: "He had a well-rounded game." Mentioned that Walker arrived late in the summer but has made up a lot of ground with the work he puts in.
• Woodson said Indiana didn't practice on Monday, but will clean up things from UIndy on Tuesday and begin preparing for Marian University on Friday. He mentioned three hour practices and some tough days ahead.
• Woodson said he would like to play an exhibition against "Duke or somebody huge" in the future. "It would be unbelievable. We'd have a packed house. I know that."
Filed to: Mike Woodson