Class of 2026 four-star guard Jayden Johnson recaps Hoosier Hysteria visit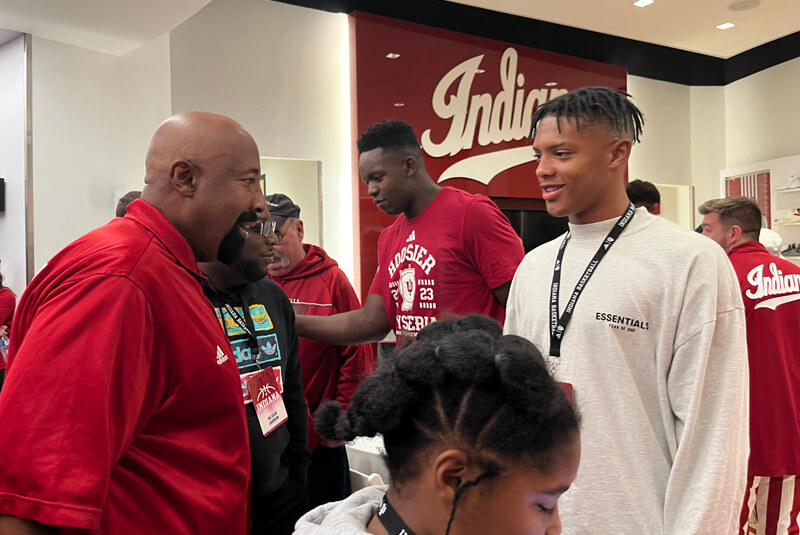 Jayden Johnson has quickly earned attention across the basketball recruiting world.
The No. 36 player in the 2026 class, according to the 247Composite, Johnson is coming off of a strong freshman season at Louisville (Ky.) Trinity High School.
Remarkably, it wasn't his first season of high school basketball. Johnson played for Male High School as a middle schooler before joining Trinity prior to his freshman season.
A 6-foot-5 guard, Johnson was recently on Indiana's campus for Hoosier Hysteria.
At Hysteria, he had an opportunity to interact with Indiana's current roster and spend time in the locker room with the players.
"They introduced themselves to me and my family," Johnson told Inside the Hall recently. "They had a conversation with me talking about how Indiana is a good place to come and how they will always prepare you for the next level."
A four-star prospect, Johnson already has early scholarship offers from Cincinnati, Missouri, Texas A&M and West Virginia. In addition to those offers, he has garnered interest from Arkansas, Louisville, Kentucky, Michigan State and Notre Dame along with Indiana.
The NBA experience Mike Woodson possesses from a long career coaching in the pros stands out for Johnson, who will soon tip off his sophomore year of high school.
"He's been all over the place," Johnson said. "He's been in the NBA, college, all that, so having a coach that's always been in that type of area all the time is pretty cool. Then his background is crazy. It's loaded. Coach Woodson was an NBA player that played at Indiana. He has all these NBA connections with him being an ex-coach. Just him having that type of connection with everybody is an awesome thing.
"He's just a phenomenal coach. A background that's amazing coming from the NBA. I was having that conversation with my family that I want to play for a coach that will understand me and how I play…I want to play for a team where I feel like I'm needed."
As a freshman at Trinity, Johnson helped the Shamrocks compile a 24-9 record before he suited up for Bradley Beal Elite in the Nike Elite Youth Basketball League (EYBL) in the spring and summer.
Johnson recently announced that he will play for MoKan Elite next spring and summer. He also participated in the Nike Elite 100 Camp over the summer and tried out for USA Basketball's U16 team in Colorado Springs, Colorado.
He told Inside the Hall he hopes to return to Bloomington this season for a game when his schedule allows.
While Johnson is still very early in the recruiting process, it's clear Indiana has made a strong early impression.
"Like I said before, Coach Woodson has those connections with everybody," he said. "So being able to know that he has that can help me further my career in basketball."
Filed to: Jayden Johnson