Five takeaways from Indiana's exhibition win against UIndy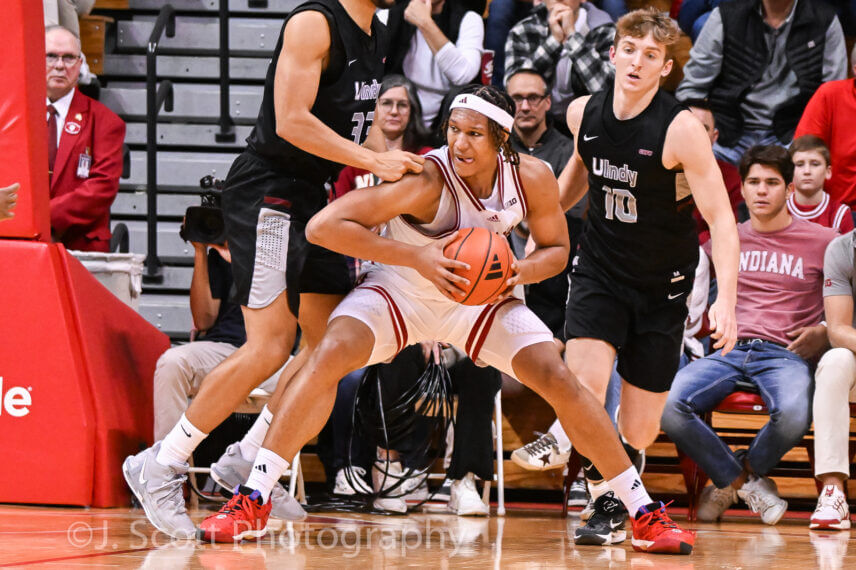 Indiana opened exhibition play with a 74-52 win against UIndy on Sunday afternoon at Assembly Hall.
Here are five takeaways from the win against the Greyhounds:
The offense remains focused on post-play
If fans were looking for a new-look Indiana offense to debut on Sunday, that did not materialize.
The Hoosiers remained focused on getting the ball into the post and into the paint, a carryover from the previous two seasons when Trayce Jackson-Davis held down the interior.
Over 83 percent of Indiana's field goal attempts were 2s against UIndy. The Hoosiers shot 27-for-52 on 2s (51.9 percent) and only attempted ten 3-pointers in the contest.
"Again, I don't put a lot of emphasis on it," Mike Woodson said postgame on IU's 3-point shooting. "If we've got them, you've got to take them. I'm not telling guys to pass up the 3-point shot. And we had a few good looks, but their defense was pretty good the first half that really stymied us from just offensive movement."
Given the roster's makeup, the lack of 3-point attempts shouldn't be a surprise. None of Indiana's starters in the exhibition are expected to be high-volume 3-point shooters.
Hoosiers flash potential for defensive versatility
As expected, Indiana went with a starting lineup of Xavier Johnson, Trey Galloway, Mackenzie Mgbako, Kel'el Ware and Malik Reneau against UIndy.
Given Woodson's history of sticking with the same lineup in his first two seasons, this will likely be the lineup when the regular season tips off next week against Florida Gulf Coast and beyond.
While the offense struggled with this group to start the contest, the lineup flashed its defensive potential.
Johnson was a pest with his pressure on the ball and Ware showed off his rim protection ability. Johnson and Mgbako pocketed two steals each and Ware had two blocked shots and altered several shots.
"Defensively, their length wore us down," UIndy coach Paul Corsaro said.
With components that can guard multiple positions, guards who can apply ball pressure and plenty of length and athleticism, the Hoosiers have a chance to be an excellent defensive team this season.
Gabe Cupps makes a solid first impression
It didn't take long for freshman Gabe Cupps to become a fan favorite in Assembly Hall.
The first-year guard from Centerville, Ohio, didn't stuff the stat sheet, but he did lead the Hoosiers with +14 in the plus/minus category.
"Seeing him work and seeing him apply pressure on the ball, it makes us want to get stops and get deflections and get steals," CJ Gunn said of Cupps. "We need that type of energy coming off the bench to lift us up as a team."
Cupps finished with four points, two rebounds, a steal and an assist in 18 minutes. He didn't commit a turnover.
While Johnson is expected to occupy most of the point guard minutes, Cupps will likely log some minutes alongside Johnson. His defense looked college-ready on Sunday, which should aid him in becoming a rotation regular from day one.
Lack of turnovers is a positive while free throw shooting is a negative
Indiana took care of the ball well Sunday afternoon for a team with five new scholarship players who logged minutes.
The Hoosiers turned the ball over only ten times, which pleased Woodson.
"I just don't want to live in a half-court game this season," he said postgame. "And I think we've got enough talent out there that guys can make plays. We only had 10 turnovers tonight. So I was pleased in that category as well."
The free throw shooting, however, was a different story.
One of the main reasons Indiana trailed at halftime was a poor performance from the stripe. The Hoosiers shot just 5-for-11 from the line in the opening 20 minutes. Indiana shot 11-for-20 from the line (55 percent) for the game.
The frontcourt carries the scoring load
All three of Indiana's frontcourt starters finished in double figures in IU's exhibition opener.
Mgbako and Ware both finished with 14 points while Reneau added 12 points.
Mgbako shot 5-for-11 from the field and knocked down a corner 3-pointer in the second half. He rarely forced the issue, didn't turn the ball over and also grabbed three offensive boards. He also drew three fouls.
Ware struggled to finish early but got better as the game progressed. He shot 6-for-10 from the field and made his only 3-point attempt.
Reneau had several polished post moves, shot 5-for-9 and made both of his free throw attempts.
It won't be surprising to see any of these three players lead the Hoosiers in scoring on a given night, as Woodson appears to have assembled one of the Big Ten's best frontcourt trios.
Filed to: Gabe Cupps, Kel'el Ware, Mackenzie Mgbako, Malik Reneau, University of Indianapolis Greyhounds