Walker, Cupps and Indiana's bench shine in exhibition win over Indianapolis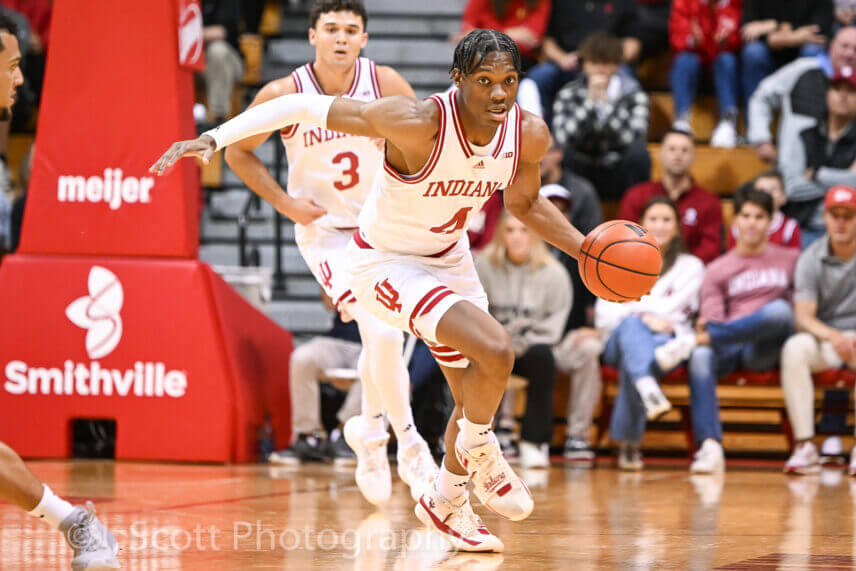 With 4:30 left in the second half, University of Indianapolis's Kendrick Tchoua caught the ball on the left block, spun baseline, and positioned underneath the basket against Malik Reneau.
Then, Anthony Walker came to the scene. He drifted down from the elbow and snatched the ball out of mid-air with his right hand. Two dribbles were all it took for the Miami (FL) transfer to get from the baseline to mid-court and start an Indiana fast break.
Trey Galloway caught the outlet and made the extra pass to Mackenzie Mgbako for the corner 3-pointer. Cash — it gave IU its largest lead.
The Greyhounds called a timeout, and Walker lifted his arms at the Indiana center logo, egging on the crowd.
It was great play in a simple 74-52 exhibition win against UIndy on Sunday afternoon for Indiana. But it highlighted one of the Hoosiers' bright spots on the day — depth and stellar bench production. Walker finished with six points, three rebounds and three assists in 22 minutes.
One of Indiana's most significant problems last season was inconsistent bench play. Mike Woodson struggled to find bench combinations that resulted in positive, mistake-free minutes when his starters needed a breather last winter.
On Sunday, the Hoosiers starting unit struggled in the first five minutes. Indiana was missing layups and free throws. But it was the second unit of Gabe Cupps, CJ Gunn, Anthony Leal, Walker and Payton Sparks that brought things back in Indiana's favor.
A fifth-year senior, Walker gives the Hoosiers length and experience at the forward position. He's an intelligent player that can learn on the fly. During a timeout Woodson got on the Baltimore native, he thought Walker was too hesitant and tentative against the zone. In the next few minutes, he scored two buckets against the same defense.
"I thought our second unit was fantastic," Woodson said postgame. "I thought Gabe came in and got that group around him and they started to really defend and got the lead that we needed to have."
"I've always stressed that the second unit is just as important as the second unit…I think we're deep enough if we can stay away from injuries, that we can sustain that over the course of the season."
Cupps, a freshman point guard playing in his first game in the Cream and Crimson, was a pest on the defensive end. He forced a 10-second violation and was diving all over Assembly Hall's floor for loose balls. The Dayton, Ohio, native added four points.
"His effort and his defensive pressure is contagious to all of us…it makes us want to get stops, get deflections, and get steals," Gunn said postgame.
Walker chimed in, "Especially coming from a freshman, for him to come out his first game and apply the pressure that he did really made a statement for the team and the other guards."
The Hoosiers outscored the Greyhounds 22–16 on the bench. Walker and Cupps were balls of energy in their first Indiana game, and their length and speed created issues for UIndy.
This created a lot of fastbreak and transition opportunities for the Hoosiers. Indiana had 28 points on the break. Gunn, the wiry sophomore guard, scored seven points in the first half — including a breakaway jam.
Walker and Gunn's athleticism and length give Indiana versatility on defense as they can poke balls in passing lanes and guard multiple positions.
Woodson said he wants to be able to play nine or even 10 guys this season. While that's unlikely to come Big Ten play, the Hoosiers' second unit has a lot of upside and provides the Hoosiers with solid depth. IU was also without another athletic bench player, Kaleb Banks, who sat with a groin injury.
Cupps, Walker and Gunn stood out in the first taste of the new-look Hoosiers, and with more time together, Indiana could find itself with a good problem — too much talent oozing off the bench and not enough minutes for everyone to play.
Filed to: Anthony Walker, Gabe Cupps, University of Indianapolis Greyhounds