The Minute After: Marian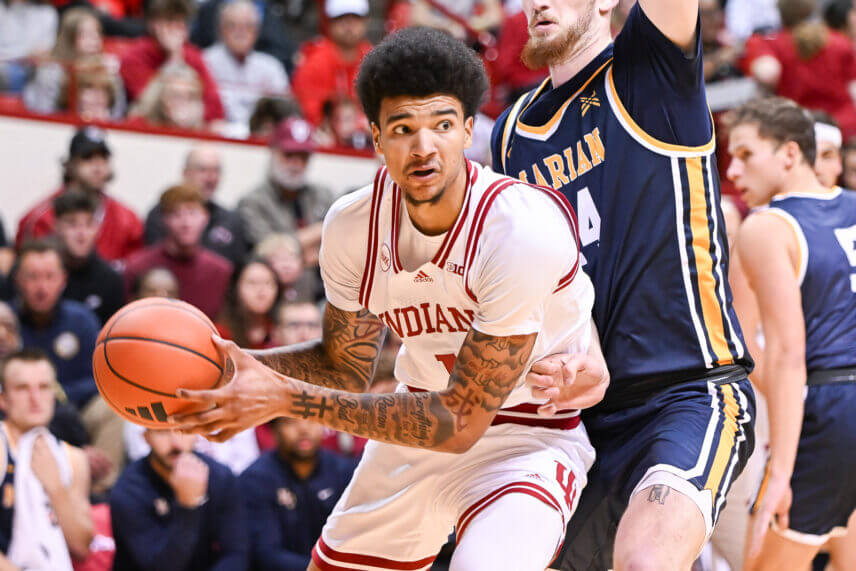 Thoughts on a 94-61 win against Marian:
That's a little more like it.
After a jittery start last time out against UIndy, the Hoosiers looked comfortable and composed to start this one. It helped them lead wire-to-wire, eventually settling on an easy 33-point victory. Indiana's size, skill, talent and athleticism overwhelmed the Knights. IU clearly outclassed 'em.
And yet the Hoosiers, with all their newcomers, are still figuring each other out. One play in the first half told the tale. As Xavier Johnson dribbled out past the right slot, he signaled movement. But then so did Kel'el Ware, Trey Galloway and Malik Reneau, too. Nobody looked like they were on the same page. Eventually, Johnson cleared people out and Ware came up to set a high ball screen. Johnson drove to the nail and kicked it to an open Reneau on the left wing. He drilled the 3-pointer. What looked like a broken possession turned into three points.
It was that kind of night for the Hoosiers.
Speaking of Reneau, he hit another 3-pointer in this contest and also had his way inside, playing his game and getting to his spots. The sophomore finished an efficient 5-of-7 from the field and scored 14 points. But foul trouble, an issue for him last year as a freshman, popped up again in this one. He picked up his fourth foul at the 9:19 mark of the second half and never returned to the game.
Reneau's counterpart inside, Ware, showed why he's a first-round NBA draft prospect. His double-double (20 points, 11 rebounds) looked effortless. A giant among mere mortals, Ware did a bit of everything offensively. He hit a pull-up jumper. He hit a turnaround jumper. He dunked in transition. He hit a hook shot. He finished an alley-oop from Gabe Cupps. He drove from the top of the key for a bucket. He hit a 3-pointer. He got fouled on an offensive rebound putback and made both at the line.
Cupps continues to do the dirty work on defense. Mere seconds after entering the game in the first half, he stole the ball from Gus Etchison. CJ Gunn got out fast in transition and Cupps passed it ahead to him for a lay-in. In the second half, Cupps again playing tight defense, he managed to knock the ball off his man for a turnover on an inbounds pass. (Though the replay would reveal that was probably the wrong call.) Cupps also tossed back-to-back alley-oops to Ware and Gunn in the second half. Those were two of his six assists on the night. He finished just 1-of-4 from the floor, however.
Kaleb Banks looked rusty to start in his season debut after sitting out the UIndy contest. But Banks kept at it and eventually made a 3-pointer and scored an and-1 within a minute of each other in the closing minutes of the contest. He then made another 3-pointer with 47 seconds to go. Banks also hit 4-of-5 at the line, which aided him to double-digit scoring (12 points) to go along with four rebounds and two blocks.
Indiana looked more interested in the 3-ball tonight and the Hoosiers connected in impressive fashion, going 9-of-17 (52.9 percent) from distance. Mackenzie Mgbako led the way, hitting 3-of-4 en route to a 15-point performance.
Indiana's exhibition season is over. And outside some poor play over the first 20 minutes, the Hoosiers took care of business.
Filed to: Marian University Knights