Roundup: Writers weigh in on the legacy of Bob Knight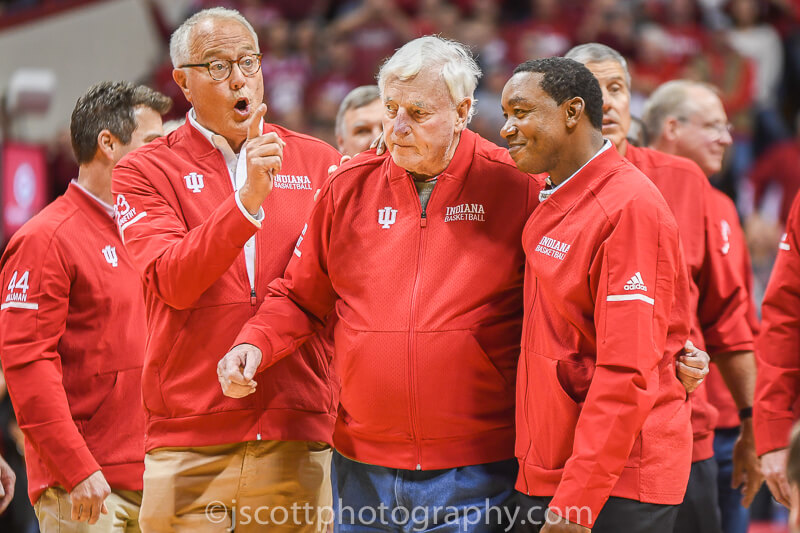 Bob Knight passed away Wednesday at the age of 83 in Bloomington. The Hall of Fame coach won three national championships and 11 Big Ten titles at Indiana.
Here are some of the best pieces from around the Web that capture Knight's legacy and life:
Rick Bozich of WDRB: Unforgettably compelling: Remembering Bob Knight, an Indiana icon
Bob Knight died Wednesday, and if you're only here to read about the three NCAA championships, the 1984 Olympic gold medal, the 902 victories and the way that Knight made Indiana University The Program To Fear in college basketball in the '70s and '80s, this is not a column for you.
But if you only came to talk about the chair toss, the crude comment to Connie Chung, the fight with the policeman in Puerto Rico, pulling his team off the court in an exhibition game and Knight's fiery departure from IU in September 2000, you also should read elsewhere.
Bob Hammel: The Bob Knight you probably didn't know. 'Like no one I ever observed'
He won more games, at a higher percentage, leading to more outright conference championships and national championships and Final Four trips than any coach in Big Ten history. He reached more milestone levels, 300, 400, 500, at a younger age than anyone. He was the the first ever to reach 900.
He did it all while graduating his "kids" at an almost unmatched level, while doing old-fashioned things like supporting the university library. One of the presidents during his IU years, Thomas Ehrlich, estimated Knight was responsible for more than $5 million in gifts to the library over his coaching tenure.
Matt Dollinger of The Ringer: Bob Knight Was Larger Than Life in Indiana. He Still Is.
The coach known as the General cut a colossal figure in more ways than one. Knight was listed at 6-foot-5, but to an elementary school kid like me—and to pretty much everyone else who lived in Indiana during the 1970s, '80s, and '90s—he was larger than life. He wasn't just the legendary coach of my favorite men's basketball team, leading the Hoosiers to three national titles, five Final Fours, 11 Big Ten titles, and a historic undefeated season in 1975-76. Outside of many locals' immediate family members, he was arguably the single most important person in our lives. He didn't just put Indiana basketball on the map; he put basketball on the map in Indiana. He made it our thing. He's why people assume I can shoot. (I can.) He was our flawed but fearless leader who led IU to unparalleled success, who retired with the most coaching wins in Division I history, and who left a trail of pain and destruction in his wake. As the saying goes: In 49 states it's just basketball, but this is Indiana. Knight is the reason that even makes sense.
John Feinstein of The Washington Post: The Bob Knight I knew mixed greatness and brilliance with self-sabotage
When the Hoosiers finished their undefeated 1976 season, Knight walked out of the Philadelphia Spectrum with his pal Bob Hammel, sports editor of the Bloomington Herald-Telephone. Hammel remembered being thrilled and saying to Knight, "You did it, you did it, you won the championship!"
Knight's response? "Shoulda been two." He was still upset that his 1975 team had finished 31-1, losing in the region final to Kentucky. Knight never got over losses — it was part of his greatness as a coach and his frequent unhappiness as a person.
Jon Wertheim of Sports Illustrated: Bob Knight, 'The General' of College Hoops, Was Unapologetic and Unforgettable
Yet for as many battles as Knight may have lost—for all the attempted coups he inspired, for all his feuds with "civilians" on the sidelines—Knight ultimately won the war. It's not just that he accumulated 902 wins, more than all but five other men's basketball coaches in Division I history. Nor that he was known as a brilliant strategist and motivator, with coaching protégés spread throughout the country. It's that Knight did it his own damn way.
Jay Bilas of ESPN: I liked the Bob Knight I knew
I had the privilege of knowing Knight well, and calling him a friend. We worked together at ESPN, and would go on annual golf trips during the summer. He was the only friendship I ever had that I felt I had to explain or justify. After all, while Knight's positive traits were numerous, so, too, were his questionable ones. He was capable of incredible acts of kindness and thoughtfulness, yet also capable of questionable acts of stubbornness and thoughtlessness.
Around 20 years ago, I decided I would no longer try to explain or justify the friendship, because I couldn't. Most people could not or would not be convinced by my view of him — so I quit trying. It wasn't that I overlooked the negatives or rationalized any of his questionable behavior or decisions. I felt the good outweighed the bad, and I felt I knew the real Bob Knight.
Or, at the very least, I liked the Bob Knight I knew.
Filed to: Bob Knight