Five takeaways from Indiana's exhibition win against Marian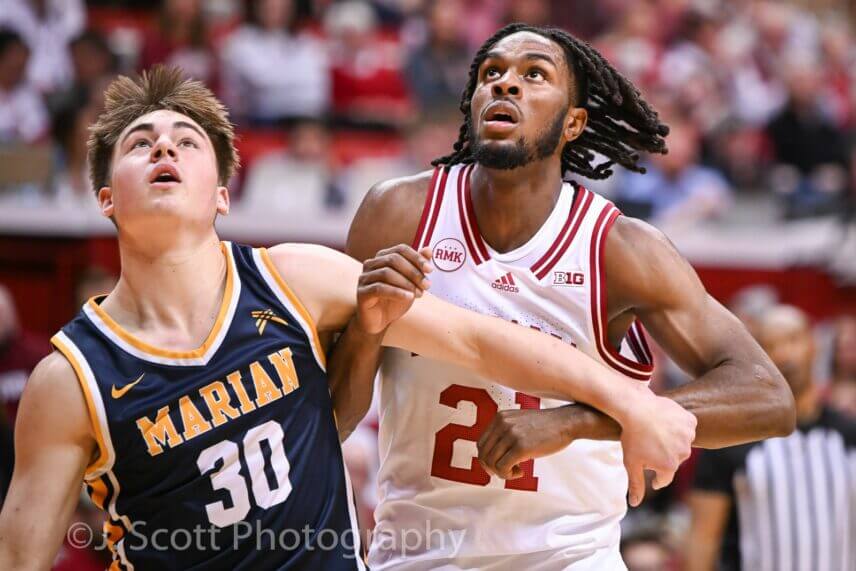 Indiana completed exhibition play with a 94-61 win against Marian University on Friday night at Assembly Hall.
Here are five takeaways from the victory:
Indiana takes (and makes) more 3-pointers
After the Hoosiers only attempted 10 3-pointers in the exhibition opener against UIndy, it was fair to wonder if there would be more emphasis on the 3-point line on Friday.
Indiana didn't force the issue from the perimeter, but it did attempt seven more 3-pointers against Marian than it did against UIndy.
Seven different Hoosiers attempted a 3-pointer and each member of the starting frontcourt connected on at least one shot from the perimeter.
It was encouraging to see Malik Reneau knock down a pair of 3-pointers. In a halftime interview with Amanda Foster on B1G+, assistant coach Brian Walsh acknowledged that the extended range was something Reneau has added to his game.
While Indiana won't be a high-volume 3-point shooting team by national standards, knocking down timely perimeter shots is essential. On Friday, the Hoosiers looked to have the pieces to do that.
Mackenzie Mgbako makes the game look easy
Mgbako arrived in Bloomington as a McDonald's All-American and the potential to be an NBA player after one season.
Through two exhibition games, his ability to score from everywhere on the floor appears to translate to the college game from day one.
After scoring 14 points on Sunday against UIndy, Mgbako scored 15 points in 20 minutes in Friday's win.
Mgbako's 15 points against Marian came from everywhere as he was 2-for-4 on 2s, 3-for-4 on 3s and 2-for-2 from the free throw line.
But it wasn't Mgbako's offense that Mike Woodson discussed in his postgame comments. It was defense and where Mgbako stands in that process.
"He's been solid. He's been solid ever since he came here," Woodson explained. "From a defensive standpoint, we have to speed the process up with him because the way we scramble and do things, you've got to communicate it and then you've got to give energy to get where we need to go from a defensive standpoint. And he's still in the learning stages right now, as well as a lot of the newcomers."
Kel'el Ware flashes the potential that made him a top-10 recruit
An up-and-down freshman season at Oregon kept Ware, who aspired to be in the NBA after one season, in college for a second season.
Ware's transfer to Indiana gave the Hoosiers an elite talent to plug into the frontcourt in Woodson's third season.
But Woodson hasn't been shy about the fact that he challenged Ware to display a higher motor and forget what happened last season in Eugene.
"It's been a lot of really going at him in practice to get him to be aggressive and do the things that we want him to do on the offensive end," Woodson said Friday. "And he's starting to show some signs that he can do that."
At 7-foot, Ware has some guard-like skills with a game that stretches out to the 3-point line. He can also be a force on the glass with his tremendous length. He's also a lob threat and a rim protector.
On Friday against Marian, Ware flashed potential in all those areas. He blocked a shot. He grabbed 11 rebounds. He made a 3-pointer. And he scored a team-high 20 points.
"I mean, he's a skilled guy, but we've got to get him now where — because it's getting ready to start for real now, and he's going to be playing much bigger guys, more talented bigs," Woodson continued. "I'm just curious to see where he's going to be once we start that journey."
Indiana dishes out 25 assists and commits only two turnovers
The numbers from Friday's exhibition don't count, nor do the results, but the assist and turnover numbers were remarkable.
Eight Indiana players had an assist – 25 dished out in total – and the Hoosiers only committed two turnovers.
For a program integrating many new pieces, the assists and turnovers were the most impressive numbers in Friday's win.
In two exhibition games, Indiana's starting backcourt of Trey Galloway and Xavier Johnson combined for 21 assists and three turnovers.
"Again, we've been stressing, we watched so much from a film standpoint where we just are not making the extra pass," Woodson said. "Our guy draws two people and somebody's sitting there wide open and we'll try to drive through the guy, through the two people and around them instead of making the extra pass. That's going to be critical."
Perimeter defense for Indiana was a problem in the first half
While the Hoosiers played well offensively in the first half, the defense was problematic.
Indiana struggled to corral rebounds as Marian grabbed six offensive boards. And the Knights got open often from the perimeter, sinking nine of their 20 3-point attempts.
In total, Marian – an NAIA program – hung 35 points on the Hoosiers in the opening 20 minutes.
Indiana was much better in the second half, holding Marian to just 28.1 percent shooting and 26 points. Woodson will have the film from the first half to teach his team lessons on closing out better on the perimeter.
"These are two practice games," Woodson explained. "When it's for real, I mean, I don't have a concern. I just want to make sure that our guys are prepared and ready to play at a high level and just keep doing the things that we've been doing. I mean, we've done some pretty good things from an offensive and defensive standpoint and we've got to build on those things and don't forget how we've done them."
Filed to: Marian University Knights