Three things to watch for in Friday's exhibition against Marian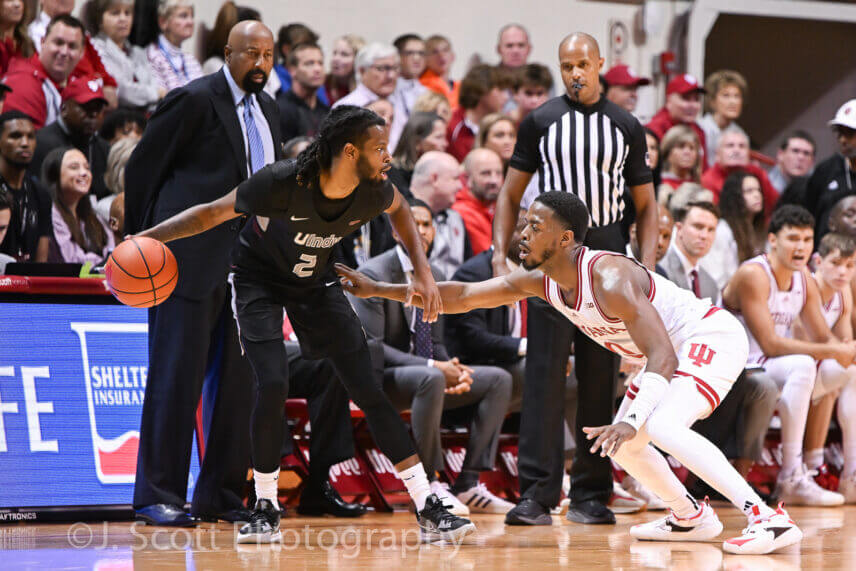 Indiana will complete exhibition play Friday evening at Assembly Hall against Marian University.
After struggling in the first half, the Hoosiers won their first exhibition contest 74-52 against UIndy on Sunday afternoon.
Here are three things to watch for in tonight's contest at 6:30 p.m. ET against the Knights on B1G+:
A better start
Indiana didn't just start slowly against UIndy, it played poorly for most of the first half. The Hoosiers trailed 27-25 at halftime after shooting only 32 percent from the field.
Mike Woodson said postgame the Hoosiers were "a little tight" to open the UIndy game but also said it wasn't an excuse. Indiana missed layups and free throws, allowing UIndy to enter the locker room with the lead.
After what Woodson described as a "nice halftime talk," Indiana was much better in the second half as it outscored UIndy by 24 points on its way to a 22-point victory.
On Friday, Indiana will look to be much sharper from the opening tip against Marian. And it's important for that to happen.
The Hoosiers only have three regular season games – Florida Gulf Coast, Army and Wright State – before traveling to New York to play UConn on November 19.
Will Indiana take more 3-pointers?
Indiana's 3-point attempts – or lack thereof – has been a topic of discussion among the fanbase since Tom Crean's dismissal in the spring of 2017.
The Hoosiers have not ranked higher than 263rd nationally in 3-point volume (3PA/FGA) since the 2016-17 season.
Sunday's exhibition saw Indiana attempt 10 shots from the perimeter with three makes.
Woodson, however, remains steadfast in his belief that the Hoosiers need to play to their strengths rather than emphasizing a higher volume of 3-point attempts.
"I think we have guys who I feel good about knocking them down," he told Don Fischer on his weekly radio show Monday night. "But make no mistake about it, the game ain't just about living on 3-pointers. We got 28 points in transition (against UIndy) which is huge in college basketball. Obviously we're playing a lot quicker the second half. But you're going to have to post the ball some. 2-pointers still count in the game of basketball.
"Let's not be foolish about this. I still have to utilize… I got a 7-2 guy. Hell, I want him out just shooting 3-point shots? No, that's not gonna happen with me. Yes, he can pick and pop versus what Trayce (Jackson-Davis) and his ability… he couldn't do that. And he didn't want to do it. I mean I thought he could do it, but he just didn't do it. But he was still great for us. Hey, if getting 50 points in the paint allows us to win a game, I'm going to take it regardless of what people say. I'm not going to let people dictate our team. I still have to coach this team and I think you have to mix it up with transition, 3s and a high percentage 2."
The availability of Kaleb Banks and Payton Sparks
The Hoosiers have 12 scholarship players entering the season and Jakai Newton is not expected to be available for the foreseeable future.
Banks, a sophomore, is expected to take on a more significant role this season but missed Sunday's exhibition with a groin issue.
"Banks could play if I wanted to play him, but I'm just — this groin thing, I've dealt with players that had groin pulls, and those and calf pulls, things like that is nagging, and if you don't watch it closely and rehab right, it could be a problem all season," Woodson said October 26.
Sparks left Sunday's exhibition with what looked to be a foot injury.
"He's going to be fine. He's a tough dude," Woodson said after the win against UIndy. "He'll be back on the floor, I'm sure, for the Marian game."
Filed to: Marian University Knights