6-Banner Sunday: Xavier Johnson out indefinitely following foot surgery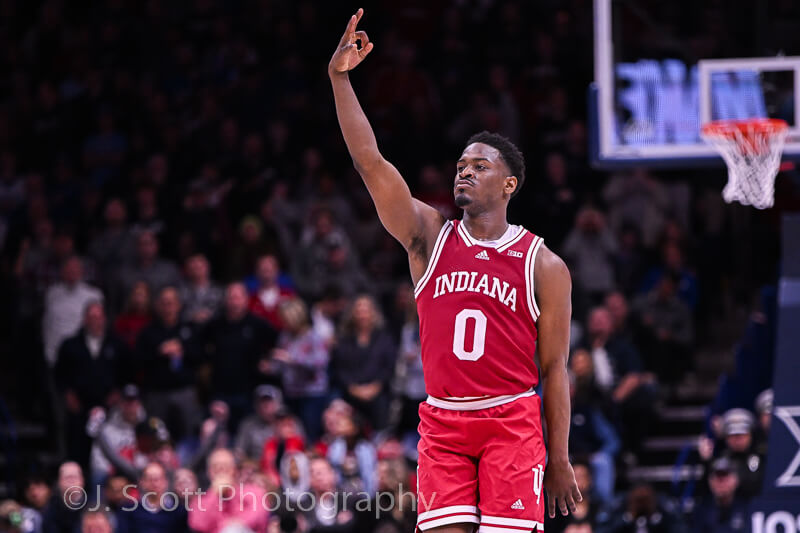 6-Banner Sunday is Inside the Hall's weekly newsletter in partnership with The Assembly Call. More than 9,000 Indiana fans receive the newsletter each week. In addition to appearing each week on the site, you can also opt to receive 6-Banner Sunday by email. A form to subscribe via email is available at the bottom of this week's 6-Banner Sunday.
Welcome to another edition of 6-Banner Sunday, a joint production between The Assembly Call and Inside the Hall, and presented by our friends at Trueblood Real Estate, where we highlight the five most essential IU basketball stories of the past week, plus take a look at how the other IU sports programs are doing.
The expected but unfortunate news regarding Xavier Johnson's injury came down and it is not good with the Hoosiers' starting point guard expected to miss extended time. With lesser competition, that did not impact the Hoosiers' ability to defeat their two recent opponents in Elon and Kennesaw State. However, it could be a major issue when Big Ten play starts for Indiana in 12 days following the extended break with no games.
Away from the court, Assembly Call and IU coach Mike Woodson had their normal shows this week. We will as usual conclude with a look at other IU sports led by baseball putting out its upcoming 2023 schedule.
• Xavier Johnson is out indefinitely following surgery
• Hoosiers dominate lowly Elon
• IU struggles early but pulls away late to defeat Kennesaw State
• AC Radio and Doing The Work
• Mike Woodson radio show
• Hoosier Roundup – Baseball releases upcoming schedule
Looking for tickets to upcoming Indiana home games? Vivid Seats has you covered. This week the Hoosiers are off but you can still search the site for future matchups. Vivid Seats is a full-service provider – with an industry-leading customer service team, reachable by phone or online during extended business hours. (These links are Inside The Hall affiliate links, so a commission will be paid to ITH if you click and make a ticket purchase.)
Banner #1 – Xavier Johnson is out indefinitely following surgery
After going down in serious pain early against Kansas, the future of Xavier Johnson's season at IU looked bleak. That indeed turned out to be the case as Indiana announced this week Johnson is out indefinitely following surgery on his foot.
While the release does say the team is 'hopeful' he will return this year, the Hoosiers will be without their starting point guard for an extended period, right as Big Ten games are about to begin. IU will have to turn to freshman Jalen Hood-Schifino as the squad's main ball handler for most conference play. Hood-Schifino recently returned from a back injury that caused him to miss three contests earlier this month.
Banner #2 – Hoosiers dominate lowly Elon
Despite being without Johnson, as well as Trayce Jackson-Davis who sat out for precautionary reasons, the Hoosiers easily defeated the struggling Phoenix 96-72. Jordan Geronimo also was unavailable due to an injury to a finger, but Race Thompson, Jalen Hood-Schifino, Miller Kopp, CJ Gunn, and Logan Duncomb all scored in double-figures as IU took control early and cruised to a win.
Afterward, Woodson spoke, Inside the Hall had a photo gallery, Ryan Corazza wrote his Minute After and Film Session, Alex Bozich penned Five Takeaways, and William McDermott had a column on Hood-Schifino.
Banner #3 – IU struggles early but pulls away late to defeat Kennesaw State
Kennesaw State was the highest-ranked team the Hoosiers faced in non-conference play of the so-called 'guarantee' games. While the other six contests were against squads ranked below 300 in the NET, the Owls came in just outside the top 160. Without Jackson-Davis and Johnson (Geronimo was back from his ailment), Kennesaw State used their top-notch three-point shooting to keep the score close and even led for a good part of the 40 minutes. However, excellent play from Hood-Schifino and Tamar Bates (they had 18 and 19 points respectively on the night), helped IU pull away late for a double-figure 69-55 win.
As a result, the Hoosiers finish their pre-Big Ten schedule 9-2 and are 10-3 overall on the season. The team is off until Jan. 5 when they return to league play for good, starting with a Thursday night showdown in Iowa City.
Afterward, Woodson spoke, Corazza had his Minute After, McDermott wrote Five Takeaways, and Amana Foster penned a column on Tamar Bates.
Banner #4 – AC Radio and Doing The Work
Assembly Call had three shows this week. This included postgame episodes after Elon and Kennesaw State and Thursday night AC Radio.
DTW also took to the air to discuss the women's team's victories over Morehead State and Butler as the team improved to a perfect 12-0 on the season.
Banner #5 – Mike Woodson radio show
Mike Woodson had his weekly radio show on Monday. On it, he discussed the recent loss to Kansas.
Banner #6 – Hoosier Roundup – Baseball releases upcoming schedule
• Baseball announced its schedule for the 2023 season.
• Wrestling competed at a meet in Reno. Also, they had an athlete named Big Ten Wrestler of the Week in Jacob Bullock.
• Football revealed its recruiting class for next fall.
• Women's Tennis landed Elisabeth Dunac, a five-star recruit.
• Three Hoosier soccer players (Daniel Munie, Herbert Endeley, and Ryan Wittenbrink) were drafted into the MLS.
Thanks for your continued support for The Assembly Call and Inside the Hall. We'll be back next weekend with a new roundup.
Now go enjoy yourself a 6-banner Sunday.
Aaron (Ari) Shifron
Assembly Call Contributor
Filed to: