Five takeaways from Indiana's win against Elon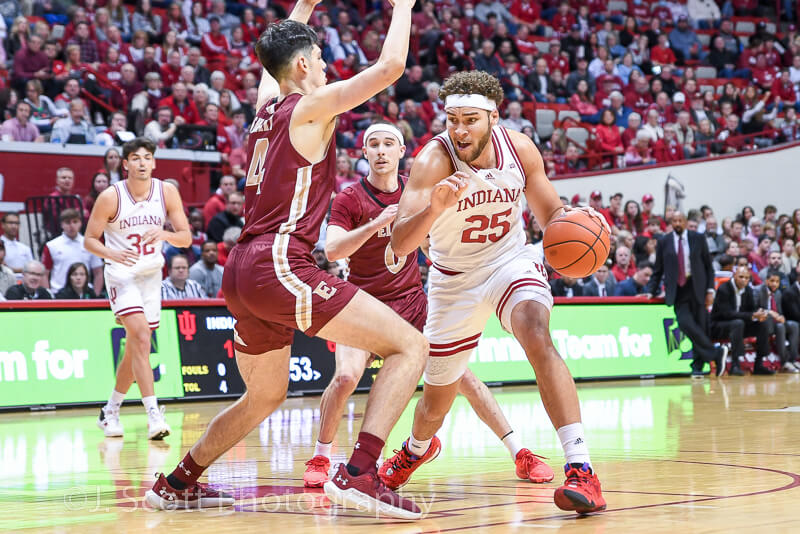 Indiana improved to 9-3 with a 96-72 win over Elon on Tuesday night at Assembly Hall.
Here are five takeaways from the win against the Phoenix:
In TJD's absence, Race Thompson dominates
Trayce Jackson-Davis was sidelined for Tuesday's game due to precautionary reasons. Malik Reneau was inserted in the starting lineup, but it was IU's other frontcourt starter who carried the load with Jackson-Davis out of the lineup.
Against an Elon frontline that lacked size and shot-blocking ability, Thompson flourished. The senior from Plymouth, Minnesota finished with a team-high 18 points on 9-for-13 shooting. He also added 11 rebounds for his first double-double of the season.
Thompson also recorded four blocked shots, matching a career-high.
It was a performance Indiana desperately needed from its most experienced player with its All-American forward sidelined.
CJ Gunn flashes potential in 19 minutes
Freshman guard CJ Gunn hasn't been in the rotation against high-major competition, but made a case for that to change with his play on Tuesday.
The Lawrence North product logged a career-high 19 minutes and scored in double figures for the first time with 11 points. Gunn didn't hesitate to get shots up, connecting on five of his 10 attempts from the field. Two of Gunn's finishes were dunks and he left two easy points on the board when he missed a transition dunk.
Gunn also had two of Indiana's 11 steals and added three rebounds and three assists. Overall, it was his most complete performance yet in an IU uniform.
"Well, one of the hardest things to do when you're coming in as a freshman is you want to please, you want to do well," Miller Kopp said postgame of Gunn. "At the same time, you have to learn what the coaches are asking of you and what the guys need from you. His role, just like when I was a freshman, might be different now than it is in two years.
"But right now, one of his goals, and he'll tell you, is just to get on the floor and get in the rotation. Really every day in practice he plays hard as ever. He talks, he's trying to do the right things. Yes, there are mess-ups, but at the same time, it all comes from a good place, and he's doing things at a thousand miles an hour."
Specifics on Xavier Johnson's injury remain a mystery
Xavier Johnson left Saturday's game at Kansas with an apparent foot injury, but Indiana still hasn't offered specifics on the injury.
Johnson was in street clothes with a boot on his right foot and a scooter at Tuesday's game.
Postgame, Mike Woodson was asked by Jeff Rabjohns for how long he expects Johnson and Jackson-Davis to be out and wouldn't elaborate on the status of either player.
"I don't know. I wish I could tell you that. I really don't know," Woodson said. "My job is to make sure that the guys that are in uniform, that's ready to play, to get them ready to go, and then we'll welcome them back when that time comes."
Indiana's defense is struggling
After allowing Elon to score 72 points on Tuesday, Indiana's defense has fallen out of the top 25 in KenPom's adjusted defensive efficiency rankings.
The Hoosiers currently have the sixth-best defense in the league behind Rutgers, Northwestern, Wisconsin, Illinois and Purdue.
Indiana finished last season with the Big Ten's best defense in conference play. Despite winning comfortably by 24 points, it was clear Woodson is not happy with where his team is defensively through 12 games.
"We've got to do a better job on the ball and guarding the ball," he said. "We had quite a few fouls called tonight in guarding the ball in a one-on-one position, and then we've got to do a better job in our pick-and-roll defense in terms of getting over the screen and getting into the ball. We were terrible tonight in that area."
The Hoosiers will have plenty of time to prepare for Big Ten play to resume after Friday's game against Kennesaw State. Indiana will have 13 days between Friday's matchup against the Owls and a road trip to Iowa on Jan. 5.
3-point shooting bounces back after a lackluster performance at Kansas
After connecting on just six of 19 attempts from distance at Kansas in a lopsided loss, Indiana shot 40 percent from the perimeter in Tuesday's win.
The Hoosiers were 8-for-20 from deep against Elon and four different players made a 3-pointer.
Through 12 games, Indiana is connecting at a 36.3 percent clip from distance, which ranks in the top 75 nationally.
It's worth noting, however, that the Hoosiers are shooting just 31.8 percent from deep in losses to Rutgers, Arizona and Kansas.
Filed to: Elon Phoenix