F.I.N.O: Jalen Hood-Schifino looks to lead Indiana's backcourt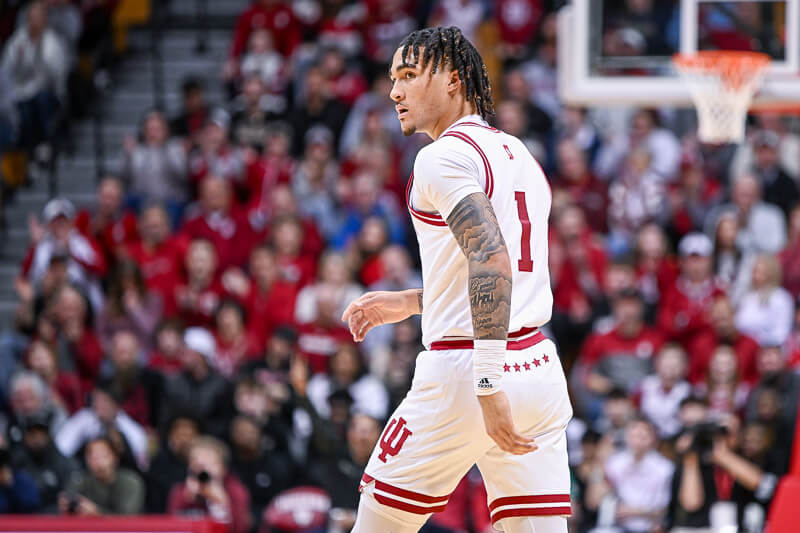 Failure is no option. It never has been and it never will be for freshman guard Jalen Hood-Schifino. Well, it literally can't be because it's a part of his last name.
F.I.N.O. is an acronym or mindset that Hood-Schifino puts into everything he does.
"F.I.N.O. is not just the last four letters of my last name but it's an acronym that my mom created that defines our family's mindset; it is a mindset that embodies PERSEVERANCE, DISCIPLINE and DEDICATION. F.I.N.O.= Failure.Is.No.Option..! It doesn't mean the absence of setbacks. It means that you will never give up and a perceived loss is not the worst outcome. Giving up is," Hood-Schfino says on his Indiana NIL Store page.
When Xavier Johnson went down at Kansas with a foot injury all eyes fell on Hood-Schifino to play point guard and lead Indiana.
The Pittsburgh native, who against the Jayhawks was playing in his first game back from injury since his breakout performance against North Carolina, now has the weight of the preseason Big Ten favorites on his shoulders. But in Indiana's 96-72 win over Elon, the Pittsburgh native looked in control of the game. Johnson watched on the bench with a walking boot on his right foot.
There's no timetable for Johnson's injury yet, but it sounds like he will be out for a while.
"We'll wait on X if he ever gets the chance to come back…but right now we need to move forward with what we got," Mike Woodson said on his radio show Monday night.
The reins of Indiana's offense are at Hood-Schifino's fingertips for the foreseeable future. And against Elon, the Hoosiers didn't have a problem.
Against the Phoenix, Hood-Schifino set a career-high with 17 points on 7-for-12 shooting, adding seven assists and five turnovers.
"Well, things definitely change with X out, a guy who's one of our leading scorers and one of our leaders, too, on the floor with the ball as well as with his voice," Miller Kopp said postgame. "He's a big loss, but at the same time, 'Fino is definitely making strides. He makes strides every day. The kid is a relentless worker."
Coming into Tuesday night's win, the Montverde product had been shooting just 34 percent from the field. A big problem with that has been his shot selection. Often in transition, Hood-Schifino will pull up for a jumper or a 3-pointer instead of attacking the basket. These low-percentage shots aren't ideal for Indiana's offense, but against Elon he got downhill.
Getting to the rim is going to be crucial for Hood-Schifino. If he can become a consistent finisher against quality competition, it will open the floor for IU's wings.
Hood-Schifino's size also benefits him. At 6-foot-6 and 213 pounds, he can see the floor well and shoot over the top of defenses. But again, consistency is the key.
"I thought he responded pretty well," Woodson said postgame. "He had a few too many turnovers for me, but he's young and he's still learning."
The five turnovers aren't going to please many, but it's December. Time will be his biggest advantage in the cream and crimson.
Hood-Schifino might not be as experienced as Johnson in the pick-and-roll or getting downhill, both of which Johnson excels at, but he will give you something Johnson won't. Patience.
When jammed in the paint, the top-30 recruit won't panic, look for contact or throw the ball in the air. He'll settle and allow his teammates to find openings. Perhaps this might not mean much in his ability to "lead" a team. But it is something unteachable and rather intangible. A knack for patience, composure and steadiness makes great point guard play. Hood-Schifno has all of those qualities.
"When X is there, it gives you two guys that can make plays with the basketball, not only for themselves but for guys around them. Now we don't have X," Woodson said. "I've got to keep an eye on Jalen, as well. He's just getting back from his flare-up, and you want to make sure that you don't bury him with a lot of minutes to the point where he goes back down. Then you're really stuck."
It's not, as Woodson said, a good idea to load your freshman point guard with minutes coming off an injury. But as Big Ten play approaches, Indiana's second-year coach might have to. Trey Galloway has proven he can handle the ball adequately, but his skill set isn't a true point guard's. In reality, Hood-Schifino is Indiana's only true ball handler.
"It's not like the NBA where I can go to the D-League and find me another point guard. He's the only true one that we have, and again, I just can't bury him with 40 minutes a game," Woodson said.
After playing off-ball a lot with Johnson in the lineup, it was comforting to see Indiana's offense click being down their starting point guard. While Johnson's play is critical to Indiana's success, Woodson has pressed the next-man-up mentality. And in this case, Hood-Schifino will have to continue being in control, patient and believing in F.I.N.O if the Hoosiers are to succeed.
Filed to: Jalen Hood-Schifino