News and notes from Mike Woodson's radio show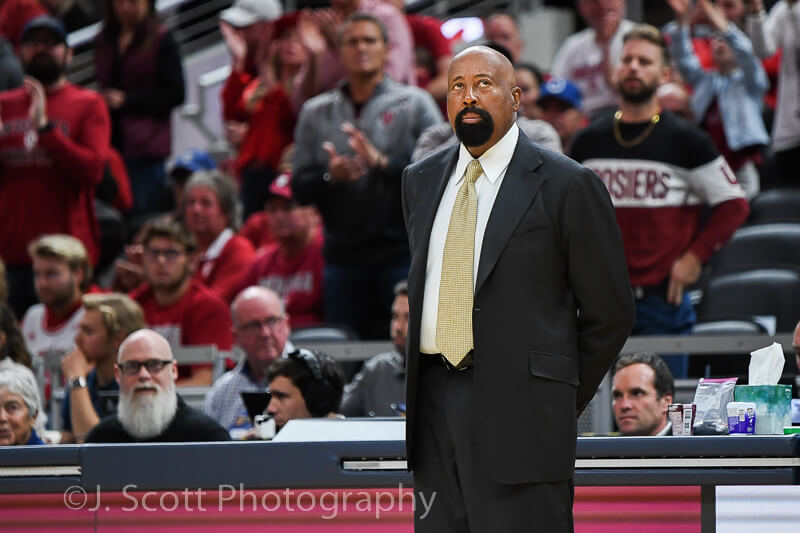 "Inside IU basketball with Mike Woodson" returned on Monday night from the Southern Stone restaurant in Bloomington.
Here's what Woodson had to say about Indiana's back-to-back losses and more:
• Woodson joked "Do we have to?" when asked to talk about Indiana's performance last week.
• He later said that coming into the game at Kansas he felt good about how statistically they matched up with the Jayhawks. "We worked hard to prepare for the game we just didn't show up… I'll take the heat for that."
• Woodson mentioned that he was disappointed with his team's effort at Kansas. There were no surprises with the Jayhawks' game plan, Indiana just didn't execute it.
• More on Kansas: Woodson said he thought after the Arizona game the Hoosiers would bounce back. Woodson said he thought Indiana put in a good four to five days of practice leading up to the Kansas game.
• He also mentioned that he thought Kansas did to IU as IU did to UNC defensively. "I gotta tip my hat to Bill (Self)… we stunk that night. Woodson also said he told Self he wished he had given him a better game after in the handshake line.
• Indiana's fans have traveled all over the country in the last two weeks and Woodson was impressed. "It's unbelievable… I tip my hat to our fans I love 'em. I wanna bring a winner to the fans in the worst way. That's the only reason why I came back."
• Regaining confidence has been a big point of emphasis after the back-to-back losses. "You gotta win. That gives you all the confidence in the world," Woodson said.
• Woodson gave an update on Xavier Johnson's injury at Kansas. "Right now we're still evaluating him… he won't play tomorrow (against Elon)," Woodson said. "We'll know more Wednesday… we'll wait on X if he ever gets the chance to come back… but right now we need to move forward with what we've got." He said Johnson feels frustrated as this is his last year, but it's Woodson's and X's family's job to keep his head high.
• Indiana's frontcourt depth is a bit of a concern for Woodson right now. Woodson said he's "gotta figure out" Jordan Geronimo and Malik Reneau more in terms of the rotation.
• When talking about Reneau, Woodson said he has been on Reneau's motor a lot lately. "Malik is still searching right now, you know. I mean, he's a talented kid that can do a lot of things on the floor, man, but I gotta get his motor going a little bit higher than where it is right now."
• In terms of IU's upcoming games against Elon and Kennesaw State, Woodson mentioned how he just takes games one at a time. He said it's unfortunate that Elon hasn't won many games but they're young and play smart.
• Woodson also acknowledged Indiana's 13-day break between non-conference and when Indiana goes to Iowa to start the conference slate. He said he will let players go home for three or four days for winter break, but gave them a few strength and conditioning activities to do on their own.
• In terms of Indiana's winter break, Woodson said he called former IU star Quinn Buckner and they talked about how they don't remember getting to go home or getting any time off.
Filed to: Mike Woodson