What to Expect: Indiana vs. Elon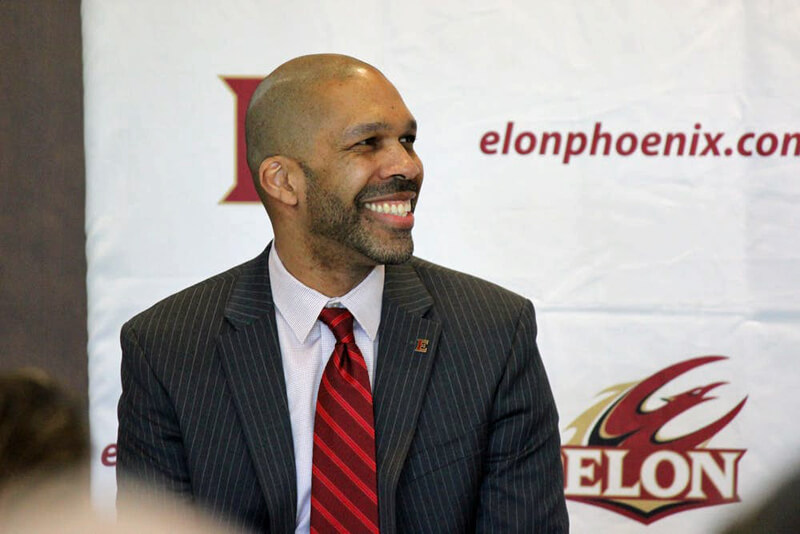 Indiana will try to snap a two-game skid when it hosts Elon on Tuesday in Bloomington. The Phoenix are 2-10 and 0-5 in road games. 
Tuesday's game will tip at 7 p.m. ET on BTN:
Indiana's losses against Arizona and Kansas were eye-opening. The fact that Indiana dropped both games wasn't jarring, but how the losses occurred was.
Against Arizona, Indiana was bullied in the paint and its defense couldn't contain the up-tempo offense of the Wildcats. In the Kansas loss, the Hoosiers turned it over too much and were again outplayed in the paint against a much smaller team.
Fortunately for Indiana, seasons aren't defined by December non-conference games.
The Hoosiers went 2-2 in their "marquee" non-conference contests and started Big Ten play 1-1. This team hasn't exceeded expectations, but the overall results are close to what many would have projected when the season began. With a pair of wins this week, Indiana can go into the new year with a 10-3 record and a 13-day break ahead of a road trip to Iowa City.
MEET THE PHOENIX
Elon is one of four sub-300 KenPom opponents on the IU non-conference schedule. The Phoenix, members of the Colonial Athletic Association, are 0-10 against Division I competition. Their two wins came against Division II Erskine College and Division III Johnson and Wales University.
Elon is coached by Billy Taylor, who played at Notre Dame from 1991 through 1995 and was previously a head coach at Lehigh, Ball State and Belmont Abbey and an assistant at Notre Dame, UNC Greensboro and Iowa.
The Phoenix have a balanced scoring attack with six players averaging between nine and 13.2 points per game.
Sean Halloran, a 6-foot guard, is Elon's leading scorer at 13.2 points per game. He's also dished out a team-high 58 assists to go along with a team-high 26 steals. Halloran is 25-for-65 on 3s, good for 35.4 percent and is shooting 93.5 percent from the free throw line.
Freshman Max Mackinnon is a 6-foot-5 forward from Australia who leads the Phoenix in rebounding (five per game) and is second in scoring at 10.8 points per game.
The third Elon player averaging in double figures is 6-foot-5 senior Zac Ervin, who has connected on a team-best 28 3-pointers in 85 attempts.
Two other notables on the roster are 6-foot-5 senior Torrence Watson and 6-foot-10 sophomore Sam Sherry.
Watson played three seasons at Missouri before transferring to Elon before last season. He's fourth on the team in scoring at 9.6 points per game, but is shooting a dreadful 28.3 percent from the field. Sherry is the team's center and averages 9.5 points and 4.6 rebounds in 22 minutes per game.
Other rotation regulars include 6-foot-5 junior JaDun Michael, 6-foot-9 senior John Bowen and 6-foot-5 freshman LA Pratt.
TEMPO-FREE PREVIEW
Stats are current as of Monday evening.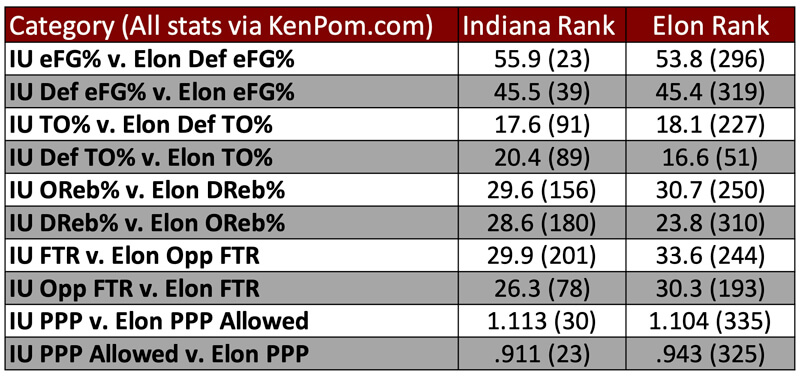 Elon has one of the least experienced teams in Division I, according to KenPom. The Phoenix are 331st nationally in terms of experience.
This is, as you might expect from a team ranked in the bottom 20 teams in the country, a matchup Indiana will dominate inside. The Phoenix are one of the worst shot-blocking teams in the country and also a poor offensive rebounding team.
Elon also ranks in the bottom 10 nationally in 3-point field goal percentage at 25.6 against Division I teams. Simply put, there's little on Elon's profile to suggest that Tuesday's game will be competitive.
WHAT IT COMES DOWN TO
The KenPom projection is Indiana by 29 with a 99 percent chance of a Hoosier victory. The Sagarin numbers favor Indiana by 28 points.
At the various sportsbooks, Indiana is a 28.5-point favorite at FanDuel, 28-point favorite at Caesars, 28.5-point favorite at BetMGM and a 28-point favorite at DraftKings.
This is one of two Indiana games this week before a 13-day layoff for Christmas break. The first game after break for the Hoosiers will be at Iowa on Thursday, Jan. 5.
Tuesday's game will mark Indiana's first without Xavier Johnson in the starting lineup this season, as Mike Woodson confirmed on his radio show Monday night that the senior point guard will not play.
Little will be learned from a cupcake opponent coming to Assembly Hall, but this is an opportunity for Indiana to pick up a comfortable win following two straight disappointing performances.
Filed to: Elon Phoenix