The Minute After: Elon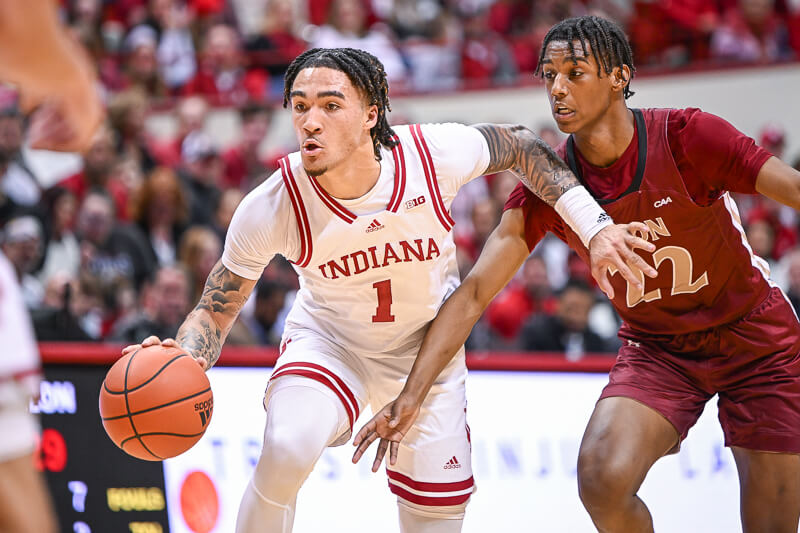 Thoughts on a 96-72 win against the Phoenix:
The Hoosiers returned to early-season form this evening with a dominant performance down low, outscoring the Phoenix 58-24 in the paint.
Unlike Arizona and Kansas, Elon chose not to double-team IU's big men on the block, which opened things up and gave some much-needed breathing room to operate. With Trayce Jackson-Davis out for precautionary reasons, the main beneficiary of the 1-on-1 play down low was Race Thompson. Thompson looked comfortable all game long and led IU in scoring with 18 points on 9-of-13 shooting. Thompson also snagged 11 rebounds tonight for his first double-double of the season.
Logan Duncomb saw the floor more with both Jackson-Davis and Jordan Geronimo sidelined, and he capitalized to the tune of 10 points (5-of-6 shooting), five rebounds, two assists and a block in 17 minutes of action. While Malik Reneau wasn't as efficient as Thompson or Duncomb (4-of-10), less attention in the paint meant nine points for him, the most he's scored since Nov. 23 against Little Rock.
With Xavier Johnson out for the foreseeable future, Jalen Hood-Schifino played 30 minutes, tied for the second-most run he's received all season. He shot it well (7-of-12) and scored 17 points, adding seven assists as well. But IU's freshman also had five turnovers, a couple coming on ill-advised passes. Hood-Schifino's turnover percentage of 24.9 looms large as he assumes a larger ballhandling role in Johnson's absence. (To be fair, Johnson's turnover percentage of 25.0 so far this season isn't anything to write home about, either.)
Indiana started this one slow and there were too many occasions it let the Phoenix sprint ahead in transition for buckets. But a 20-4 run to end the half put the Hoosiers in the driver's seat and they never relented the rest of the contest. CJ Gunn also got more run this evening and made his 19 minutes count. The Lawrence North product had an impressive tip-in dunk near the end of the first half and finished an alley-oop in transition in the second. Gunn played with confidence and finished with 11 points on 5-of-10 shooting, missing a dunk at the end of the game to keep him a little humble.
Indiana hit 8-of-20 (40 percent) from deep. Through 12 games, the Hoosiers are shooting a respectable 36.3 percent from distance, good for 74th best in the country. Tamar Bates hit both of his 3-point attempts, and he's now up to 41.5 percent on the year on 41 attempts. Hood-Schifino made 2-of-4, bringing him to a solid 35.7 percent on 28 looks from deep. Miller Kopp made 3-of-8. He's shooting 45.9 percent on a team-high 61 attempts.
While there are not always takeaways to build upon against these sub-300 KenPom opponents, Indiana going a little deeper than usual tonight allowed other players to get playing time, gain confidence and make plays, which isn't the worst thing in the world.
With Johnson likely out Friday and the competition level remaining low, Mike Woodson might give his bench plenty of time in the lineup against Kennesaw State as well.
Filed to: Elon Phoenix