6-Banner Sunday: IU snaps losing streak with win over Maryland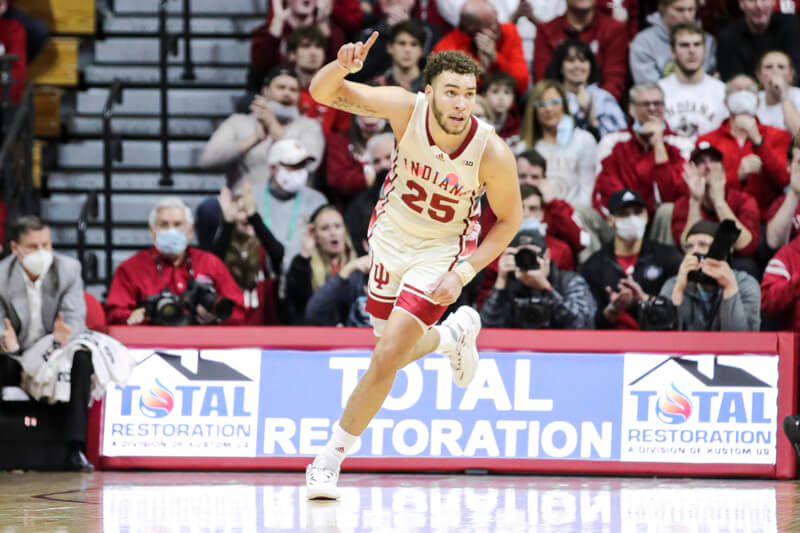 6-Banner Sunday is Inside the Hall's weekly newsletter in partnership with The Assembly Call. More than 9,000 Indiana fans receive the newsletter each week. In addition to appearing each week on the site, you can also opt to receive 6-Banner Sunday by email. A form to subscribe via email is available at the bottom of this week's 6-Banner Sunday.
Welcome to another edition of 6-Banner Sunday, a joint production between The Assembly Call and Inside the Hall where we highlight the five most essential IU basketball stories of the past week, plus take a look at how the other IU sports programs are doing.
IU broke its long five-game losing streak with a victory over Maryland on Thursday night to keep its NCAA tournament hopes alive. This was after a frustrating loss to Ohio State on Monday where the Hoosiers led by four points with a minute to go. IU has another pivotal game against a struggling Minnesota team today if they want to keep their hopes of playing in March Madness alive. Podcast On The Brink as well as Assembly Call Postgame Shows, and Andy Bottoms' Bracketology looked at where exactly the Hoosiers stand with their postseason hopes. As usual, we will conclude Six Banner with a look at how other IU sports are doing.
In brief news, Alex Bozich had his weekly power rankings. Also, former Hoosier Maurice Creek is stuck in Ukraine during the current violence and is trying desperately to get out of the country still. Creek was playing professional basketball in Ukraine when the current war broke out.
• Hoosiers beat Maryland to stop losing streak
• IU falls to Ohio State in overtime
• Hoosiers face Gophers in pivotal game for NCAA tournament chances
• Podcast On The Brink and AC postgame shows
• Andy Bottoms' Bracketology
• Hoosier Roundup
Banner #1 – Hoosiers beat Maryland to stop losing streak
After five frustrating games for the Hoosiers, IU finally snapped its losing streak with a 74-64 victory over Maryland to improve to 17-10 and 8-9 in the conference. Xavier Johnson had one of his best games of the season with 24 points on a perfect shooting night from the floor. The Hoosiers needed Johnson at his best as all the other players capable of handling point guard duties (Khristian Lander, Trey Galloway, Rob Phinisee) were out with injury.
While the Terps have struggled this season and the Hoosiers completed a two-game sweep of them, IU responded every time their lead was threatened in the second half which is something the Hoosier had a hard time with during their losing streak.
Afterward, Mike Woodson spoke as did Maryland interim head coach Danny Manning, Ryan Corazza had his Minute After and Film Session, Alex Bozich penned Five Takeaways, and Grace Ybarra had a column about the Hoosiers hot shooting while Tyler Tachman wrote one on Johnson.
Banner #2 – IU falls to Ohio State in overtime
Before the elation of victory Thursday, the Hoosiers suffered a very frustrating defeat to Ohio State on Monday. IU struggled most of the night and was down double digits a lot of the second half, but a late rally gave the Hoosiers a four-point lead with roughly a minute left. However, just as has been the case against ranked teams previously this year, IU failed to close and gave up a game-tying dunk in the last 10 seconds before losing in overtime.
Afterward, Woodson spoke, Corazza had his Minute After and Film Session, Tachman did Five Takeaways, while Ybarra had a column about the defeat.
Banner #3 – Hoosiers face Gophers in pivotal game for NCAA tournament chances
IU plays Minnesota tonight at 6 pm on ESPN2 in a game they can ill afford to lose. While beating a Gopher team that has done very little in Big Ten play will not help the Hoosiers, slipping up could deal a fatal blow to IU's hopes of getting into the NCAA tournament for the first time since 2016. With a win over Minnesota and fellow bubble team Rutgers on Wednesday, the Hoosiers may finally find themselves dancing after the long six-year wait.
Bozich wrote a What To Expect preview of the matchup with the Gophers, while Anthony Leal and Jordan Geronimo had media availability earlier this week to discuss the game.
Banner #4 – Podcast On The Brink and AC postgame shows
Following the game against the Buckeyes, Bozich and Tachman discussed where the loss left the Hoosiers on this week's Podcast On The Brink.
This week's Assembly Call postgame shows recapped the games against the Buckeyes and Terps. Doing The Work Postgame also had shows following the losses to Iowa and Maryland. Also, the latest episode of the Grace Berger Show was released this week.
Banner #5 – Andy Bottoms' Bracketology
Andy Bottoms had the Hoosiers amongst his first teams out in the latest Bracketology which was done before the victory over Maryland.
Most brackets either have the Hoosiers as one of the first teams out or one of the last teams in, illustrating the need for victories and the precarious position the team is in.
Banner #6 – Hoosier Roundup
• Men's Swimming and Diving picked up their 28th Big Ten Championship in program history and the first for any Hoosier program during the 2021-2022 athletic season.
• Women's Basketball lost to Iowa and Maryland this week putting their chances of a top-four seed and hosting NCAA Tournament games in jeopardy. The Hoosiers will be the five-seed in the conference tournament and may need at least two victories to secure a hosting spot for March Madness.
• Baseball lost to Clemson last Sunday in a much closer battle but ultimately took a three-game sweep at the hands of the Tigers to open the season. They once again lost to Arkansas Friday before finally picking up their first win of the season Saturday against Louisiana-Lafayette.
• Men's Soccer announced its exhibition spring schedule. In their first game, the Hoosiers had a 2-2 tie against Butler. I was on-site with coverage for Assembly Call and a recap of the game can be read in the Community of the site at this link for those who subscribe. The team also has many former players in the pros now.
• Softball beat Hofstra twice and lost a couple of times to a top-five Florida State team.
• Water Polo had a rough time of it with a trio of losses last weekend and a defeat to Michigan. They rebounded with victories over two ranked teams this weekend.
• Track and Field competed at the Big Ten Championships with the men's team placing fourth and the women's team ninth.
• Wrestling lost its regular-season finale to Chattanooga.
• Women's Tennis beat Cornell.
• Men's Tennis split matches with Butler and Xavier before falling to Louisville.
Thanks for your continued support for The Assembly Call and Inside the Hall. We'll be back next weekend with a new roundup.
Now go enjoy yourself a 6-banner Sunday.
Aaron (Ari) Shifron
Assembly Call Contributor
(Photo credit: IU Athletics)
Filed to: