The Minute After: Maryland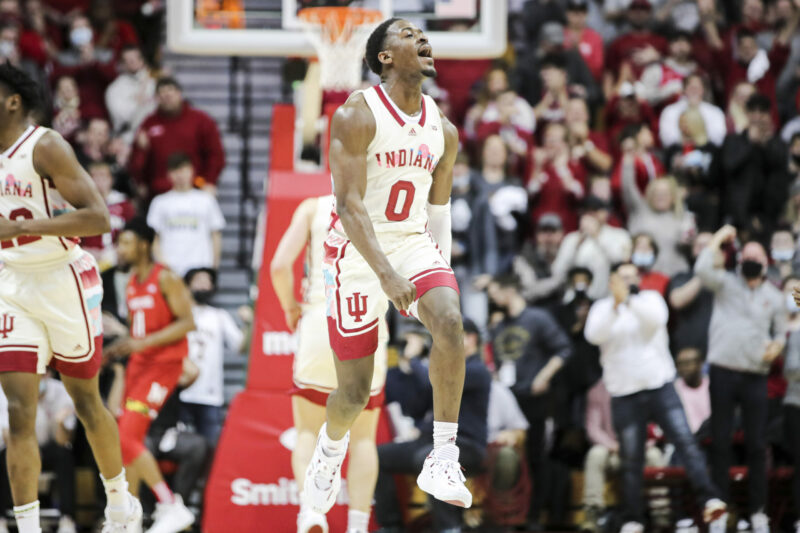 Thoughts on a 74-64 win against Maryland:
No down-the-strech collapse or middling late offense from the Hoosiers tonight.
In a winnable game it absolutely needed, Indiana shut the door in the closing minutes, making sure Maryland didn't have a shot at sneaking out of Bloomington with the victory. A 3-pointer from Xavier Johnson followed by a dunk by Trayce Jackson-Davis put Indiana up 15 with 1:56 to go and that was about that.
After six straight games under a point per possession, Indiana's offense sprung to life in this one. The Hoosiers scored 1.13 points per possession, at one point making 13 straight baskets in the second half. Their eFG% of 64.9 was a season-high. Xavier Johnson's performance was a big reason why.
The Pitt transfer delivered a sensational performance this evening. He went a perfect 7-of-7 from the field, hitting from deep (3-of-3), the mid-range and at the rim, where he threw down a ferocious dunk early in the second half. Johnson also hit 7-of-8 from the line to finish with a game-high 24 points. His assist-to-turnover ratio was 2:1 (six assists, three turnovers).
With Jackson-Davis in foul trouble this evening, Race Thompson more than picked up the slack down low. Thompson was a hyper-efficient 9-of-12 (19 points) and had a near double-double thanks to nine boards in his 38 minutes of action. The Minnesota native did his work down low, which helped the Hoosiers to a 20-point advantage in the paint (44-24).
Indiana also shot better than its season average at the line (13-of-18, 72.2 percent) and from 3-point range (5-of-13, 38.5 percent). Parker Stewart got plenty of looks from deep tonight, but connected on just 1-of-6. Fatts Russell was a tough cover for Indiana at times tonight, but by game's end, he needed 21 shots to get to 23 points. He did hit 5-of-9 from deep, however, aiding the Terps to a hot night from 3-point range (10-of-25, 40 percent).
The Hoosiers got a big boost from their bench in the first half. With both Jackson-Davis and Johnson out for a long stretch due to two fouls each, a bench-heavy lineup played great defense, holding Maryland scoreless for almost seven minutes. On the other end, Jordan Geronimo scored in an outrageous way, Tamar Bates put in a bucket at the rim and Anthony Leal splashed in a 3-pointer.
The combination of Indiana's defense and the bench buckets helped the Hoosiers gain a 10-point advantage with 4:49 remaining in the first half, though a late slide saw Indiana carry just a three-point lead (30-27) into the break.
This win stops the bleeding and brings a little life back to the end of the season. Sunday's game at Minnesota won't be easy. Neither will next Wednesday's game against Rutgers. Still, these are two contests Indiana is favored to win, per KenPom. And at this juncture in the season, the Hoosiers need victories any way or any place it can get 'em to keep their NCAA tournament aspirations alive.
(Photo credit: IU Athletics)
Filed to: Maryland Terrapins