Five takeaways from Indiana's win over Maryland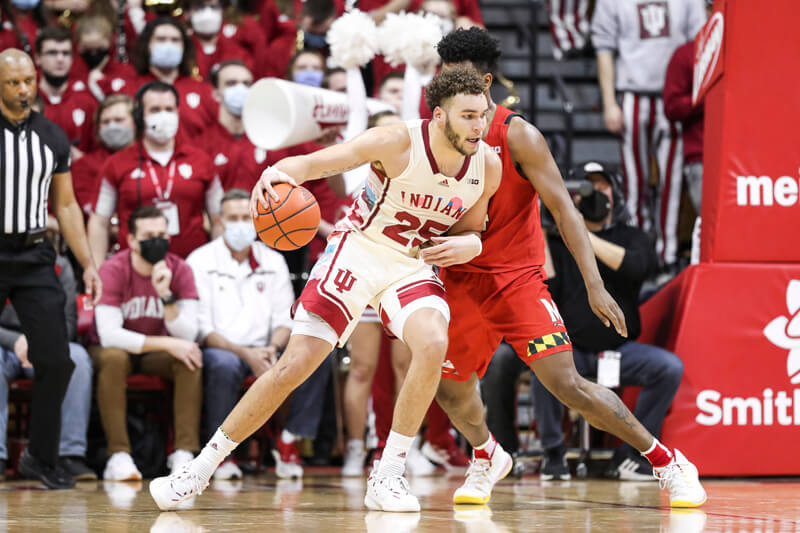 Indiana snapped a five-game losing streak with a 74-64 win over Maryland on Thursday night at Simon Skjodt Assembly Hall. The win improved the Hoosiers to 17-10 overall and 8-9 in Big Ten play.
Here are five takeaways from the win over the Terrapins:
Offense breaks out after weeks of struggles
It's no secret that Indiana's offense has been the reason for its demise late in games in recent weeks.
Entering Thursday's game, the Hoosiers hadn't eclipsed the one point per possession mark since a Jan. 26 victory over Penn State in Bloomington. That win over the Nittany Lions was also the last time Indiana had scored 70 or more points in a game prior to Thursday.
Indiana finally broke out of its slump with one of its most well-rounded offensive efforts yet in conference play.
The Hoosiers posted an effective field goal percentage of 64.9, its highest mark of the season. It shot 59.6 from the field, also a season-best. Four of its five starters shot better than 50 percent from the field. At one point, Indiana made 13 straight shots in the second half.
It was the type of performance that Indiana is going to need to build off of if it hopes to reach its stated goal of getting back to the NCAA tournament for the first time since 2016.
Hoosiers dominate in the paint and capitalize off of Maryland turnovers
A quick glance at the stat sheet shows two areas where Indiana dominated Maryland: points in the paint and points off of turnovers.
The Hoosiers outscored Maryland 44-24 in the paint on Thursday after outscoring them 36-20 in the paint in the first meeting on Jan. 29 in College Park.
Indiana shot a season-best 67.6 percent on 2s in the victory and was 20-of-25 (80 percent) on dunks and layups. Maryland shot only 11-of-23 (48 percent) on dunks and layups.
Maryland's carelessness with the ball also fueled Indiana's offense. The Terps committed 16 turnovers which led to 22 points for the Hoosiers. Indiana turned it over 11 times, which led to only 10 points for Maryland.
Indiana once again frustrates Maryland's Donta Scott
One major reason for Indiana's success this season against Maryland is the work it has done defensively on Donta Scott.
The 6-foot-7 forward is one of the more versatile frontcourt players in the league who possesses the ability to play inside or out.
But Scott, who earlier in the season dropped 25 points in a win over Illinois, was never comfortable in either game this season against the Hoosiers.
A big reason for that was the defensive work of Race Thompson, whose versatility allowed him to stay with Scott both on the perimeter and in the paint.
Scott was just 1-of-7 from the field and scored only seven points in IU's 68-55 win over Maryland in College Park. He wasn't much better on Thursday in Bloomington. Scott was 3-of-11 from the field and scored 10 points in 36 minutes. He missed all five of his 3-point attempts.
Thompson's ability to dominate Scott in both matchups was a major reason the Hoosiers earned the season sweep against Maryland. In two games, Thompson finished with 37 points and 21 rebounds compared to just 17 points and nine rebounds for Scott.
Xavier Johnson carries Indiana in second half offensive explosion
Xavier Johnson's struggles during Indiana's losing streak were well documented.
Over four games in the five-game skid (Johnson didn't play at Northwestern), he shot 13-of-46 from the field.
Through the game's first 20 minutes, it appeared Johnson's impact on the outcome would be minimal due to foul trouble. He played only seven minutes in the first half and had four points, two assists and a turnover.
His second half performance, however, was nearly flawless.
Johnson played all 20 minutes after halftime. He shot 8-of-8 from the field, 7-of-8 from the free throw line and made all three of his 3-point attempts. He also didn't commit a foul, dished out four assists, had a steal and committed only two turnovers. His dunk with 16:53 to play showed just how explosive he can be when he's engaged and attacking the rim.
"He wants to be great," Mike Woodson said postgame of Johnson."He plays — he competes, man. He's a competitor. That's what he does."
Indiana kept its at-large NCAA tournament hopes alive
Indiana's win over Maryland didn't move the needle much in terms of its NCAA tournament resume. The win falls in Quad 3 and improved the Hoosiers to 12-0 against Quad 3 and 4 teams this season.
Sunday's game at Minnesota will be a Quad 2 opportunity and its final home game next Wednesday against Rutgers will likely fall into Quad 3. Its lone remaining Quad 1 opponent in the regular season is Purdue, which is also the final regular season game for both teams.
While much will depend on what happens with other bubble teams and with potential bid thieves in the mid-major leagues, Indiana kept its at-large hopes alive with a win over Maryland.
The Hoosiers, who were near the cut line in most bracket projections entering Thursday's game, probably need to win two of their final three games to stay in the at-large picture.
"We want to play in the tournament," Thompson said Thursday. "None of us have ever played in the tournament. And that's a goal we're all trying to reach as a unit."
(Photo credit: IU Athletics)
Filed to: Maryland Terrapins, Race Thompson, Xavier Johnson