Xavier Johnson proves doubters wrong in dominant performance against Maryland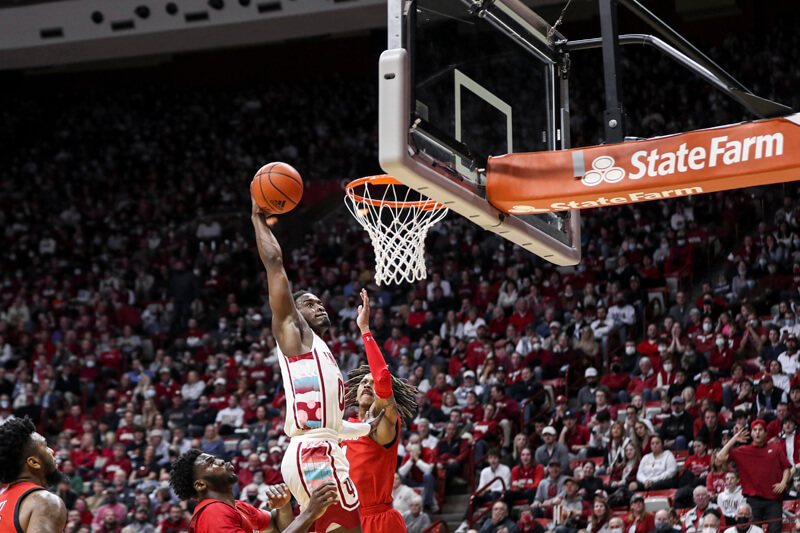 Social media is an interesting virtual space, to say the least. It can sometimes be a place for people to interact with one another, connect, share information or comedic content. It can also be a forum used to tear others down. People, sometimes masked behind anonymous accounts, have the ability to fire off whatever is on their mind. Good or bad. Angry or not.
It seems fair to say that people on social media have not always been the nicest to Xavier Johnson.
"As a person, as a kid, as it goes around social media, I see a lot of what a lot of people say," Johnson said postgame. "And I'm an emotional player. I see it a lot. I know it really doesn't matter, you're not supposed to read it. But at the end of the day, I mean, I'm a person, and I'm going to read it. But it's a matter of how you use it. That's what I'm going to say."
Johnson has often been at the epicenter of criticism from the fanbase amid his sometimes spectacular and sometimes erratic play. In the days following Indiana's December win over Notre Dame, where Johnson recorded 11 points, four turnovers and shot 3-of-11 from the field, Indiana head coach Mike Woodson backed up Johnson when asked about boos directed at his point guard. There was a stretch of three games in January, where he combined for 10 turnovers and 12 fouls.
But then he found his stride and played like the point guard Indiana needed him to be, averaging 17 points, 4.7 rebounds and 4.7 assists over a three-game stretch in January. Then there was more uncertainty. He was suspended for Indiana's game against Northwestern. Over the last three games entering Thursday, Johnson combined for 15 turnovers and 11 fouls.
On Thursday, Indiana entered possibly the most crucial stretch of its season. The Hoosiers had lost five consecutive games and went from being on a solid NCAA tournament path to squarely on the bubble. Against a middling Maryland team, this was a game that Indiana needed to win to avoid falling deeper into the abyss of the NCAA tournament bubble, something that has seemed inevitable for the program in recent history.
Indiana, though, took down Maryland, 74-64. It was in large part due to arguably Johnson's finest performance of the season. He scored 24 points on 7-of-7 from the field, 3-of-3 from deep, 7-of-8 from the free-throw line, along with six assists to three turnovers. It was the type of dominant display that some IU fans may have doubted was possible earlier this season.
Proving people wrong has been something that Johnson has done on multiple occasions during his career. After Johnson's freshman season in high school, Bishop O'Connell head coach Joe Wootten told him that he likely wouldn't make varsity as a sophomore. So that summer, Johnson worked relentlessly. Johnson and his father Michael woke up around 6 or 7 a.m. and went to the gym three times a day. Michael says they did this five days a week. The next season, Johnson made varsity.
"He got in the gym and worked and worked and worked," Wootten said.
Then there was another moment later in his high school career. He was playing for Team Takeover and they'd just won an AAU tournament in Las Vegas. The team was filled with future college players like Hunter Dickinson (Michigan), Justin Moore (Villanova) and Myles Dread (Penn State). They also played in the Washington Catholic Athletic Conference in the DMV, which is among the most competitive leagues in the country.
Team Takeover coach Doug Martin remembers the moment, after the game, when players were celebrating. That was when Johnson declared that he was going to be the conference player of the year in the WCAC. Martin said some players laughed. But Johnson said it with a serious face. "Everybody was like man 'X is adrenaline drunk,'" Martin said. The next season, Johnson won WCAC Player of the Year and averaged 18.4 points per game.
"Whoever has doubted him or whoever has told him he couldn't do something, he packs it away, but he doesn't put it away," Martin said. "It's like a backpack he carries around with all the people who have doubted him or told he couldn't or shouldn't."
Thursday was another example of where Johnson probably made some people eat their words. His first half was relatively quiet. He picked up his second foul with just over 13 minutes left in the half and spent the rest of the first period on the bench as IU clung to a three-point lead at the break.
In the second half, though, Johnson was simply phenomenal. He did what good point guards are supposed to do. He controlled the pace offensively. He made plays for both himself and others. He played good defense. In the second half alone, he had 20 points, four assists and two turnovers. Opponents have been going under screens to leave him open from three, but Johnson hit all three from deep on Thursday, opening up all layers of his game. Indiana's offense, which has struggled mightily, had great rhythm and flow with Johnson as a catalyst. The Hoosiers shot an absurd 75 percent from the field in the second half and pulled away.
"When he's on like he was tonight, we're definitely going to be hard to beat," Race Thompson said. "When you get X going, that's the head of a snake, for real. You might say Trayce is the head of the snake, but it's really X. We really go as he goes because he gets everybody involved."
Indiana becomes all the more dynamic when Johnson is playing like he did on Thursday. It also comes as a necessity given that Khristian Lander and Trey Galloway have each missed the last two games due to injuries and Rob Phinisee is still out. If Johnson can play like this consistently, Indiana has a chance to make a run down the stretch.
"He wants to be great," Woodson said. "He plays — he competes, man. He's a competitor. That's what he does. And he's had his ups and downs, man… This is the first time he and I have had an opportunity as coach/player to get together, man. I'm pleased at how he's played this year. He's come a long way from the beginning when we started to where he is today. When I see things like that, that means he's put in time and he's working."
(Photo credit: IU Athletics)
Filed to: Xavier Johnson