Five takeaways from Indiana's loss at Ohio State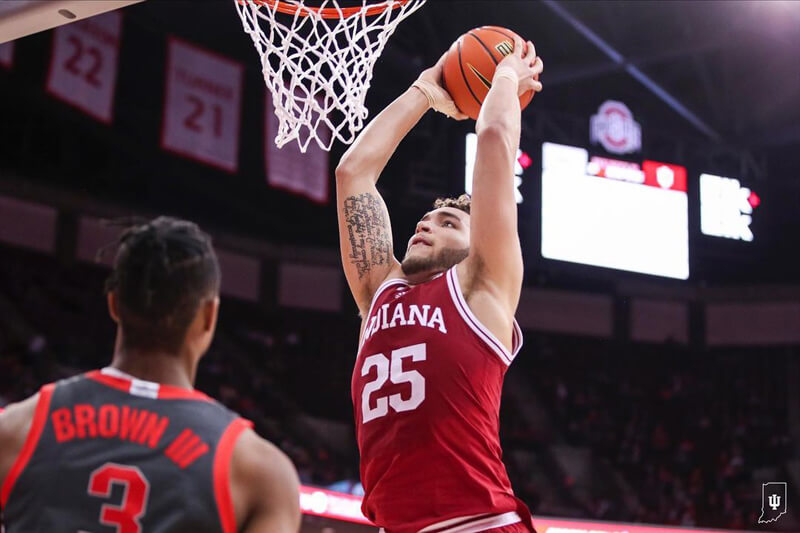 Indiana dropped its fifth straight game on Monday as the Hoosiers fell 80-69 in overtime at Ohio State.
Indiana is now 16-10 overall and 7-9 in Big Ten play with four regular season games to go. Here are five takeaways from the loss to the Buckeyes:
Poor late-game execution
Once down by as many as 11 points in the second half, Indiana showed resilience and fought its way back into the game. With 2:47 remaining in regulation, Tamar Bates hit a jumper to put Indiana up by four points. It looked like the Hoosiers could escape with a massive road win.
The rest of the game was abysmal for Indiana. With just over a minute remaining and Indiana still up by four points, Race Thompson committed a turnover. On the other end of the floor, Ohio State's Malaki Branham hit two free throws. It continued to unravel from there. Bates missed a three. Then Indiana fell apart defensively, allowing E.J. Liddell an uncontested dunk to tie the game with six seconds remaining. Xavier Johnson air-balled a contested three as the horn sounded.
"We were up four, we throw the ball away out of the timeout," Indiana head coach Mike Woodson said, reflecting on the end of regulation. "That's the biggest possession of the night, I think, because we got nothing out of it. We came down and we fouled. If you're up two with 15 seconds, you got to get a stop and we give up a layup. Those were the two biggest possessions to me of the night."
Indiana missed its opportunities and Ohio State ran away with the game in overtime, outscoring the Hoosiers 17-6 in the extra frame. The Buckeyes went on a 10-0 run to close the game. Indiana didn't score in the last 2:30.
This wasn't the first time this season that Indiana has failed to close out games. You could point to Syracuse, both games against Wisconsin and Penn State as other occasions where Indiana fell apart in late-game situations. Monday's collapse in regulation was almost a carbon copy of what happened against Wisconsin in Assembly Hall less than a week ago. In that game, Indiana led by three with 2:31 remaining before letting Johnny Davis take over and win the game for the Badgers in regulation.
Indiana unable to contain Malaki Branham
There were few moments during Monday's game where Indiana was able to stop Ohio State's Malaki Branham. The freshman guard carved up Indiana's defense, scoring 27 points on 9-of-13 shooting from the field and 8-of-8 from the free throw line. He scored 17 of his 27 points in the second half and overtime.
"He made some tough shots, and we also made some mistakes guarding him letting him get to his right hand," Indiana guard Parker Stewart said via a transcript released by IU Athletics postgame. "I take the blame for that because I guarded him most of the night."
There have been multiple occasions this season where Indiana has had difficulty stopping opposing guards.
Against Syracuse, Joseph Girard III and Buddy Boeheim combined for 49 points. Against Michigan State, A.J. Hoggard and Tyson Walker combined for 29 points. Against Illinois, Trent Frazier and Alfonso Plummer combed for 37 points. Branham's performance on Monday was yet another example of Indiana's guards being exposed defensively.
More bad offense
The deterioration of Indiana's offense continued against Ohio State. The Hoosiers shot just 34 percent from the field and 32 percent from three. Based on the eye test, a majority of the game was filled with stagnant offense. Indiana rarely had much movement or flow.
Race Thompson and Jordan Geronimo were the only two Indiana individual players to shoot 50 percent or better from the field. Geronimo was just 1-of-1. Thompson was 6-of-12.
Other than those two, Indiana was largely inefficient from the field. Trayce Jackson-Davis shot 3-of-9. Tamar Bates was 3-of-11. Miller Kopp was 2-of-8. Despite settling into the game and making 10-of-10 from the free-throw line, Xavier Johnson was just 3-of-12 from the field. Parker Stewart was 3-of-4 from three, but 4-of-9 overall from the field.
During its five-game losing streak, Indiana has shot better than 40 percent from the field as a team just once. That came against Wisconsin, where the Hoosiers shot 41 percent. During that five-game stretch, Indiana has shot better than 30 percent from deep just once. That came against Ohio State, where the Hoosiers were 6-of-19.
Bench fails to make a significant impact
Indiana dealt with an even more depleted bench on Monday. Prior to the game, it was announced that guards Trey Galloway and Khristian Lander were both unavailable due to injury. Galloway was listed as having a "lower body injury," while Lander's injury was characterized as "reaggravation of sore leg." Indiana was already without Rob Phinisee, who hasn't played since he departed Indiana's home game against Penn State in late January.
On Monday, Indiana got just nine points from its bench. Seven of those came from Bates. Two from Geronimo. In nine minutes, Michael Durr had zero points, zero rebounds and two fouls. Anthony Leal didn't score in 10 minutes of action. Geronimo played just three minutes.
It continues to be concerning the rate at which Indiana's starters are being forced to play large minutes. Johnson and Jackson-Davis each played 39 minutes. Thompson played 40. Indiana's bench has been both a strength and weakness throughout the course of the season, but injuries coupled with inconsistencies have put Indiana in a tough spot down the stretch of the season.
Indiana showed resilience but its season keep spiraling
There wasn't much positive to take away from another blown opportunity for Indiana, but if you want to look at the silver lining, it's that Indiana showed resilience. At one point, the Hoosiers were down by 11 on the road and made gritty plays to get back into the game. There have been few moments this season where you could question Indiana's intangibles.
"This team does not quit, by any means," Woodson said. "I mean, if you think that, then I think you're watching the wrong game tonight. I mean these guys came and they competed."
Unfortunately for the Hoosiers, games aren't decided solely based on intangibles. Time and time again, Indiana has failed to make plays when it matters the most. After beating Maryland in late January, Indiana had won six of its last eight games. Since then, Indiana has lost five consecutive games, including one in which five players were suspended and two where Indiana folded late in the game.
Indiana's NCAA tournament hopes are now in serious jeopardy. The Hoosiers have four regular-season games left: Maryland (home), Minnesota (away), Rutgers (home) and Purdue (away). They will likely have to string a few wins together, plus potentially more in the Big Ten tournament to secure a bid for the first time since 2016.
(Photo credit: IU Athletics)
Filed to: Mike Woodson, Ohio State Buckeyes