What to expect: Minnesota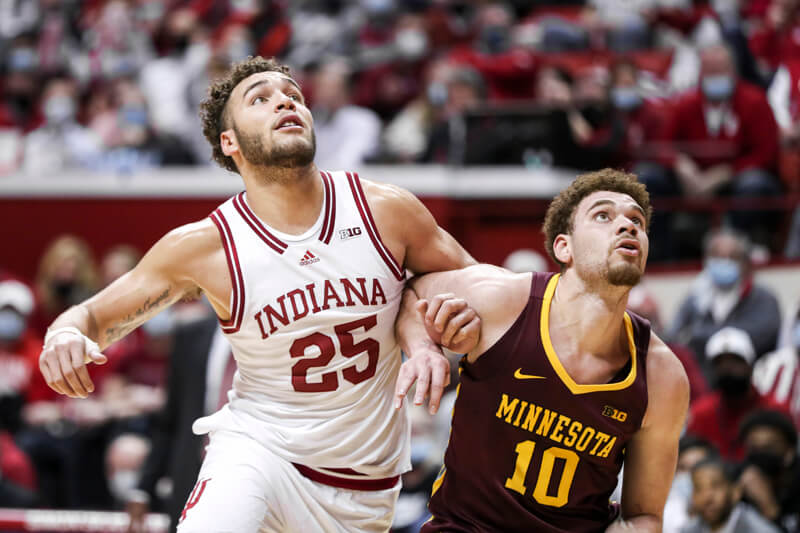 Indiana will seek its third road win of the season on Sunday evening in Minneapolis. The Hoosiers will take on Minnesota, which is 13-13 overall and 4-13 in Big Ten play, at Williams Arena.
Sunday's game will tip at 6 p.m. ET on ESPN2:
Indiana's NCAA tournament hopes are still in the balance but can receive another boost with a Quad 2 opportunity this weekend. The Hoosiers will try to get back to .500 in league play with a season sweep of Minnesota on Sunday.
The Gophers, who started the season 10-1, have only three wins this calendar year and all have come at home. Minnesota beat Rutgers on Jan. 22, Penn State on Feb. 12 and Northwestern on Feb. 19 at Williams Arena.
Under first-year head coach Ben Johnson, Minnesota plays one of the shortest rotations in the conference. The Gophers have three players – Payton Willis, Jamison Battle and Luke Loewe – who are among the top ten in the league in percentage of minutes played.
THE FIRST MEETING
Indiana won the first matchup 73-60 in Bloomington back on Jan. 9.
Rather than attempting to guard Trayce Jackson-Davis straight up, Johnson opted to send help repeatedly and sagged off of shooters on the perimeter. Rob Phinisee, who hasn't played since a 74-57 win over Penn State on Jan. 26, hit four 3-pointers in the first half against the Gophers.
"That's the gamble you have to play," Ben Johnson said postgame. "It's like pick your poison with a guy that's as dominant as Trayce is inside."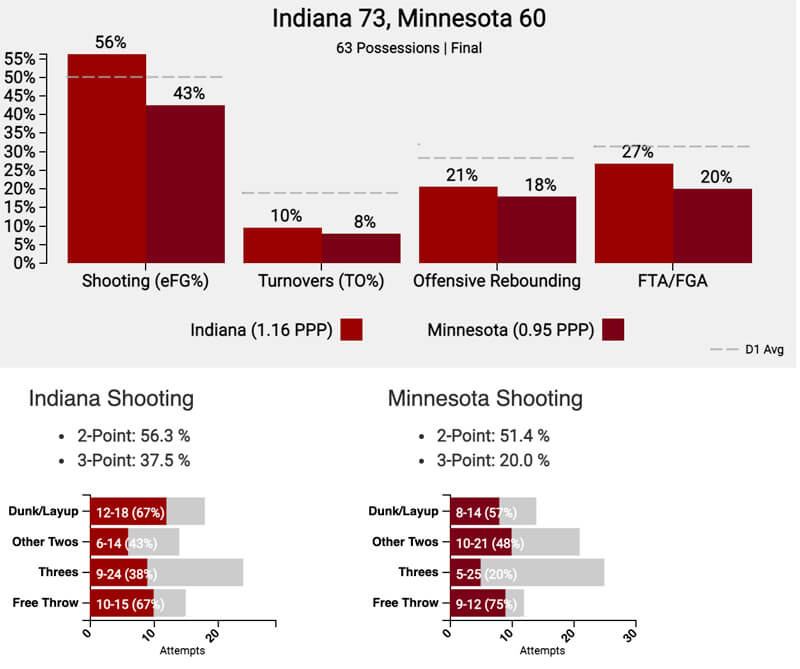 Jackson-Davis still reached double figures with 13 points, but the result of the double teams was a balanced offensive performance from Indiana. Four other Hoosiers scored in double figures, including Xavier Johnson (14), Phinisee (13), Parker Stewart (12) and Race Thompson (10).
With plenty of open looks on the perimeter due to the double teams, Indiana made 9-of-24 (37.5) from distance.
Defensively, Indiana was able to hold Minnesota below a point per possession despite some strong individual performances for the Gophers.
Jamison Battle and Payton Willis both scored 19 in the first matchup and E.J. Stephens added 12. It is notable, however, how much Battle and Willis had to work for their numbers. Battle took 17 shots and three free throws to get 19 points. And Willis attempted 18 shots and two free throws in the Indiana win.
After leading by 10 at halftime, Indiana's lead shrunk to one at the 11:09 mark of the second half.
Indiana was able to get momentum back on its side by re-engaging defensively down the stretch. The Hoosiers held Minnesota scoreless for over six minutes in the final 11 minutes.
Many of the numbers Minnesota produced in the first matchup have been characteristics of their team all season. Minnesota turned it over just five times for a turnover percentage of 7.9. The Gophers didn't emphasize grabbing offensive rebounds (17.9 OR%). And it only took 12 free throws.
TEMPO-FREE PREVIEW
(Stats are for conference games only. Numbers are through Friday's games.)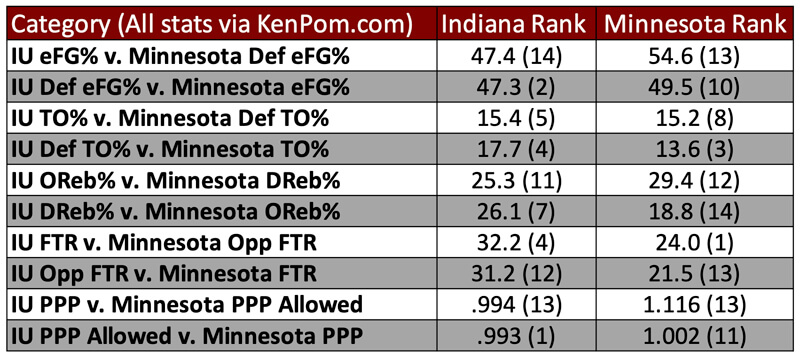 Through 17 conference games, Minnesota ranks 11th in the Big Ten in points per possession and 13th in points per possession allowed. The Gophers play the second slowest pace in the league and average 19.2 seconds per offensive possession.
Big Ten opponents are shooting 38.2 percent on 3s against Minnesota and 53.2 percent on 2s. Minnesota's frontline lacks legitimate size as 6-foot-9 senior Eric Curry logs the majority of the minutes at the five. Curry has just 16 blocked shots in 26 games.
Minnesota generates 34.2 percent of its points in Big Ten play from 3-pointers. That's the fourth-highest mark in the league. In its most recent win over Northwestern, Minnesota made 11-of-23 3s. In its win over Penn State on Feb. 12, the Gophers made 8-of-16 from distance and Minnesota hit 13-of-24 3s in a win over Rutgers on Jan. 22.
Minnesota doesn't get to the free throw line with any regularity but negates that deficiency by avoiding fouls on the other end. The Golden Gophers are first in the league in opponent free throw rate (FTA/FGA) at 24 percent.
WHAT IT COMES DOWN TO
As mentioned earlier, this is a Quad 2 opportunity for Indiana and an important game for its NCAA tournament chances.
A loss in either of its next two games is going to require the Hoosiers to do a lot of work in the Big Ten tournament to earn an at-large bid.
The keys for Indiana are making some timely 3s, keeping Xavier Johnson on the floor for as many minutes as possible and preventing Willis and Battle from getting too comfortable offensively. Minnesota has two other potent 3-point shooters in Stephens (39.8 percent) and Luke Loewe (36 percent) that must also be accounted for at all times.
Minnesota has been formidable at times this season in conference play at home with a 3-6 record. But when the Gophers have lost at home, the results are typically lopsided. Its home losses in Big Ten play have come by an average of 11.3 points.
The KenPom projection is Indiana by two with a 55 percent chance of an IU victory. The Sagarin numbers favor Indiana by 2.5.
Filed to: Minnesota Golden Gophers