The Minute After: Minnesota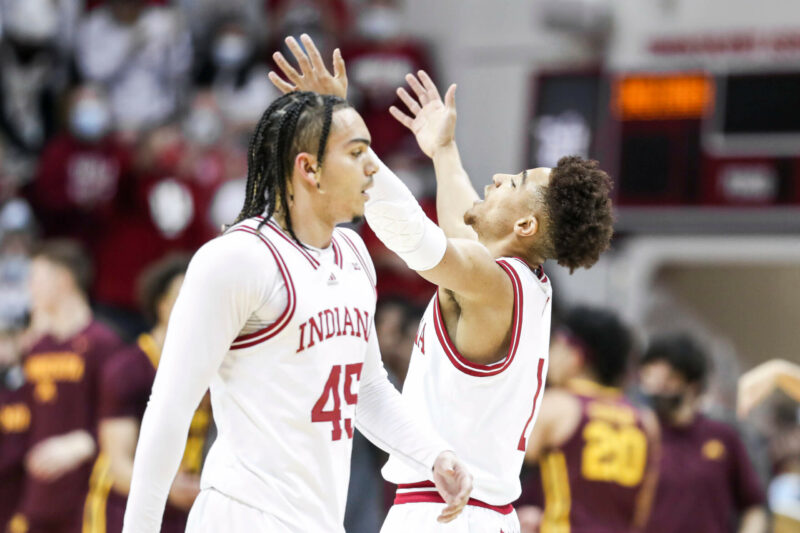 Thoughts on a 73-60 win against Minnesota:
Another Big Ten game, another puzzle for the Hoosiers to solve.
Instead of quick-hit shots from Trayce Jackson-Davis and transition scores like we saw Thursday night against Ohio State, Indiana had to go with a different approach against the Golden Gophers. First-year coach Ben Johnson decided to sag his defense and bring extra attention to Jackson-Davis. The Gophers looked to slow things down and force the ball out of his hands. There was this wrinkle, too: Minnesota dared Indiana's struggling-to-score point guards, Xavier Johnson and Rob Phinisee, to shoot from deep, not even sending a defender out to challenge the shot once the ball got out of Jackson-Davis' hand.
Thankfully for the Hoosiers, Johnson and Phinisee weren't daunted. Phinisee's stroke looked confident as he hit 4-of-8 from 3-point range in the first half. Johnson added a 2-of-4 performance. Their ability to step up and hit from distance was absolutely essential in a half Jackson-Davis had just five field attempts and four points. Parker Stewart also knocked in his lone 3-point attempt of the first half and the Hoosiers entered halftime shooting 7-of-15 from deep, aiding their 10-point lead.
With Minnesota keying on Jackson-Davis so much, it ended up being a more balanced attack offensively than we've seen in some time. The Hoosiers had five players in double figures with Johnson (14 points), Jackson-Davis (13 points), Phinisee (13 points), Stewart (12 points) and Race Thompson (10 points) all scoring 10 or more for the Hoosiers. Late in the contest, Indiana went to Thompson in the post and he was able to score and get to the line against single coverage, a different look for Indiana down low after all the attention paid to Jackson-Davis. Stewart hit 4-of-5 from the field, including 2-of-3 from deep.
Minnesota hit some tough looks in this one with Jamison Battle (19 points), Payton Willis (19 points) and E.J. Stephens (12 points) leading the charge. The Golden Gophers made their runs, their most important coming early in the second half, as IU's 10-point halftime lead briefly became a 1-point advantage for Minnesota at the 11:09 mark. But Indiana clamped down from there. The Hoosiers held Minnesota scoreless for a 6:02 stretch during the final 11 minutes of game action, allowing them to regain the lead for good and cruise to a double-digit victory.
Asked about Indiana's defense to close out the game, Mike Woodson offered this: "I call it winning basketball."
Through five Big Ten contests, Indiana is allowing .894 points per possession. That's first in the Big Ten. That's elite.
Minnesota brought a smart game plan defensively and turned it over just five times. But Indiana's ability to step up and hit shots against that defense coupled with strong defense of its own made the difference this afternoon. After a rough loss at Penn State, the Hoosiers continue to be undefeated at home after good wins against Ohio State and Minnesota. But if Indiana wants to step into the top level of the Big Ten conference this season, it'll need road wins, too.
Thursday's game at Iowa is its next chance.
(Photo credit: IU Athletics)
Filed to: Minnesota Golden Gophers