The Minute After: Ohio State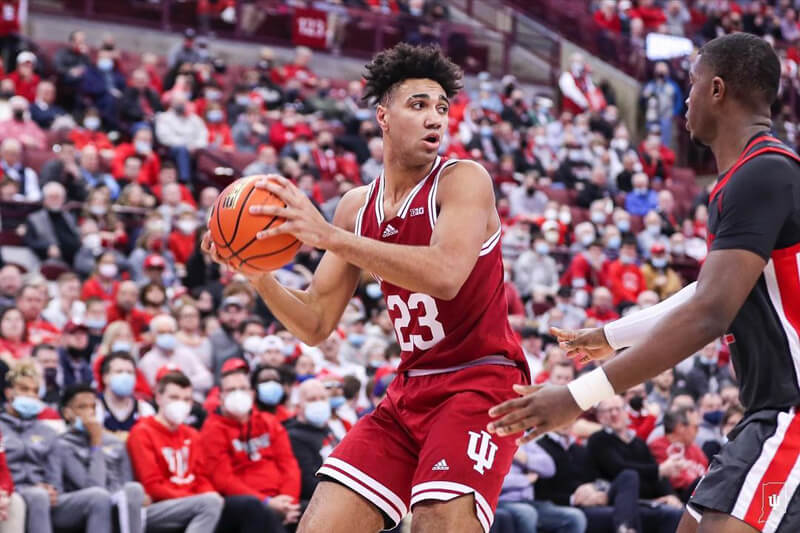 Thoughts on an 80-69 loss to the Buckeyes:
Another game the Hoosiers had in their hands. Another one they let slip through their fingers.
And so the February slide continues, as Indiana has now lost five straight. It's a sixth straight game under a point per possession for the offense, a feat that happened just once in the Archie Miller era. The NCAA tournament chances, once promising, continue to dwindle.
This one felt a little different, as Indiana crawled back on the road against one of the conference's better teams, hitting 3-pointers, controlling the tempo, grabbing a ton of offensive rebounds and shutting down Ohio State's offense. Indiana's four-point lead with just over a minute left felt safe enough … until it wasn't. Race Thompson tried to feed Trayce Jackson-Davis in the paint on some high-low action, but E.J. Liddell stole the pass. On the other end, Malaki Branham, who tortured Indiana all evening to the tune of 27 points, was fouled by Parker Stewart and hit two free throws. Four-point lead down to two with 56 seconds to go.
On Indiana's next possession, some repeated left slot ball screen action for Indiana between Xavier Johnson and Jackson-Davis ran down a lot of clock. Ohio State played drop coverage and went under the screens, daring Johnson to shoot. He didn't. The ball eventually found its way to Tamar Bates on the right wing and he had to settle for a contested 3-pointer that didn't drop.
Ohio State ball with 24 seconds to play. Chris Holtman decided against a timeout. Branham again dictated the terms for the Buckeyes. Indiana defended well to start. But as Branham drove right, Xavier Johnson and Race Thompson both were on Liddell near the left low block. As Branham turned back over his right shoulder, Race Thompson sensed he may pass the ball out to Jamari Wheeler on the perimeter — whom Johnson had left. Johnson ran out to recover to Wheeler, but Thompson decided to go that way too … leaving Liddell open under the basket for the dunk to tie the game.
It was a devastating defensive possession for the Hoosiers, as they could only muster a desperation 3-pointer from Johnson on their end after not calling a timeout. To overtime it went and Ohio State dominated in the extra period.
Indiana played hard. The Hoosiers stuck in the fight. But late-game execution continues to elude this team. Down the stretch, Indiana continues to wilt.
After the game, Mike Woodson trotted out his familiar refrains.
"I wish I had the magic pill to get them over the hump because, again, we're right there," he said.
"As a coach, I always put it on myself. I gotta get these guys over the hump," he said.
The hump. Indiana's arch nemesis this season.
Is there any relief in sight? Can the Hoosiers at least break this losing streak at home against Maryland on Thursday night? Can they catch any breaks?
The way this thing's been heading, it's hard to see much hope ahead.
(Photo credit: IU Athletics)
Filed to: Ohio State Buckeyes