Big Ten Power Rankings: February 21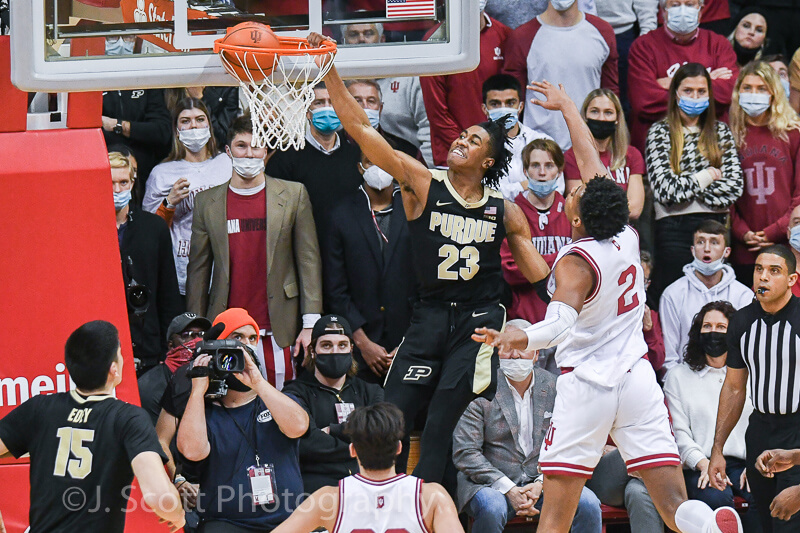 Only two weeks remain in the regular season and the race for the Big Ten title is heating up.
Here's a look at how the conference stacks up with less than three weeks to go until Selection Sunday:
14. Nebraska (1-14, .946 PPP, 1.134 PPP allowed)
The Huskers beat Minnesota 78-65 on Feb. 9 for their first conference win, but turned around the lost their next two games by 23 (at Iowa) and 16 (Maryland). It's hard to argue that any progress was made in Fred Hoiberg's third season in Lincoln as Nebraska is ranked 184th in the KenPom ratings as of Monday morning. The only power conference teams ranked lower than Nebraska are Georgetown (189), Georgia (207) and Oregon State (235).
13. Minnesota (4-12, .996 PPP, 1.115 PPP allowed)
After dropping five straight games, Minnesota is now 2-2 over its last four. The Golden Gophers crushed Northwestern 77-60 on Saturday in Minneapolis. Minnesota hit 11 of its 23 attempts from distance in the win over the Wildcats and is ranked 38th nationally in 3-point shooting percentage (36.8).
12. Maryland (4-11, 1.04 PPP, 1.10 PPP allowed)
Maryland snapped a five-game losing streak with a comfortable 9-74 win at Nebraska on Friday night. Defense has been Maryland's biggest deficiency this season as the Terps rank 12th in the league in defensive rebounding percentage, 11th in effective field goal percentage defense and ninth in defensive turnover percentage.
11. Northwestern (5-11, 1 PPP, 1.04 PPP allowed)
After beating Rutgers, Nebraska and Indiana to start off February, Northwestern has now dropped its last three games. Fortunately for Chris Collins, the Wildcats have an excellent chance for a win on Tuesday as Nebraska comes to Welsh-Ryan Arena. Through 16 league games, Northwestern is last in the league in 2-point field goal percentage (45.5).
10. Penn State (6-9, .995 PPP, 1.026 PPP allowed)
The Nittany Lions are lacking talent, but don't lack fight. Penn State beat Michigan State and Minnesota at home this week and have a legitimate shot at nine Big Ten wins with games against Maryland, Northwestern and Nebraska remaining on the schedule.
9. Indiana (7-8, .998 PPP, .986 PPP allowed)
Indiana once again couldn't execute offensively down the stretch and lost its only game last week 74-69 to Wisconsin in Bloomington. The Hoosiers have now lost four straight and the schedule doesn't get any easier to close the season. Three of Indiana's final five regular season games are against teams currently in the top half of the conference standings.
8. Michigan (8-7, 1.094 PPP, 1.064 PPP allowed)
Michigan's week started off well when the Wolverines beat Iowa on Thursday at Carver-Hawkeye Arena. Things turned ugly on Sunday in Madison as Michigan lost 77-63 to the Badgers and a postgame skirmish broke out in the handshake line. Juwan Howard appeared to strike a Wisconsin assistant coach and two Michigan players were also involved. Suspensions are certainly forthcoming, which could derail Michigan's charge for an NCAA tournament bid.
7. Rutgers (10-6, 1.036 PPP, 1.018 PPP allowed)
The Scarlet Knights had their four-game winning streak snapped on Sunday in West Lafayette, but the turnaround this group has made late in the season in impressive. Rutgers has wins over Purdue, Michigan, Iowa, Michigan State, Ohio State, Wisconsin and Illinois. If not for some bad early season losses in non-conference play, Rutgers would be a lock for the NCAA tournament.
6. Michigan State (9-6, 1.064 PPP, 1.016 PPP allowed)
The Spartans have now lost four of their last five and fell at Penn State and at home to Illinois this past week. While Michigan State looked like a lock for the NCAA tournament a few weeks back and is still likely to make it, the Spartans have a tough final two weeks coming up. Michigan State's last five games: at Iowa, Purdue, at Michigan, at Ohio State and Maryland.
5. Iowa (8-7, 1.113 PPP, 1.046 PPP allowed)
Iowa's resume was lacking quality wins entering last week. The Hawkeyes, however, earned a statement victory on Saturday in Columbus over Ohio State. It was the first home loss of the season for the Buckeyes. While he doesn't get much discussion in the Big Ten player of the year race, Keegan Murray is all the way up to No. 5 in KenPom's national player of the year standings.
4. Ohio State (9-5, 1.106 PPP, 1.03 PPP allowed)
Ohio State lost for the first time in Columbus this season on Saturday as Iowa came into Value City Arena and left with a 13-point win. The Buckeyes are still in the Big Ten title race, but have six games in 14 days to close out the regular season. Fortunately for Chris Holtmann, four of those games are at home and Ohio State should be able to finish in the top four of the league standings.
3. Wisconsin (12-4, 1.032 PPP, 1.007 PPP allowed)
The Badgers have won four of their last five and are just a half-game behind Purdue in the league standings. As of Monday morning, Wisconsin has a 41.2 percent chance of earning a share of the Big Ten regular season title according to Bart Torvik. The Badgers already beat Purdue in West Lafayette, but a March 1 rematch in Madison looms large in the conference race.
2. Illinois (12-4, 1.075 PPP, .989 PPP allowed)
Illinois took a disappointing 11-point loss at Rutgers on Wednesday but rebounded nicely with a five-point win at Michigan State on Saturday. The Fighting Illini play three of their final four games at home and their only remaining road game is at Michigan, which could be shorthanded due to forthcoming player and coach suspensions.
1. Purdue (13-4, 1.147 PPP, 1.056 PPP allowed)
The Boilermakers have won nine of their last 10 games and now have the luxury of playing just three games over the next two weeks. Purdue's defense is still shaky, but its offense is so good that it often hasn't mattered. The Boilermakers are ranked first in the country in KenPom's adjusted offensive efficiency and have the league's most explosive talent in Jaden Ivey.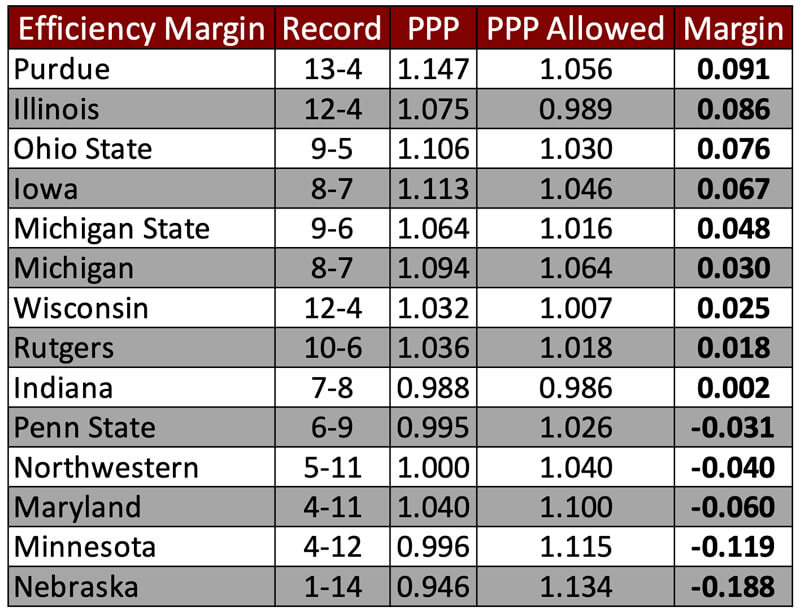 Filed to: Big Ten Power Rankings