Hot shooting stretch ignites Indiana offense late in much-needed win over Maryland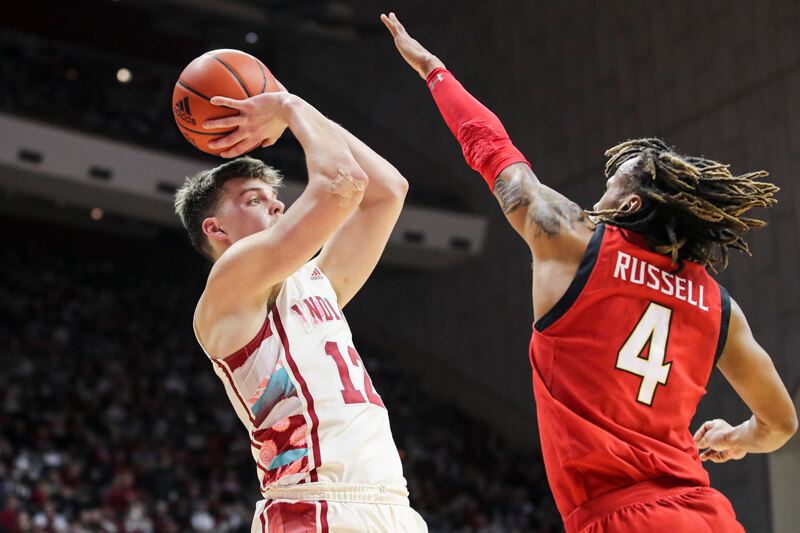 The Hoosiers narrowly had the lead going into halftime of Thursday's game again Maryland. But Hakim Hart hit a 3-pointer to make it a tie game on the first possession of the second half.
Indiana — on the verge of falling out of the NCAA tournament picture — needed to find a way to close out its first win since the last time it played Maryland on Jan. 29.
It didn't take a magic pill or hope. The Hoosiers snapped their five-game losing streak by hitting shots in a 74-64 win over Maryland.
"It was a total team effort, man, and I'm pleased as hell," Woodson said.
After Hart's 3-pointer tied the game at 30, every shot Indiana put up for the next 12 minutes found the bottom of the net. The team made 13-consecutive shots amid a 34-22 run.
"It's no secret — if they're making that many shots, you've got to become tougher. Especially when you're playing on the road," Maryland head coach Danny Manning said postgame.
The Hoosiers went 15-20 (75 percent) from the field in the second half and shot 59.6 percent for the game.
"You come on the road and give up 75 percent, you're never going to win," Maryland's Fatts Russell said. "We tried to take them out of their rhythm, but they're really good at home."
The phenomenal shooting night was headlined by Xavier Johnson, who had a near-perfect game until he missed a free throw with 19 seconds to play.
Despite sitting for most of the first half with foul trouble, Johnson scored 24 points on 7-of-7 shooting from the field, 3-of-3 from long distance and 7-of-8 from the free throw line. He said the difference was he wasn't forcing anything, he took smart shots.
"We needed it. We're short-handed," Woodson said after Khristian Lander, Trey Galloway and Rob Phinisee were sidelined again with injuries. "I couldn't have asked for a better performance."
The key to the win, though, was getting everyone looks. And Johnson helped the cause — tallying six assists.
"When you get X going, he's the head of the snake for real," Thompson said. "He gets everybody involved. He gets everybody shots."
The first of Indiana's 13 made shots in that stretch was an alley-oop from Johnson to Trayce Jackson-Davis to open the flood gates.
Thompson wasn't far behind Johnson in scoring — adding 19 points and finishing just shy of a double-double with nine rebounds. Miller Kopp added another eight while Jackson-Davis finished with 10.
While Russell got hot for the Terrapins with 23 points and five 3-pointers, the Hoosiers dominated in the paint. Indiana outscored Maryland by 20 points in the lane and made 67.6 percent of its 2-point shots.
"Once (the forwards) get going, it opens the floor up for everyone because then the defense starts crowding down on us," Thompson said.
That played to Maryland's plan. Let Johnson shoot and defend the paint.
Thursday night, Johnson made the Terps pay.
"For us to pick the poison, it was 'make him shoot threes,'" Manning said. "And he made them tonight. Kudos to him."
With this being just the team's first win in February despite a plethora of tight games, Woodson said it was nice to see his team close out an opponent.
"You lose five straight and you're searching a little bit, trying to figure out how to stop the bleeding," Woodson said. "I thought tonight we stepped up and did what we needed to do."
(Photo credit: IU Athletics)
Filed to: Maryland Terrapins, Mike Woodson, Xavier Johnson