'I wish I had the magic pill': Indiana loses to Ohio State in all-too-familiar fashion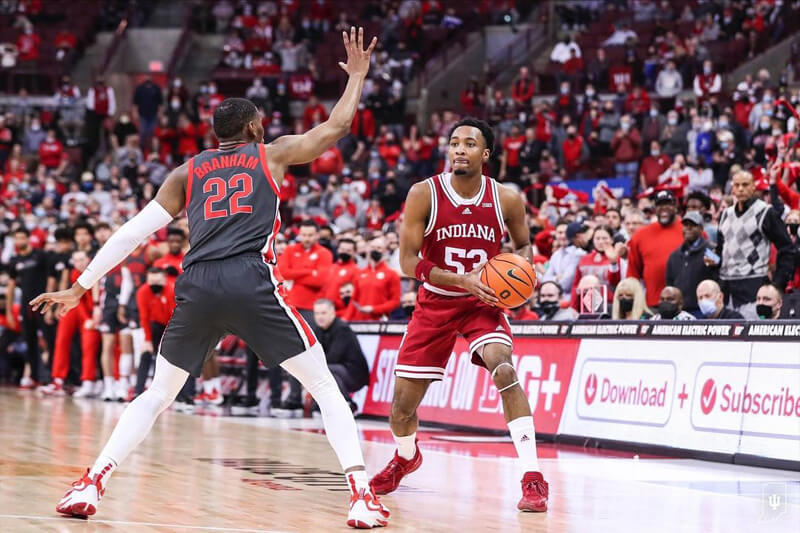 COLUMBUS, Ohio – Mike Woodson held his arms up making an 'X' before bringing them down and swinging them across his body.
"No fouls," he shouted across the court.
It was too late. Parker Stewart had already fouled Malaki Branham to give him two shots at the line.
Indiana fought its way out of an 11-point hole after trailing most of the game to go up four points with 56 seconds to go. All it had to do was close out. But Branham's two free throws cut that lead in half.
"We've got to learn how to defend without fouling," Xavier Johnson said after Indiana's 80-69 overtime loss to Ohio State at Value City Arena on Monday night.
Indiana's comeback was built by its defense. It made Ohio State's catches tough and looks at the basket even harder.
The Hoosiers allowed just five scores on 20 possessions down the stretch. Free throws were the only thing keeping the Buckeyes in the game.
But after Tamar Bates missed a step-back 3-pointer with 28 seconds to go, the Buckeyes finally made something happen without getting to the foul line.
The Hoosiers got lost on the backside. Trayce Jackson-Davis and Race Thompson left their post at the rim to help Parker Stewart against Branham and E.J. Liddell found himself all alone under the basket. He slammed it down to tie the game. On Indiana's ensuing possession, Johnson couldn't get off a clean look and the two teams headed to overtime.
"It was just something that shouldn't happen," Woodson said. "If they're going to make a shot to tie the ball game, it surely can't be a layup. And that's what happened."
Offensively, Indiana continued to force the ball into a struggling Jackson-Davis — who scored just three points in the second half — or settled for contested shots from Johnson.
Indiana's defense, which willed the Hoosiers back into the game down the stretch in regulation, was the team's demise in overtime.
The Buckeyes outscored the Hoosiers 17-6 in the extra period — with eight of those points coming at the free throw line.
Woodson has continually talked about getting his team "over the hump," but it's a hump they haven't gotten over since January — losing six of eight since beating Purdue and continuing to make the same mistakes time and time again.
"I wish I had the magic pill to get them over the hump because, again, we're right there," Woodson said.
The Hoosiers were again short-handed at guard with Trey Galloway, Khristian Lander and Rob Phinisee out with injuries. Woodson said they could blame the collapse on fatigue or not being used to being in that position, but it was all about closing out.
This marks Indiana's fifth-consecutive loss, but Johnson said everyone in the locker room is taking the lead to try and remain positive.
"We all know what we want to do because nobody in the locker room has been to a tournament, so we're still on a mission," Johnson said.
Beating OSU a second time would've provided a major boost to IU's NCAA tournament hopes with another Quad 1 win. Instead, Indiana sits with four regular season games left, one of which is a matchup against a Purdue squad looking for revenge on its home court.
Another season of life on the bubble continues with a missed opportunity left in Columbus.
"We've got to go home and try to get our mojo back," Woodson said. "We've got to find a win somewhere."
(Photo credit: IU Athletics)
Filed to: Mike Woodson, Ohio State Buckeyes, Xavier Johnson